TV ONE'S ORIGINAL MOVIE "SINS OF THE FATHER" PREMIERES TONIGHT AT 8 P.M. ET/7C
New Thriller Kicks Off Month-Long Slate of LOVE, LIES & MURDER Movies and Features Deitrick Haddon, A.J. Johnson, Clifton Powell, Terayle Hill, Angela Davis, and Danny Pardo
Watch An Exclusive Clip Here!
(ATLANTA) – July 7, 2019 – TV One's original film SINS OF THE FATHER premieres Sunday, July 7 at 8 P.M./7C, immediately followed by an encore presentation at 10 P.M./9C. The film stars Deitrick Haddon (The Gospel), A.J. Johnson (Baby Boy), Clifton Powell (Ray), Terayle Hill (Merry Wishmas), Angela Davis (I Feel Pretty) and Danny Pardo (SEAL Team). SINS OF THE FATHER is the first movie to kick off TV One's month of LOVE, LIES & MURDER films which features a series of stories that explore the dark side of love including deceit, betrayal, obsession, and jealousy.
Inspired by TV One's true crime programming, SINS OF THE FATHER follows Detectives Phylicia Richardson (Johnson) and Perez (Pardo) as they investigate the vicious murder of first lady Karen Burnett (Davis), the beloved wife of Pastor Clarence Burnett (Haddon). The crime sends shock waves through the couple's close knit Atlanta community and the police are forced to take a deeper look into the Burnett's inner circle, including Pastor Burnett's son Robert Banks (Hill). As the interrogation unfolds, family secrets of abuse, infidelity, lust and cruelty are revealed within the Burnett household. The detectives soon discover that the ungodly actions of one person can have a deadly impact on many.
"In a culture where #ChurchHurt has been the trending topic, this film will give the viewer insight on how wolves in sheep's clothing operate," said gospel artist and film star Haddon. "Buckle your seatbelt because it's about to get real!"
SINS OF THE FATHER is written by Katrina O'Gilvie and directed by Jamal Hill, with Leah Daniels-Butler and George Pierre as Casting Directors. The film was produced by Swirl Films, with Eric Tomosunas serving as Executive Producer. Keith Neal, James Seppelfrick, Ron Robinson and Darien Baldwin serve as producers. For TV One, Karen Peterkin is the Executive Producer in Charge of Production, Donyell McCullough is Senior Director of Talent & Casting, and Brigitte McCray is Senior Vice President of Original Programming and Production.
David Ortiz's First Interview Since Shooting, Says He Almost Died
David Ortiz broke his silence with the media since being shot in the Dominican Republic, and he gave an emotional interview … acknowledging he almost died there.
The former Boston Red Sox slugger spoke with Univision in a sit-down that aired in Spanish on Saturday, answering a number of questions related to the scary incident in his home country this past June — when he was ambushed and shot in the back at a club.
Big Papi described the initial feeling of the bullet going in, saying he felt a stinging sensation … adding that in the first five seconds, he felt like he was in a living nightmare. He said the shooting made him disheartened, as he has no problems with anybody.
Ortiz went on to explain that he never lost consciousness en route to the hospital, but said he experienced something he'd never quite felt before … trying to survive for his life.
He says he's never had his life threatened before, and that him sitting with his back to the street and no security around should be an implication … he's not someone who'd ever think he was in danger. Then came the question about who did it … and why.
Ortiz says he has no idea why anyone might've wanted to kill him, again reiterating that he has no enemies … and no issues with anybody (especially criminals) that would make him worry.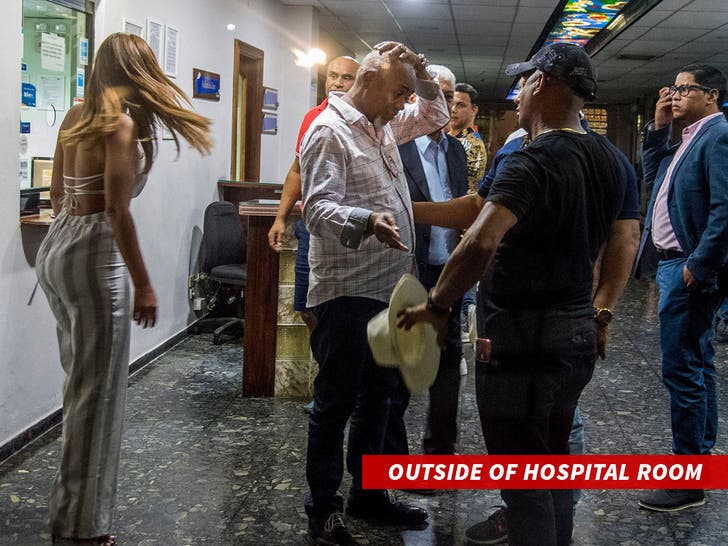 Big Papi also touches on a rumor that Dominican drug lord Cesar Emilio Peralta might've been the one who ordered the hit, but he again came back with uncertainty … saying he couldn't think of any reason why that would be the case — if, in fact, it is.
As we reported … authorities in the Dominican Republic have made several arrests in connection to the shooting, including the alleged shooter himself. Cops say that Ortiz was not the actual target, and that the hit was a case of mistaken identity.
Ortiz is unclear on that himself, but one thing that clearly hurt him as he was in the hospital … people apparently suggesting that he deserved what he'd gotten. He tears up as he recounts the recovery process, saying that at one point he was in a coma … and almost died.
Luckily, Big Papi is getting better each day. He threw out the first pitch at a recent Sox game — and seems to be doing well following multiple life-saving surgeries.
Still, it's pretty gut-wrenching to hear it all again from the man himself.
Justin Bieber Shared a Photo of Hailey Baldwin With ZERO Makeup and She Looks Amazing
It's been a year since Hailey and Justin Bieber tied the knot!
The 22-year-old model celebrated her first year of marriage with the "As Long As You Love Me" singer on Friday night, sharing a handful of photos of the two on her Instagram Story. In Hailey's first pic, she gives Justin, 25, a kiss on the cheek while they are in an elevator.
"1 year of being your Mrs.," the blonde beauty captioned the sweet snap. She continued posting a slew of other pics, including a black-and-white photo of the Canadian crooner hugging her from behind, which she captioned, "My heart."
Hailey and Justin secretly got married at a New York City courthouse last September. A couple of weeks later, a source confirmed to ET that the two were indeed husband and wife.
"The couple kept their marriage a secret from a lot of people. Justin and Hailey wanted to be married and didn't want to wait. They still plan to have a more formal wedding, but for them, this intimate ceremony was exactly what they wanted," the source said at the time. "Justin and Hailey were telling people they weren't married when they were."
The two are also set to have a second wedding with their friends and family later this month in South Carolina. Another source told ET this week that the couple is "gearing up for the event of their lives."
"They wanted to celebrate their love and unity in front of the people they love, especially God," the source said.
According to the source, the ceremony will be as private as possible and will incorporate family. "The [wedding] will be …. a fairy tale with over the top flowers, lights, and an all-around party," the source added. "The couple is planning to make it a family affair with Hailey's sister and Justin's brother, sister, and dad being incorporated. Justin has been through a lot in the past with his family, and he is looking forward to celebrating the special day with everyone."
Britney Spears' Dad Jamie Officially Steps Down as Her Conservator
Britney Spears' father, Jamie Spears, has officially stepped down as the singer's conservator.
After previously petitioning the court to hand over the reins of the singer's conservatorship citing ongoing health issues, a judge on Monday approved the request and appointed Britney's longtime care manager, Jodi Montgomery, as the singer's new conservatory, according to court documents obtained by ET.
According to the documents, Jodi Montgomery has been temporarily granted the same powers previously granted to Jamie, including the power to restrict and limit visitors by any means — provided that Jodi will not prevent Britney from meeting with her court-appointed attorney — and the power to retain caretakers and security guards for Britney on an around-the-clock basis.
The new conservatory will also have the power to prosecute civil harassment restraining orders that Britney deems appropriate, and she will have the power to communicate with all expert medical personnel treating Britney, as well as access to any and all records regarding Britney's medical treatment, diagnosis, and testing.
According to the court documents, Montgomery will serve as Britney's temporary conservator until Jan. 31, 2020, after which time her role as temporary conservator could be extended.
Jamie has been the 37-year-old singer's conservator since 2008, and he became her sole conservator this year after his former co-conservator, attorney Andrew Wallet, resigned in March.
ET has reached out to attorneys for both Jamie and Britney for comment.
The legal filing comes after Britney's two sons — Sean, 13, and Jayden, 12 — were granted a temporary restraining order against Jamie, a source told ET on Wednesday. The source claimed that an incident occurred on Aug. 24, in which Jamie allegedly "engaged in conduct that was physical abuse" toward Sean. According to the source, the very next day, Kevin Federline — Sean and Jayden's father — and Federline's divorce attorney, Mark Vincent Kaplan, filed a police report at the Ventura County Sheriff's Office.
According to Kaplan, "Britney recognized the children were in a dangerous situation and she demonstrated the correct parental judgment by removing them from it." ET also reached out to Federline's attorney on Friday.