Tristan Thompson caught on video locking lips with a sexy brunette at Manhattan club just days before Khloe Kardashian is set to give birth
Khloe Kardashian's baby daddy Tristan Thompson was filmed getting up close and personal with a mystery brunette on a night out in New York last weekend – despite his pregnant girlfriend being just days away from giving birth in Cleveland, Ohio.
The NBA player was spotted getting cozy with the unidentified woman at PH-D Lounge, a rooftop bar in Manhattan on Saturday night.
Videos filmed by other club goers appear to show Thompson, 27, who is expecting a baby with reality star Khloé Kardashian, 33, leaning in for a kiss as he speaks to the woman.
The pair were filmed chatting intensely before the woman leaned her head into the hood of Thompson's sweatshirt.
As she leans in closer, eyes closed, it appears that the couple share a kiss.
Other videos from the night show Thompson chatting with friends and dancing to music at PH-D's Sunset Saturdays event.
His team, led by LeBron James, played in Philadelphia on Friday night, and weren't scheduled to play another game until Monday, against the New York Knicks in Manhattan.
Following a win in Monday's game, the Cavaliers captured a Central Division title, which could mean more travel for Thompson as playoffs get underway.
According to a club goer who observed Thompson on Saturday night, Thompson and his group of around ten friends were at the bar from around 7:30 pm until approximately 9.30 pm.
The woman who filmed the clips said: 'I was there and he was on the table right next to us with a group of friends and some girl who he was obviously making out with all night.
'They were holding each other and it was so obvious. They were there when I got there and they were part of a big group of friends.
'They were talking and being around each other all night. He was texting and talking on the phone and she was obviously looking over his shoulder.
'Everybody knew who he was. We talked about it and everybody watched them make out several times.
'I know how he looks like and people were trying to take selfies with him but he didn't let them.
He wasn't wearing anything on his head but he later pulled his shirt and tried to hide, but at the start it was obviously him. I don't know who the girl was but I took a picture of her looking over his shoulder.'
The source, who wishes to remain anonymous, added: 'I love the Kardashians and I think it's devastating. I really did believe he was a good guy.
'I feel so bad for Khloé now because she is pregnant and I want her to know but at the same time I don't. I don't think their fans will like what they see.'
Thompson and Khloé have been dating since 2016 and in December, the Keeping up with the Kardashians star announced her pregnancy by sharing a snap of her bare baby bump.
At the end of February, the Kardashian sister revealed she was eight months along, set to give birth any day now.
Khloe has been staying in Cleveland where she plans to give birth to her and Thompson's daughter.
Insiders told TMZ that Khloe went into labor on Monday morning, but in social media clips she appeared to still be at home that evening.
TMZ also claimed that her baby doctor, Dr Aliabadi, is just outside of Cleveland now, which is another sign she is getting close.
On Monday night, the 33-year-old took to Snapchat to share video of herself busting out of a gray sports bra and showing just the top of her baby bump.
The Keeping Up With The Kardashians star posted a photo to her Instagram showing her kissing a shirtless Tristan as he cradles her swollen belly.
'We are ready whenever you are little mama,' she captioned the snap.
David Ortiz's First Interview Since Shooting, Says He Almost Died
David Ortiz broke his silence with the media since being shot in the Dominican Republic, and he gave an emotional interview … acknowledging he almost died there.
The former Boston Red Sox slugger spoke with Univision in a sit-down that aired in Spanish on Saturday, answering a number of questions related to the scary incident in his home country this past June — when he was ambushed and shot in the back at a club.
Big Papi described the initial feeling of the bullet going in, saying he felt a stinging sensation … adding that in the first five seconds, he felt like he was in a living nightmare. He said the shooting made him disheartened, as he has no problems with anybody.
Ortiz went on to explain that he never lost consciousness en route to the hospital, but said he experienced something he'd never quite felt before … trying to survive for his life.
He says he's never had his life threatened before, and that him sitting with his back to the street and no security around should be an implication … he's not someone who'd ever think he was in danger. Then came the question about who did it … and why.
Ortiz says he has no idea why anyone might've wanted to kill him, again reiterating that he has no enemies … and no issues with anybody (especially criminals) that would make him worry.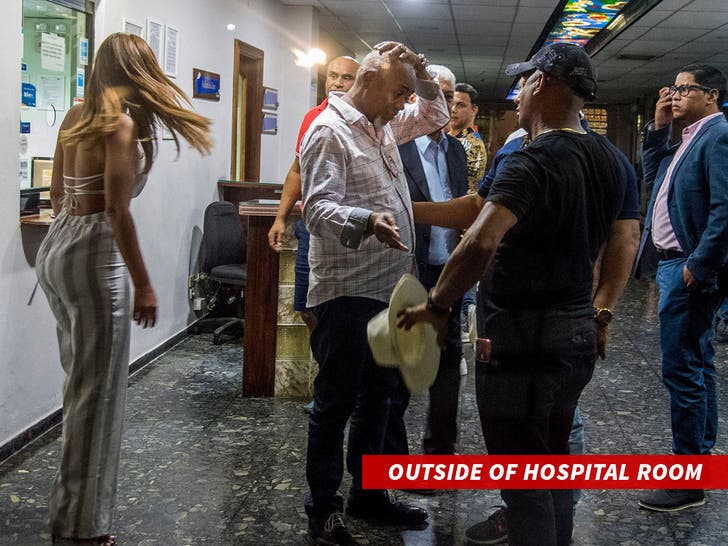 Big Papi also touches on a rumor that Dominican drug lord Cesar Emilio Peralta might've been the one who ordered the hit, but he again came back with uncertainty … saying he couldn't think of any reason why that would be the case — if, in fact, it is.
As we reported … authorities in the Dominican Republic have made several arrests in connection to the shooting, including the alleged shooter himself. Cops say that Ortiz was not the actual target, and that the hit was a case of mistaken identity.
Ortiz is unclear on that himself, but one thing that clearly hurt him as he was in the hospital … people apparently suggesting that he deserved what he'd gotten. He tears up as he recounts the recovery process, saying that at one point he was in a coma … and almost died.
Luckily, Big Papi is getting better each day. He threw out the first pitch at a recent Sox game — and seems to be doing well following multiple life-saving surgeries.
Still, it's pretty gut-wrenching to hear it all again from the man himself.
Justin Bieber Shared a Photo of Hailey Baldwin With ZERO Makeup and She Looks Amazing
It's been a year since Hailey and Justin Bieber tied the knot!
The 22-year-old model celebrated her first year of marriage with the "As Long As You Love Me" singer on Friday night, sharing a handful of photos of the two on her Instagram Story. In Hailey's first pic, she gives Justin, 25, a kiss on the cheek while they are in an elevator.
"1 year of being your Mrs.," the blonde beauty captioned the sweet snap. She continued posting a slew of other pics, including a black-and-white photo of the Canadian crooner hugging her from behind, which she captioned, "My heart."
Hailey and Justin secretly got married at a New York City courthouse last September. A couple of weeks later, a source confirmed to ET that the two were indeed husband and wife.
"The couple kept their marriage a secret from a lot of people. Justin and Hailey wanted to be married and didn't want to wait. They still plan to have a more formal wedding, but for them, this intimate ceremony was exactly what they wanted," the source said at the time. "Justin and Hailey were telling people they weren't married when they were."
The two are also set to have a second wedding with their friends and family later this month in South Carolina. Another source told ET this week that the couple is "gearing up for the event of their lives."
"They wanted to celebrate their love and unity in front of the people they love, especially God," the source said.
According to the source, the ceremony will be as private as possible and will incorporate family. "The [wedding] will be …. a fairy tale with over the top flowers, lights, and an all-around party," the source added. "The couple is planning to make it a family affair with Hailey's sister and Justin's brother, sister, and dad being incorporated. Justin has been through a lot in the past with his family, and he is looking forward to celebrating the special day with everyone."
Britney Spears' Dad Jamie Officially Steps Down as Her Conservator
Britney Spears' father, Jamie Spears, has officially stepped down as the singer's conservator.
After previously petitioning the court to hand over the reins of the singer's conservatorship citing ongoing health issues, a judge on Monday approved the request and appointed Britney's longtime care manager, Jodi Montgomery, as the singer's new conservatory, according to court documents obtained by ET.
According to the documents, Jodi Montgomery has been temporarily granted the same powers previously granted to Jamie, including the power to restrict and limit visitors by any means — provided that Jodi will not prevent Britney from meeting with her court-appointed attorney — and the power to retain caretakers and security guards for Britney on an around-the-clock basis.
The new conservatory will also have the power to prosecute civil harassment restraining orders that Britney deems appropriate, and she will have the power to communicate with all expert medical personnel treating Britney, as well as access to any and all records regarding Britney's medical treatment, diagnosis, and testing.
According to the court documents, Montgomery will serve as Britney's temporary conservator until Jan. 31, 2020, after which time her role as temporary conservator could be extended.
Jamie has been the 37-year-old singer's conservator since 2008, and he became her sole conservator this year after his former co-conservator, attorney Andrew Wallet, resigned in March.
ET has reached out to attorneys for both Jamie and Britney for comment.
The legal filing comes after Britney's two sons — Sean, 13, and Jayden, 12 — were granted a temporary restraining order against Jamie, a source told ET on Wednesday. The source claimed that an incident occurred on Aug. 24, in which Jamie allegedly "engaged in conduct that was physical abuse" toward Sean. According to the source, the very next day, Kevin Federline — Sean and Jayden's father — and Federline's divorce attorney, Mark Vincent Kaplan, filed a police report at the Ventura County Sheriff's Office.
According to Kaplan, "Britney recognized the children were in a dangerous situation and she demonstrated the correct parental judgment by removing them from it." ET also reached out to Federline's attorney on Friday.