Top Justice Dept. official alerted White House 2 weeks ago to ongoing issues in Kushner's security clearance
A top Justice Department official alerted the White House two weeks ago that significant information requiring additional investigation would further delay the security clearance process of senior adviser Jared Kushner, according to three people familiar with the discussion.
The Feb. 9 phone call from Deputy Attorney General Rod J. Rosenstein to White House Counsel Donald McGahn came amid growing public scrutiny of a number of administration officials without final security clearances. Most prominent among them is Kushner, President Trump's son-in-law, who has had access to some of the nation's most sensitive material for the last year while waiting for his background investigation to be completed.
A week after the call from Rosenstein, White House Chief of Staff John F. Kelly announced that staffers whose clearances have not been finalized will no longer be able to view top-secret information — meaning that Kushner could stand to lose his status as early as Friday.
As president, Trump can grant Kushner a high-level security clearance, even if his background investigation continues to drag on. But Trump said Friday that he would leave that decision to Kelly.
In his phone conversation with McGahn, Rosenstein intended to give an update on the status of Kushner's background investigation. He did not specify the source of the information that officials were examining.
Justice Department officials said Rosenstein did not provide any details to the White House about the matters that need to be investigated relating to Kushner.
"The Deputy Attorney General has not referenced to the White House any specific concerns relating to this individual's security clearance process," spokeswoman Sarah Isgur Flores said in a statement.
A White House spokesman declined to comment on the status of Kushner's clearance or on information relayed by Rosenstein to McGahn.
Kushner's lawyer, Abbe Lowell, declined to comment.
In a statement to The Washington Post last week, Lowell said he had been assured by officials that there was nothing unusual about the delay in Kushner's security clearance.
"My inquiries to those involved again have confirmed that there are a dozen or more people at Mr. Kushner's level whose process is delayed, that it is not uncommon for this process to take this long in a new administration, that the current backlogs are being addressed, and no concerns were raised about Mr. Kushner's application," Lowell said in a statement on Feb. 16.
Kushner's interim clearance allows him to view both top-secret and sensitive compartmented information — classified intelligence related to sensitive sources. With that designation, he has been able to attend classified briefings, get access to the president's daily intelligence report and issue requests for information to the intelligence community.
Security clearance experts said it is rare to have such a high level of interim clearance for such a long period of time. Typically, senior officials do not get interim access to top-secret and sensitive compartmented material for more than three months, experts said.
The day before Rosenstein's call to McGahn, The Post reported that Kushner was among dozens of White House personnel who were relying on interim clearances while their FBI background investigations were pending.
White House officials have complained that they have had trouble getting information from the Justice Department and FBI about the status of delayed clearances, including Kushner's. People familiar with the Feb. 9 call said Rosenstein was returning a White House phone call seeking guidance on the status of his background investigation, among those of others.
Rosenstein intended to speak to Kelly, but the chief of staff was not immediately available, so he ended up talking to McGahn instead, according to three people familiar with the call.
In the call, Rosenstein did not say whether the information that had come to the attention of the Justice Department was learned by the FBI in its standard background clearance investigation of White House staff. Rosenstein also oversees the investigation by special counsel Robert S. Mueller III, who has scrutinized Kushner's contacts with foreign officials and business dealings as he examines Russia's interference in the 2016 election.
There are conflicting accounts about whether Rosenstein discussed with McGahn the significance of the information and its possible impact on Kushner's clearance. Two people said the deputy attorney general told McGahn the Justice Department had obtained important new information, suggesting it could be an obstacle to his clearance process. One other said Rosenstein did not discuss the nature of the ongoing investigation.
Bob Bauer, who served as White House counsel in the Obama administration, said administration officials should view Rosenstein's alert as a strong reason to revoke Kushner's interim top-secret access.
"It seems to me that he should have restricted access to highly classified material until the resolution of those issues," Bauer said.
Kushner's inability to obtain a final clearance has frustrated and vexed the White House for months. As someone who meets regularly with foreign officials and reads classified intelligence, he would typically have a fast-tracked background investigation, security clearance experts said.
During the last six months, McGahn privately discussed the slow pace of Kushner's background investigation with other senior aides, including with Kelly in the fall, according to a top administration official. Kelly expressed frustration with Kushner's access to classified material on an extended interim clearance, according to the official. But McGahn and Kelly decided to wait for the FBI to complete its background investigation and took no action at the time to change his access.
Their wait-and-see mode ended abruptly last week, when Kelly issue a new policy that would block staff with interim clearances from receiving top-secret information as of Friday.
The changes were prompted by intense scrutiny that has followed domestic-abuse allegations against Rob Porter, the president's former staff secretary, who was also working under an interim top-secret clearance.
The move puts a "bull's eye" on Kushner, a senior official told The Post last week.
Kelly has told associates that he is uncomfortable with Kushner's uncertain security clearance status and his unique role as both a family member and staffer, according to people familiar with the conversations. He has said he would not be upset if the president's son-in-law and his wife, Ivanka Trump, left their positions as full-time employees.
On Friday, Trump said he would defer the question of Kushner's access to his chief of staff.
"I will let Gen. Kelly make that decision, and he's going to do what's right for the country," the president said during a news conference. "And I have no doubt that he will make the right decision."
In a statement about Kushner issued earlier this week, Kelly said he had "full confidence in his ability to continue performing his duties in his foreign policy portfolio including overseeing our Israeli-Palestinian peace effort and serving as an integral part of our relationship with Mexico."
Inside the White House, officials have discussed concerns that the delay in Kushner's clearance is due in part to repeated updates he made to a form detailing his contacts with foreign officials.
He filed three amendments last year to the questionnaire, after failing to fully disclose contacts reaching back several years. Kushner has said the omissions were inadvertent errors.
Investigators scrutinize those activities to determine whether a person could be subject to influence or blackmail by a foreign government and can be trusted to guard classified information.
Ordinarily, security clearance experts said, the failure to completely disclose all contacts would jeopardize an applicant's chances of obtaining final clearance.
In addition, Kushner's actions during the transition have been referenced in the guilty plea of former Trump national security adviser Michael Flynn, who admitted he lied to the FBI about contacts with then-Russian Ambassador Sergey Kislyak. Prosecutors said Flynn was acting in consultation with a senior Trump transition official, whom people familiar with the matter have identified as Kushner.
Covid-19 cases rise aboard first cruise to resume sailing in the Caribbean
So far a total of seven passengers have tested positive for Covid-19 aboard the SeaDream 1 cruise ship docked in Barbados, according to two passengers on the ship.
Passengers who have tested negative for the virus will be able to leave the ship and travel home, Gene Sloan and Ben Hewitt told CNN on Friday. They are both among a handful of cruise journalists and bloggers on board.

The SeaDream Yacht Club cruise was the first to return to the Caribbean since the coronavirus pandemic shut operations down in March and was meant to demonstrate that increased safety protocols, including regular testing aboard the ship, could allow cruise voyages to take place during the pandemic.
Instead one passenger fell ill on Wednesday, forcing the SeaDream 1 to return to Barbados, where all 53 passengers and 66 crew were tested.
Hewitt said the crew had informed passengers that everyone who had tested negative twice would be allowed to disembark the ship and fly home on Saturday.
SeaDream Yacht Club said in a news release Thursday afternoon that "guests" had received "assumptive positive" results to preliminary rapid Covid tests, but did not specify the number who had done so.
SeaDream was asked to confirm the exact number of positive results.
SeaDream responded "We are working closely with local health and government authorities to resolve this situation in the best possible way," said SeaDream's Andreas Brynestad, in the SeaDream release.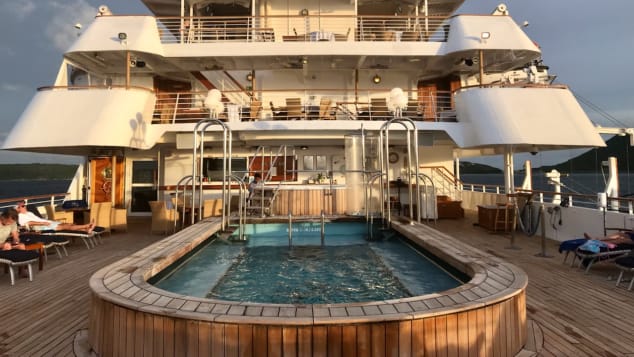 Intercom announcement of positive test result
Sloan, who is a senior reporter for cruise and travel at The Points Guy, reported that the Covid scare started when the captain informed passengers of the preliminary positive test over the ship's intercom system shortly before lunchtime on Wednesday.
Passengers were instructed to return to their cabins and remain isolated there, he said.
The ship, which was in the Grenadines at the time of the first preliminary positive test, docked in Barbados Wednesday evening.
"It's not a great development for the cruise industry," Sloan told CNN via email on Wednesday from his cabin on board. "I think the hope had been that the rigorous testing that SeaDream was doing would keep Covid off its ship."
Multilayer testing for Covid-19 has been an integral part of SeaDream's efforts to create a Covid-19 negative bubble aboard its ships.
Passengers were tested in advance of traveling to the ship and also before boarding the ship, Sloan said.
"And SeaDream also was testing passengers four days into the trip," he said. "We were scheduled to be tested again today. That's a more rigorous testing plan than most lines had been discussing for the restarts."
The protocol is due in part to the strict testing required by Barbados, where the ship will be based for the season, Sloan noted.
"I think what this shows is it's going to happen. And until there's a vaccine or herd immunity, when cruising starts up you're going to see things like this happen. The question is how often and how big?"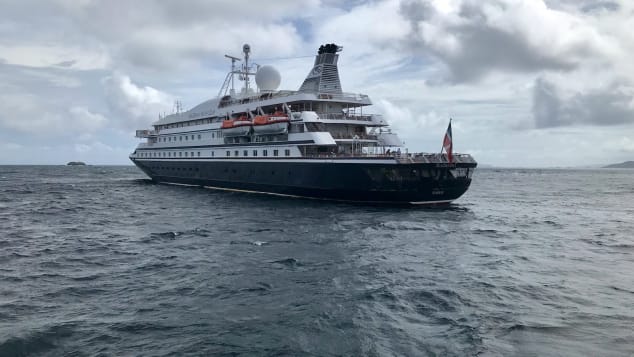 Voyages from Barbados
SeaDream's winter voyages from Barbados started on November 7 with the sailing that has now been cut short.
These new Caribbean sailings follow a successful summer season for SeaDream in Norway, which the company said "resulted in zero positive cases during the entire Norwegian summer season."
"After completing a successful summer season in Norway, we implemented even stricter health and safety protocols for our Barbados winter season. All guests were tested twice prior to embarkation and we are in the process of retesting guests," said SeaDream's Andreas Brynestad in the statement released on Thursday.
Ben Hewitt, host of Cruise with Ben & David on YouTube, expressed his disappointment and frustration with the virus in an interview Thursday from his stateroom.
"It's just so disappointing that this has happened because everybody has their hopes up high, and we can't see anything more that they could've done," said Hewitt.
"It's just such a horrible virus, it just gets everywhere even with the constant testing."
The use of masks on the voyage has been far less stringent.
Sloan told CNN that initially no one was wearing face masks, not even the crew. Crew members told him they weren't necessary since the ship was a Covid-free "bubble."
Then a few days into sailing, SeaDream instituted a mask policy but didn't offer an explanation, he said.
Fewer than 250 guests
SeaDream's ships, which the company refers to as "superyachts," have 56 staterooms, with a capacity for 112 guests and 95 crew.
Carrying fewer than 250 guests outside of US waters allows SeaDream to operate outside of the US Centers for Disease Control and Prevention's orders around cruising.
The CDC recently issued a "Framework for Conditional Sailing Order for Cruise Ships."
The order, which applies to cruise ships in US territorial waters that have capacity to carry at least 250 passengers, is considered a tentative step toward the resumption of cruising.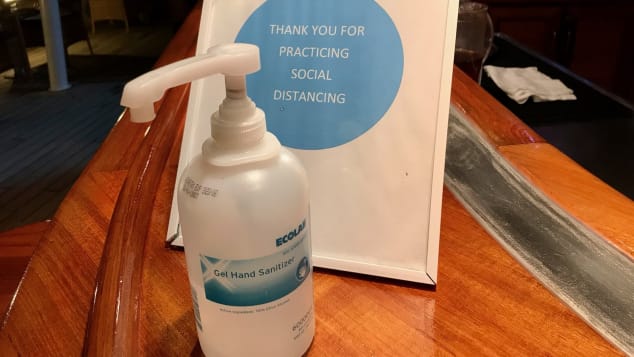 Trade group Cruise Lines International Association said it will work with the CDC to resume US sailings as soon as possible, but that its members would continue a voluntary suspension of operations through the end of 2020.
On Friday, a letter signed by Sen. Richard Blumenthal (D-CT) and Rep. Doris Matsui (D-CA) called on the CDC to reinstate its no-sail order for cruise ships and reverse efforts to restart the industry's US operations.
The letter cites the outbreak aboard SeaDream 1.
Despite precautions, "the virus was still able to infect multiple people on the ship, with the possibility of more confirmed cases emerging as passengers and crew are retested," the letter reads.
"Unfortunately, this troubling development is not surprising and reaffirms the need to exercise extreme caution before sending passengers and crew back out to sea on cruises."
Obama Rips Trump For Refusing To Congratulate President-Elect Biden
Former President Barack Obama is reminding the nation he congratulated President Donald Trump as soon as he won the election … a courtesy the President's refusing to extend to President-Elect Joe Biden.
The former president ripped Trump for failing to acknowledge Biden as president-elect with so much as a congratulatory phone call in an interview with "CBS This Morning," telling Gayle King Trump is damaging our democracy with the way he's eschewing what's traditionally been a peaceful — and cordial — transfer of power.
Obama recalled election night 2016, saying he stayed up until the wee hours of the morning to phone Trump and congratulate the president-elect. Obama says he was doing what presidents do, just as George W. Bush graciously did during Obama's historic 2008 victory.
Trump's refusal to concede and call up president-elect Biden is clearly not sitting well with Obama.
As you know … Obama previously chided Trump and the GOP for continuing to make baseless claims of election fraud in an interview with "60 Minutes," telling Scott Pelley it undermines the country.
Obama points out Biden and 2016 Trump will end up with the same number of Electoral College votes, 306, but says half the country likely won't take that into account if they keep consuming conservative media … which Obama says presents voter fraud allegations as fact.
Bottom line. Obama explains why Republicans can't stop Biden and Vice-President Elect Kamala Harris from being sworn in.
Joe Biden wins the 2020 US Presidential election
Following a tense week of vote tallying, Joe Biden won the state of Pennsylvania and vaulted ahead in the race to become the next president of the United States. Biden's win in the critical state put him over the threshold of 270 electoral votes, cutting off all avenues for his opponent.
Biden prevailed by flipping key states that went to Trump in 2016, including Wisconsin, Michigan and Pennsylvania. Trump again won in Florida and Ohio, but in the end was unable to chart a path to an electoral victory. Biden also leads by millions in the popular vote, with a record number of votes cast this year, many through the mail.
As his vice president, Kamala Harris will make history in myriad ways, becoming the first woman — and the first woman of color — to occupy the office. Harris, a California senator and the state's former attorney general, built a career in the tech industry's front yard.
Shattered barriers aside, this year's election will likely go down in infamy for many in the U.S. The race was the strangest in recent years, characterized by rising storms of misinformation, fears over the fate of scaled-up vote-by-mail systems and a deadly virus that's claimed well over 230,000 American lives. Biden's campaign was forced to adapt to drive-up rallies and digital campaigning instead of relying on door-knocking and face-to-face interaction to mobilize the vote.
The circumstances of the election also created the perfect ecosystem for misinformation — a situation made worse by President Trump's false claim of victory early Wednesday morning and ongoing claims of Democratic voter fraud. Trump appears to be in no mood to concede the election, but in the end the vote is what it is and Joe Biden will take office on January 20, 2021.
While a sitting president rejecting that unwritten democratic norm would be alarming, Trump's decision will have little bearing on the ultimate political outcome. Whatever the coming days hold, the U.S. is entering into a new and unprecedented phase of uncertainty in which misinformation abounds and political tensions and fears of politically-motivated violence are running high.
The former vice president's win brings a four year run of Trumpism to an abrupt end, though its effects will still reverberate throughout American politics, likely for decades. It also ushers in a new era in which Joe Biden plans to draw on the influence of an unlikely coalition of Democrats from across the political spectrum. The Senate still hangs in the balance with two tight races in Georgia headed to January runoffs.
Biden has laid out plans for sweeping climate action, and a healthcare extension that would cover more Americans and provide an opt-in Medicare-like public option. But his ability to enact most of those grand plans would hinge on a Democratic Senate. While either party was likely to continue pursuing more aggressive regulation for the technology industry, we'll be watching closely for signals of what's to come for tech policy.
But even without the Senate, the president-elect may be capable of making a swift and critical impact where it's most needed: the coronavirus pandemic. In the continued absence of a national plan to fight the virus and a White House that downplays its deadliness and discourages mask-wearing, COVID-19 is raging out of control in states across the country, signaling a very deadly winter just around the corner.