Should I Allow My Child To Play Football
The game of football has a serious problem and it's been in the news for a while now. Players are experiencing long-term problems due to concussions. Memory loss, dizziness, headaches, cognitive and emotional dysfunction, weird neurological diseases, like chronic traumatic encephalopathy and amyotrophic lateral sclerosis, and even suicide. Now, the problem seems to be taking its…
The game of football has a serious problem and it's been in the news for a while now. Players are experiencing long-term problems due to concussions.
Memory loss, dizziness, headaches, cognitive and emotional dysfunction, weird neurological diseases, like chronic traumatic encephalopathy and amyotrophic lateral sclerosis, and even suicide.
Now, the problem seems to be taking its toll at the very earliest entry point says Pop Warner. Between 2010 and 2012, Pop Warner saw a 9.5% decrease (nearly 24,000 players) in the number of players. That marks the largest decrease in the history of the league. The Chief Medical Examiner says a majority of that decrease is because parents are worried about their kids getting concussions.
The question is should you let your child play football? The answer, of course, is complicated, because the question is complicated. It's hard to know where to begin. What to believe. Who to trust. How to weigh the risks against the rewards.
So, why shouldn't you let your child play football?
Researchers at Purdue University are slowly uncovering a far more serious problem. There is a real possibility that concussions are only the most obvious signs of damage and that even players without concussions suffer mental impairment during football season.
The Purdue researchers worked with Jefferson High School in Indiana and, in the first year of research, fitted 21 football helmets with accelerometers that would measure the impact of the hits they were taking.
Researchers did brain scans and cognitive tests on the players throughout the season. The findings, originally publish in the "Journal of Neurotrauma," should send a shiver through anyone who loves the game. Nearly half the players who appeared to be uninjured still showed impairment in brain activity. The second year's research, just recently released, shows more of the same. In all, of the 31 players who did not suffer a concussion, 17 had impaired scores on the cognitive tests.
The focused on this research has been obscured by the growing concern over concussions. There were many more stories about the deaths of former NFL players  (notably Junior Seau) who committed suicide and was discovered to suffer from CTE (chronic traumatic encephalopathy), which is a form of brain damage common to boxers and now, football players.
So, why should you let your child play football?
Helmet to helmet hits are greatly diminishing. The helmet to helmet hit will never be totally eliminated from the game of football, but it has and will be significantly reduced. Unless you have been under a rock for the last three years, anyone involved with football has been made aware of the brain trauma associated with concussions. Therefore, coaches at all levels of football should be more proactive than ever in teaching proper head placement for tackling and blocking techniques.
Liability could be another reason to make the game safer. Coaches from Pop Warner to high school have been made aware that they could face potential liability for creating and/or encouraging unsafe methods, techniques and practices. I'm certain everyone knows the NFL is facing lawsuits from their own players, so what's to stop college, high school or youth players from doing the same? The growing shadow of liability should keep those in charge (coaches, trainers, and conditioning coaches) honest about making sure the players don't put themselves at risk, especially for head trauma.
Trickle down education for future players. The NFL is spending millions on educating youth players on the proper techniques of blocking and tackling. Programs such as Play 60 and Heads Up have reached tens of thousands of children already. Just like in rugby where it is second nature for players to tackle with their shoulder, a new breed of football player is emerging that's better educated through camps and clinics on how to protect themselves, and their opponents from injury.
What we like to call "old school" coaches, are rapidly dying off.  A lot of them taught to lead with butt of helmet. These coaches weren't being barbaric but they were teaching techniques of the game that were taught to them. When Bill Walsh came on the scene and started winning Super Bowls with short, crisp, cerebral and non-contact practices, the football world took notice and started adopting his philosophy. In addition, as the game continues to speed up with spread offenses, coaches stuck in teaching strictly a physical brand of football are being weeded out and left behind.
Many in football mindset has changed. 2011 and 2012 will be known as the years where the NFL brand of football went soft but safer. Anybody watching noticed more penalties and more reprimands by the announcers when a hit seemed either too low, too high, unsafe and/or just too vicious. It's just not cool anymore. We all still love a great hit but not when there is a risk of concussion or serious injury. Sure, there will always be a risk for injury but the risk of suffering a serious injury while skateboarding, surfing, and/or mountain biking may be even greater.
So, what should you do?
Football is fun. The game is inherently dangerous, rooted in violence and physical domination, hitting and tackling, knocking your opponent on their behinds before they do the same to you. More than four million American children will play high school and youth football.
Week after week, season after season, the sport teaches life lessons, rallies communities, provides excitement and entertainment for millions. At the youth level, most players walk away from the game with fond memories and without serious, lasting harm.
I am a huge football fan and I think my grandson Joshua would be a great player. The problem is my daughter Ebonii doesn't want him to play football. I guess I'll be buying a basketball. But I feel lucky that I don't have to make that decision with all we know now.
As parents, grandparents or guardian I think we have to be careful and informed, but certainly not scared. Then and only then I believe you will make the best decision for your child.
NFL Legend Lawrence Taylor Arrested In Florida
Retired NFL legend Lawrence Taylor was arrested in Florida on Thursday. The Hall of Fame pass-rusher and longtime Giants star is facing two felony charges for failing to alert authorities to a change in address. This comes 10 years after Taylor, 62, pleaded guilty to charges of sexual misconduct and patronizing a prostitute, resulting in him becoming a registered sex offender — which requires informing authorities of new residences.
Taylor was booked around 8:45 p.m. ET, and released later Thursday night from the Broward County Sheriff's Office. His attorney, Arthur Aidala, told TMZ that the former linebacker "has been compliant with all of the rules and regulations regarding his legal status for the past decade." Taylor is "in the middle of a divorce," however, "and his local police department suggested it would be best if he slept at a nearby hotel."
"Mr. Taylor was constantly a resident of the marital home where he was registered," Taylor's attorney continued, "but on advice of local law enforcement, he was sleeping outside the home. We are confident that this will be dismissed at the first court hearing."
This isn't the first time Taylor has been in legal trouble since his 2011 charges. The two-time Super Bowl champion pleaded guilty to DUI charges in 2017 after crashing into a parked police car in Florida. During Taylor's prestigious playing career, in which he won NFL MVP, went to 10 Pro Bowls and redefined modern-day pass-rushing, the longtime Giant also battled off-field issues, serving a suspension for repeated drug use.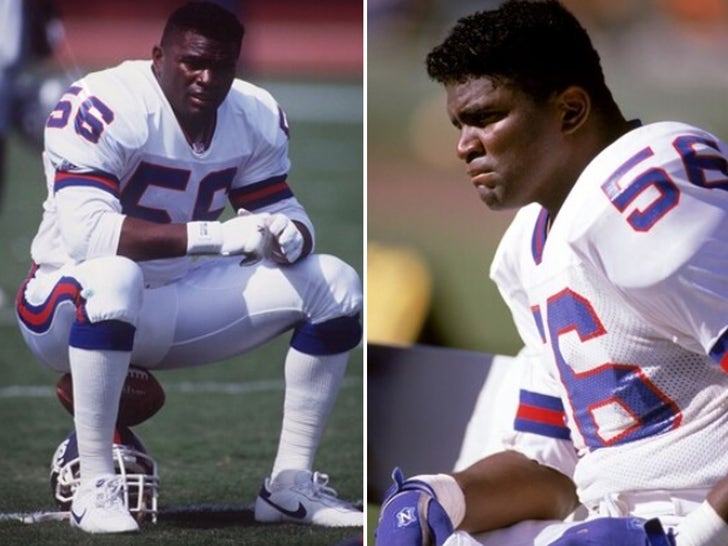 Boxer Gervonta Davis Involved in Minor Plane Crash, Documents Aftermath
Gervonta Davis just, miraculously, walked away from a plane crash relatively unscathed — and it sounds like what's hurting him the most in the aftermath are his feet … and his caboose.
The professional boxer went live Saturday to document a terrifying encounter he says he and his crew had just gone through after boarding a private jet … which apparently failed to properly take off and crash landed back down to the airport grounds it was trying to leave.
Thankfully, it doesn't appear the aircraft got very far up before coming back down to Earth — because Gervonta and other passengers seemed more or less okay … with their health and bodies intact.
That's not to say Gervonta wasn't feeling some hurt afterwards — on his live feed, he noted that his booty was aching like no other … this while he wrapped his feet in gauze. He's pretty jovial about the whole thing, which is great to see, but this could've easily been way worse.
Gervonta also was able to get some shots of the downed plane, and it sure looks like something went wrong internally. There were also fire engines that showed up on the scene to evaluate the damage and tend to anyone's injuries. Again, though, most everyone seems to be fine … which is absolutely incredible, because it appears there were even children aboard, based on a photo Gervonta posted shortly before getting on his flight. His video doesn't capture any kids, though.
It's unclear what exactly caused the malfunction — but you can hear Gervonta and his friends speculate on what happened … seems like there might've been some overheating of some sort. They also appear to be discussing some of the flight maneuvers the pilot(s) were using in the air … and the group seems to think that may have attributed to it going down.
Stay tuned while we here at Prestige try to get a hold of Gervonta's team for more answers.
Tennis Player Coco Gauff Tests Positive For COVID-19, Will Not Attend Olympics
17-year-old tennis player Cori "Coco" Gauff was slated to be on the U.S. tennis team at the upcoming Olympic Games, but has withdrawn after testing positive for COVID-19.
She broke the news via social media.
"I am so disappointed to share the news that I have tested positive for COVID and won't be able to play in the Olympic Games in Tokyo," she wrote in a note. "It has always been a dream of mine to represent the USA at the Olympics, and I hope there will be many more chances for me to make this come true in the future." At #25, Gauff is the youngest player with a Women's Tennis Association ranking in the top 100 .
00:00 of 00:49Volume 0% More VideosCoco Gauff Beats Defending Champ Naomi Osaka at Australian OpenPart 1: COVID-19 The Black SouthCOVID-19: Black Folks Say Data Is PoliticalDr. Robinson discusses Community Impact of COVID-19Dr. Patrice Harris Answers COVID-19 QuestionsDr. Powell Shares Reliable Sources For COVID-19 InformationThe OverExplainer: Body PositivityOctavia Spencer On Staying Mentally Well During COVID-19
At 15, Gauff shocked the sports world when she beat tennis icon Venus Williams in the opening round of Wimbledon in 2019. She then bested Williams again during her Australian Open debut in January 2020 and defeated Naomi Osaka at the same event.
Gauff finished her statement by wishing all of her fellow athletes well. "I want to wish TEAM USA best of luck and a safe game for every Olympian and the entire Olympic family."