Serena Williams: The Greatest Ever?
Serena Williams, at 31, is the best player on the WTA tour by far. Her biggest "rivals" at the moment, Victoria Azarenka and Maria Sharapova, have a combined 3-25 record against her. It has become conventional wisdom that she is the best woman to ever pick up a fuzzy yellow ball. Serena Williams is playing…
Serena Williams, at 31, is the best player on the WTA tour by far. Her biggest "rivals" at the moment, Victoria Azarenka and Maria Sharapova, have a combined 3-25 record against her. It has become conventional wisdom that she is the best woman to ever pick up a fuzzy yellow ball.
Serena Williams is playing arguably the most dominant tennis of her career, winning her fifth U.S. Open championship and the 17th major title of her career.
She moved within one of the legends Chris Evert and Martina Navratilova, who won 18 apiece, tying her for fourth all-time among women. Margaret Court is the all-time leader with 24 majors.
Despite winning the most major titles of any man, there seems to be a healthy debate about whether Federer is the greatest male player of all time.  He has a losing record against chief rival Rafael Nadal, but the chorus is increasingly singing Serena's praises as the greatest WTA woman of all time.
"First of all, I think she's the greatest tennis player that we've ever seen up until this point," Evert said after her 17th Grand Slam win in the U.S. Open finals. "Maybe 20 years from now somebody else will come out but she's the greatest tennis player."
Evert went on to add: "As far as the greatest record, she doesn't have the greatest record. Margaret Court has the greatest record. Steffi Graf (22 Grand Slams) has a better record, and Serena's the first to admit that.
"I think still right now, I go by numbers," Williams said. "I don't think I'm the greatest because Steffi has way more Grand Slams than me. I just go by what's written down."
Despite what the numbers say, Serena's dominant serve and punishing ground strokes are unlike anything women's tennis has seen before and she is playing at perhaps the peak level of her career right now.
She has won four of the last six Grand Slams — including Wimbledon and the U.S. Open in 2012 (as well as taking the gold medal at the 2012 Olympics).
"Nobody has had a game like hers," Evert said. "Nobody has had the power, the shots, the serve and the complete package that she has, so she's the best tennis player."
Williams credits some of her current dominance to her coach — and reported boyfriend — Patrick Mouratoglou.
"One of the main reasons I was able to work with Patrick is because he was telling me a lot of the same things that my father told me," Williams said of her father and former coach, Richard Williams. "I think that had he told me something opposite or something different, or he wasn't just doing almost similar stuff, I wouldn't be able to work with that because I just wouldn't accept it."
At 31 and playing at this level, there is no reason Serena cannot continue to assert her dominance for two or three more years and ultimately challenge Graf and Court on the all-time list.
"If she plays for another three years, if she wins one or two [majors per year] she could very well pass Steffi," Evert said. "The key to her game is staying healthy, being fit, and just staying interested and inspired.
Serena has always had trouble maintaining interest in playing tennis. She has periodically drifted away from the tour to pursue business, publishing, reality-TV and other interests.
She has proved once again that when she's firing on all cylinders, no one can beat her.
"This is peak Serena." said Billie Jean King, who won 12 majors in the Open Era and for whom the USTA National Tennis Center is named, added a similar sentiment in a recent TV interview.
"If Serena keeps going, she's probably going to be the greatest player ever to have lived," King said. "But right at this moment I'm a big believer that every generation gets better so Serena, should be, could be, the best that's ever lived."
cedric@prestigemagazine.net
Arrest warrant issued for Odell Beckham over alleged battery on police officer
Browns wide receiver Odell Beckham Jr. is potentially in legal trouble over an incident that took place in LSU's locker room after Monday night's national championship game.
Video appears to show Beckham slap the butt of a police officer who was in LSU's locker room. NOLA.com reports that New Orleans police obtained an arrest warrant accusing Beckham of simple battery in connection with the incident.
The report said authorities originally wanted Beckham charged with misdemeanor sexual battery, but a judge denied that request.
Beckham, who played at LSU, was celebrating with the team on the field and in the locker room after they won the national championship. Beckham has already been under scrutiny over potentially breaking NCAA rules by handing cash to players, but this legal scrutiny is potentially much more problematic for him.
After Beckham appeared to slap the officer, the officer turned around and exchanged words with Beckham, but he was not arrested at the time.
Antonio Brown arrives for deposition in beach condo lawsuit
This is some wild and I mean wild … footage of Antonio Brown furniture-throwing tirade at The Mansions condo complex from April 2018 has surfaced — and it's even crazier than we imagined.
You can see at least 4 large items come flying off the balcony into the condo's pool area … smashing stuff on the way down, in surveillance footage obtained by WSVN.
You can see people running for safety as furniture comes raining down.

Unemployed NFL wide receiver Antonio Brown isn't spending his Tuesday getting ready for a game — he just walked into a Miami office to sit for a deposition in a lawsuit where he's accused of trashing a luxury apartment.
As we previously reported, AB is being sued by the owners of The Mansions at Acqualina in the Miami area, where he was accused of wrecking his $35k-per-month unit and not paying for the damages.
Brown allegedly leased the place from Feb. 2018 to July 2018.
In the lawsuit, the condo owners claim they found broken or defaced furnishings — including a leather couch, silk-covered sofas and appliances. They also claim AB damaged the walls and flooring so badly, they needed to repaint the place.
Brown has previously denied the allegations and vowed to fight the case. In fact, Brown filed a counterclaim against the condo claiming his unit was burglarized in April 2018 due to lack of security at the complex. Brown filed multiple police reports claiming the burglars entered his place without permission and stole $80k in cash and a 9mm firearm while he was out of town.
AB arrived for his deposition on Tuesday morning with his agent, Drew Rosenhaus, by his side — along with his attorney, Darren Heitner.
The former New England Patriots star was dressed in a black tracksuit and was smiling and using his phone to record the media throng waiting for him as he arrived.
In other words, he didn't seem worried at all.
Leave it to Antonio Brown to record himself while walking into court pic.twitter.com/umtl7qdLEJ

— Dakota Randall (@DakRandall) September 24, 2019
If The Mansions sounds familiar, it's the same place where Brown was accused of going on a furniture-throwing tirade back in 2018 … and almost smashing a 22-month-old child.
Brown was sued by the family of the kid who says Brown was launching furniture off his balcony and only missed hitting the child and his grandfather by "a mere foot or two."
Brown struck a settlement with the family — agreeing to put money in the kid's college fund and also donate to a charity.
David Ortiz's First Interview Since Shooting, Says He Almost Died
David Ortiz broke his silence with the media since being shot in the Dominican Republic, and he gave an emotional interview … acknowledging he almost died there.
The former Boston Red Sox slugger spoke with Univision in a sit-down that aired in Spanish on Saturday, answering a number of questions related to the scary incident in his home country this past June — when he was ambushed and shot in the back at a club.
Big Papi described the initial feeling of the bullet going in, saying he felt a stinging sensation … adding that in the first five seconds, he felt like he was in a living nightmare. He said the shooting made him disheartened, as he has no problems with anybody.
Ortiz went on to explain that he never lost consciousness en route to the hospital, but said he experienced something he'd never quite felt before … trying to survive for his life.
He says he's never had his life threatened before, and that him sitting with his back to the street and no security around should be an implication … he's not someone who'd ever think he was in danger. Then came the question about who did it … and why.
Ortiz says he has no idea why anyone might've wanted to kill him, again reiterating that he has no enemies … and no issues with anybody (especially criminals) that would make him worry.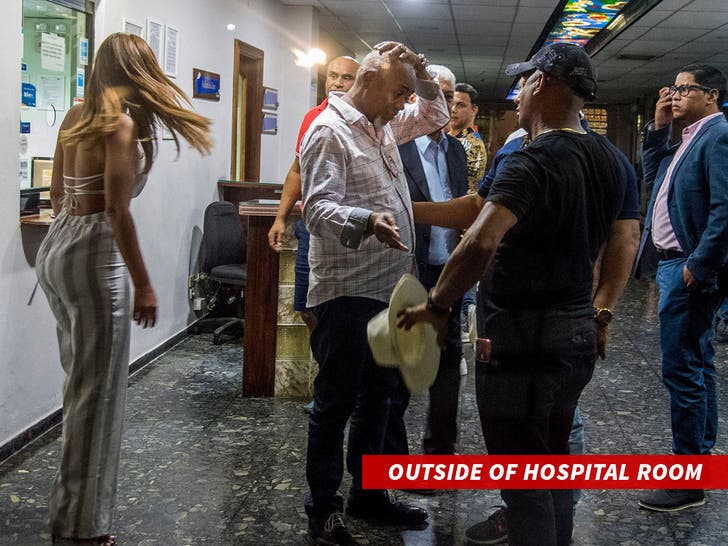 Big Papi also touches on a rumor that Dominican drug lord Cesar Emilio Peralta might've been the one who ordered the hit, but he again came back with uncertainty … saying he couldn't think of any reason why that would be the case — if, in fact, it is.
As we reported … authorities in the Dominican Republic have made several arrests in connection to the shooting, including the alleged shooter himself. Cops say that Ortiz was not the actual target, and that the hit was a case of mistaken identity.
Ortiz is unclear on that himself, but one thing that clearly hurt him as he was in the hospital … people apparently suggesting that he deserved what he'd gotten. He tears up as he recounts the recovery process, saying that at one point he was in a coma … and almost died.
Luckily, Big Papi is getting better each day. He threw out the first pitch at a recent Sox game — and seems to be doing well following multiple life-saving surgeries.
Still, it's pretty gut-wrenching to hear it all again from the man himself.