One-on-One with Natasha Leath-Hamilton
Natasha Leath-Hamilton is by all means considered as an "intuitive guru". With her innate ability to understand people and see what lies beyond the surface, which is widely considered a gift. Her quest is to help people uncover their truths by better understanding their past, present and their future. Prestige sit down Tasha and speak candidly on this gift she possesses, how she is using her gift to help others and so much more.
Sylvia: Hello. How are you?
Natasha: I'm good. How are you?
Sylvia: I'm great.
Natasha: I'm so excited to talk to you tonight.
Sylvia: Yes, ma'am. I as well.
Sylvia: Ms. Tash, we wanted to say thank you so much for joining us tonight. The first question that I have for you is, can you just please give us some information on your background as a young child growing up, just your upbringing? And who is Tash?
Natasha: Sure. My upbringing was pretty interesting. As you know, I'm an intuitive which means that I have the ability to literally read people and read their past and present. As well as the possibility of their future. My family realized when I was 6 years old that I had this gift. It's very interesting living in my household as a child knowing things about my teachers. Knowing things about my mother's friends. Children with this gift of knowing a lot more than what lies on the surface. It was so challenging because you knew clearly that I was different from other kids. I knew that I had responsibility and I thought it was okay for me to just tell someone what was going on in their lives. But growing up doing that outside of my house was not okay. Because you never knew how people would receive you knowing something about their lives that they never told you. Especially coming from a child. For many, many years growing up, it was just something that they knew in my household. My mother, my siblings. I would sleepwalk. I would get up in the middle of the night and run to the door. I would sleep talk a lot because I was holding the gift inside and I didn't have the ability to share it with the world. That was something that was almost too big. You can't just tell people what's going on in their lives. I felt like I was dealing with that sleeping at night. Getting up sleep-talking as a child. This happened all the way up until my 20s. Finally, I get this program called Momentum Education, based in New York City about transformational work; owning who you are, living your best by living your life to the fullest. I did the transformational work because for many years I felt lost. I felt like I wasn't being myself. I was very successful in corporate America as an executive working as a chief of staff, chief of the partnership. I was in my own non-profit organization to help young girls feel secure. Because I knew a lot more about what this situation was and I used my gift to help the girls in my organization. Still, outside of me helping people, I was never fulfilled. Making a lot of money, living well, having a great life, there was something about me that felt it was very much incomplete and I knew that it had all to do with my gift. I knew as long as you are not walking your truth and living the purpose in the gift that God gave you then you are never going to be happy or content with any way that you are working. I recently got married, June of 2019 and when my husband and I went on our honeymoon I came back and I just started to fully build the brand of Talk To Tash. While I was working in corporate America I would come home in the evenings and conduct sessions. I was working during the day and I was speaking with people over the phone intuitively. I realized that that was a strain on me and I had to make a choice. Either it was going to be corporate or me using my gifts to help people. I recently made that choice as of July last year, that I was going to fully give my presence a thousand percent so that I can be fully available to whoever needs to speak to me at any given time. So that's Tash. Tash is the intuitive that helps people, gives them the insight into what's going on in their lives without them having to tell me because I'm an intuitive. And giving them the tools and the resources that they need to win in life and to be successful and to propel.
I was with some celebrities in the industry. Some consist of Bryson Tiller, Salt n' Pepper, Tiki Barber, Dante Hall, several others that I'm not allowed to mix in that have used my intuitive support and getting them to where they need to be in their lives. Mase as well. And many others around the world. I know this is my purpose. I'm grateful that I built this Tash brand and talking to me is like talking to one of your girlfriends. I'm very relatable. I'm a regular human being just like you who just so happens to know all of your business because this is the gift that God gave me. I'm using it to change the world and save lives so that's it.
Sylvia: Now I know that you said that this was something that happened to you at a very, very young age. Now do you think that there might have been someone that inspired you to bring that gift out at that young age and if so, is that person or persons still a driving force in your life now? Or do you think that it was something that was gifted there and you had to keep it like you said, lying dormant for a little while until you were able to get that out of your system and be able to facilitate the people that need you with this gift that you have?
Natasha: One of the ways that we discovered that I had the gift was I told my mother something about her friend from a perspective that no one knew. I remember speaking to her about things that I was saying to her friend and I came to find out that, that's what happened. My mother realized then that I had a gift. When I explained to her that I know things about people, this is what my life was like, she ended up taking me to a therapist. And I remember reading the therapist and speaking to her intuitively and her realizing that I had a gift. And speaking to my mother, explaining to her that I was very special and that I had a gift and I really helped her and this was something that was really special to me. This is something that has always stuck with me. Me having that experience of my mother knowing, going to this therapist so I knew eventually I had to use the gift to help people. But it's something that I grew up into, it's not something that I made publicly until my mid-20s with Momentum Education, the transformational workshop.
Sylvia: With that and some of your experience, how do you feel that those experiences have helped others and what is some of the highlights of you being able to help others, especially with those who may have a quest they don't understand and maybe they are just in a place where they are standoffish about what you do and not really understanding what you're doing. What are the processes that you use to get them to be comfortable with what you're doing and how you're teaching and how you're educating and bringing things to light for them for a better life for themselves?
Natasha: Absolutely. The first thing that I always tell my clients when I start my session is I inform them that my gift comes from God. I'm not a psychic. I do not label myself as a psychic at all. I don't use tarot cards, I don't use candles, any of that. My gift is 100% natural. I pray and go to church. I have to let them know first and foremost where it comes from because that supports them at the level of comfort. To say, "Okay, I'm not doing anything wrong". I'm essentially a prophet. I believe I'm a prophet, I know that because my gift comes from God. But I use the word intuitive ability because I feel like if I say prophet everyone is going to want to keep me in church. So that allows me to have a broad audience that puts me in a box. I can help people in the church. I want to help everyone, as many people that I can impact because of the information that I have. I also explain to my clients that speaking to me is going to be literally like talking to a sponge because that is the experience. Literally, you talk to someone who you've known for a while, that's usually their experience, that just so happens to know a little more that will help you and guide you and knows the things that are currently happening in your life right now. That's the majority of my sessions. Me speaking to them about their current experience of what they are going through. I speak into that intuitively without them telling me and then I give them advice about what I know spiritually that will work for them. Now I clearly can't make this up, they can't make this up because I'm telling them things that they didn't makeup, they didn't open up their mouths yet before they even started speaking to me. So they're already shocked with the fact that I knew exactly what the situation in their lives was ranging from career, to health, to love, to finances, to whatever is going on. I usually pinpoint exactly what the focus needs to be and so with that, they express that they are comfortable and then we start having a dialogue. It's mostly me speaking. By the time I'm done speaking usually I answer mostly everything that they wanted to know anyway. At this point, they're just asking me questions and we're having a dialogue. It's a really transformational experience of giving them confirmation that they need, the comfort, the advice, and the motivation to keep going and knowing that whatever you're doing with your life you can do it. It's pretty much me giving them the road map to get around things and make it a lot easier.
Sylvia: Tash, with your sessions I know you said you do these sessions one-on-one. You do group sessions as well as other events where you are having more than one person there that you're educating, that you're helping with your intuitive guru style. Sometimes expecting this prophet, some people feel that prophet coming in to speak and they're doing harm and I'm speaking from, not from my experience, but from some friends that have felt that the prophets have really said things in front of the crowd that was extremely embarrassing. But I'm getting through you that what you're doing is exactly helping them and giving them comfort in knowing that you are like that friend or that girlfriend that's going to be there to try and make sure that you're motivating them. You're inspiring them. You're pushing them out of their comfort zone and into the things that should be and could be for them. Have you ever had a client or anyone that you've spoken intuitively to that was difficult to deal with and how did you handle that?
Natasha: Yes, you always have the strategy, always have the people who have to show up. That comes uncomfortably with any job that you do. Yes, I'm one of the people who would have experience and I understand again, I'm the intuitive type. I understand where the issue is coming from so it's usually a wall that's up in their lives that keeps them closed and because I have this gift from God I can tap into that, which makes it my first focus. Because I want to break them down so that they can be open to receive the information that I have for them to help them. Because I can't help them if they are guarded up. Usually, when that's the case it's because something personal has happened in their lives that's making them have this guard and it's coming from somewhere.
I want to try to get that first and speak about that so that they can calm down and understand, "Wow, she really knows what's going on with me. Let me allow her to help me more". Because I have to get to the root of this and usually I start-up with that. Sometimes the root of it is rough. Sometimes the root of it can be molestation or abuse or neglect from a parent when they were a child. It's a tough topic.
But they come to me for help and guidance. It's my responsibility to be as authentic with them as possible because they came to me for the truth. Because they want to know, want help, and want to live the best life. If I have to do whatever I need to do to get there. I'm very delicate with my words. I'm very mindful of delivery. I can say it aggressively or I can say in a calm loving way to support them.
I have to really be mindful of the way that I'm doing it because it's usually such a sensitive topic. From examples of my own life, I have no problem with sharing.
I just really need to break them down. Really help them understand where it's coming from. They devote a level of comfort with me that's out of this world. They have the mind to understand someone that gets it. Someone that can really support them. That's where it starts.
Sylvia: Now Tash, I know that you said that you had to leave corporate America in order to really be what you were called to be by God as far as your intuitive spiritual guru-ism is concerned. Are there any other endeavors that you're going to be pursuing or any other prospects that you're going to be pursuing that you'd like to share with the Prestige Celebrity Magazine family and the readers as well?
Natasha: Absolutely. Currently, I'm a regular on Let's Talk Live Show with Salmonique Sadiva in the DC area. I'm new to it. I'm physically there in the studio every other week and I connect with the audience. They call me and I speak with them and I connect with them. I'm as well really diving into radio. I have a couple of television projects in the pipeline that I've been working on. I'm not allowed to really discuss the detail of it, but there are T.V. projects that are coming. A book is something that I'm looking to work on as well. I can support people with what they are getting into with their true sense of accountability and really inspiring them from a spiritual place. That's something I would like to work on. And I'm looking to also have more live meeting groups between the DC area and New York, so that's something I'm working on as well.
Sylvia: We know that you're living a really exciting life right now. This is what you really want to do. What kind of advice would you give those to also share this same type of gift that you have? What kind of advice would you give to them as far as being able to step out of their comfort zone and to really pursue that career path?
Natasha: You have to be authentic and caring to people. Some people have the ability and a gift but they're not using it for the right reason. In order to really be successful in this gift, you have to be compassionate. You have to be understanding. You have to be willing to hear what the other person has to say because they're coming to you because there's an issue usually. They want some guidance and they want to understand. You have to do it with a very kind and gentle heart. If you're willing to use your gift in a way where you can help people, then all for it. However, it is a huge responsibility and I think for those people who are out there that do have this amazing gift. They have to use it in a responsible way because you're impacting people's lives. People are depending on you. They want the right answers. They are looking for guidance. So help them. You have to be authentic with your help. You have to be compassionate and you have to be willing to deal with the responsibility that comes behind having the skills.
Sylvia: How can the readers keep up with you and what projects you're working on?
Natasha: I have my website which is talktotash.com. I also have my social media platform: Facebook, Twitter, and Instagram. That is talktotash922. That is my social media, Facebook and Twitter and Instagram so that people can comment. I Instagram live on a weekly or biweekly basis where I'm literally waiting for people to be on Instagram. I can also read pictures as well. If you show me a picture of someone I can literally look at the picture and tell you everything about them. I have this thing where I do Instagram live, usually, it averages a decent amount of followers that come in and ask me questions and I'll pull you in and read your lives on Instagram. It's really fun, it's entertaining. I mean, I think it's something I think people look forward to.
Sylvia: Tash I know that you said that you're in the New York, DC area right now. Of course, you do your lives and everything. Are you planning on branching out? To go and do things other than just in the New York and DC area?
Natasha: Absolutely. I would love, love, love to do something in Atlanta. I have a ton of clients in Los Angeles. Miami is also a place where I would like to do something as well. I'm definitely looking to branch out and take on some kind of tour. That is my big vision. I would also like to do something with Oprah Winfrey that's something I've always felt like would happen, maybe something like the Super Bowl Sunday. I can envision myself sitting down with Oprah and giving her information about how to make an impact and how to change the world intuitively. Jokingly, a lot of people call me Oprah on steroids. That's a joke. Because I have a way with people where I can sit down and literally speak with them about what's happening in their lives. Give them a solution without them having to tell me. It's a healing experience. I think that she and I meeting would be amazing.
Sylvia: Is there a motto that you have?
Natasha: Oh yes. So I am the girlfriend with the gift of girlfriends, the girlfriend with the gift. Because I 'm a girlfriend. I'm a friend and I'll just have to be sensitive and that's what people say. They say, "We want to talk to Tash". They're not trying to brand my name because when people started referring me my business was solely devoted for referrals and people would simply say, "You need to book a session and talk to Tash". I've made a brand out of it. They are like, "She's literally like a girlfriend with a gift". So that's my motto. A girlfriend with a gift.
Sylvia: Are there any last words that you would like to leave with the fans, the readers Prestige?
Natasha: Absolutely. I am grateful that I'm out here with these guests. I definitely see big things happening in terms of me making a large impact and really being influential in the world. That is my goal. One person at a time. The reason for me wanting to get into the entertainment world such as television and radio is so that I can make the biggest impact as possible because I feel like everyone wants to know something. Everyone wants answers. Everyone wants confirmation and talking to someone who is relatable and understanding usually helps access the situation. I just want people to know that I am here to help. I might go and make this brand as big as possible and make the biggest impact that I can possibly make.
Sylvia: Can you repeat for us once more your social media sites as well as your websites?
Natasha: Sure. My social media is talktotash922 and that's spelled out. My website is talktotash.com.
Sylvia: Thank you so much. I just want to say thank you so much for taking out of your business schedule to come and just sit down and talk with me today and give a picture on your journey of what you're doing and what you've been doing and what you plan on doing in the future. We want to say thank you so very much for helping others. We just want to say that we really are just very excited to be able to talk with you and I wish you just many blessings and express with all endeavors that you'll be taking on in the future as well as now.
Natasha: Thank you. You are so kind and I have to say that I absolutely love your energy. I felt it immediately when I spoke with you over the phone. I would definitely let you know that this is your passion for what you are doing. You are good at it and I felt very comfortable speaking with you.
Sylvia: Thank you so very much.
Natasha: Yeah. You're very kind. Your spirit is amazing. I think that you should know that. You are right where you are supposed to be. I just want to give you that message for yourself.
Covid-19 cases rise aboard first cruise to resume sailing in the Caribbean
So far a total of seven passengers have tested positive for Covid-19 aboard the SeaDream 1 cruise ship docked in Barbados, according to two passengers on the ship.
Passengers who have tested negative for the virus will be able to leave the ship and travel home, Gene Sloan and Ben Hewitt told CNN on Friday. They are both among a handful of cruise journalists and bloggers on board.

The SeaDream Yacht Club cruise was the first to return to the Caribbean since the coronavirus pandemic shut operations down in March and was meant to demonstrate that increased safety protocols, including regular testing aboard the ship, could allow cruise voyages to take place during the pandemic.
Instead one passenger fell ill on Wednesday, forcing the SeaDream 1 to return to Barbados, where all 53 passengers and 66 crew were tested.
Hewitt said the crew had informed passengers that everyone who had tested negative twice would be allowed to disembark the ship and fly home on Saturday.
SeaDream Yacht Club said in a news release Thursday afternoon that "guests" had received "assumptive positive" results to preliminary rapid Covid tests, but did not specify the number who had done so.
SeaDream was asked to confirm the exact number of positive results.
SeaDream responded "We are working closely with local health and government authorities to resolve this situation in the best possible way," said SeaDream's Andreas Brynestad, in the SeaDream release.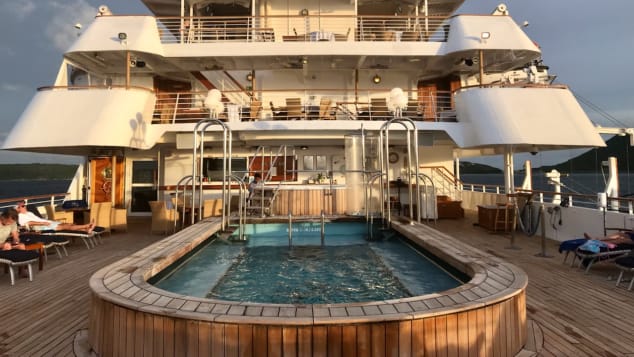 Intercom announcement of positive test result
Sloan, who is a senior reporter for cruise and travel at The Points Guy, reported that the Covid scare started when the captain informed passengers of the preliminary positive test over the ship's intercom system shortly before lunchtime on Wednesday.
Passengers were instructed to return to their cabins and remain isolated there, he said.
The ship, which was in the Grenadines at the time of the first preliminary positive test, docked in Barbados Wednesday evening.
"It's not a great development for the cruise industry," Sloan told CNN via email on Wednesday from his cabin on board. "I think the hope had been that the rigorous testing that SeaDream was doing would keep Covid off its ship."
Multilayer testing for Covid-19 has been an integral part of SeaDream's efforts to create a Covid-19 negative bubble aboard its ships.
Passengers were tested in advance of traveling to the ship and also before boarding the ship, Sloan said.
"And SeaDream also was testing passengers four days into the trip," he said. "We were scheduled to be tested again today. That's a more rigorous testing plan than most lines had been discussing for the restarts."
The protocol is due in part to the strict testing required by Barbados, where the ship will be based for the season, Sloan noted.
"I think what this shows is it's going to happen. And until there's a vaccine or herd immunity, when cruising starts up you're going to see things like this happen. The question is how often and how big?"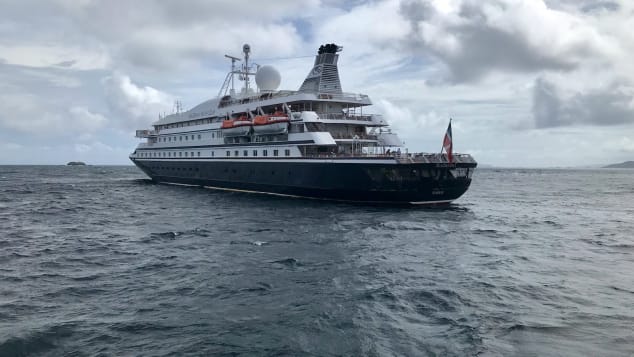 Voyages from Barbados
SeaDream's winter voyages from Barbados started on November 7 with the sailing that has now been cut short.
These new Caribbean sailings follow a successful summer season for SeaDream in Norway, which the company said "resulted in zero positive cases during the entire Norwegian summer season."
"After completing a successful summer season in Norway, we implemented even stricter health and safety protocols for our Barbados winter season. All guests were tested twice prior to embarkation and we are in the process of retesting guests," said SeaDream's Andreas Brynestad in the statement released on Thursday.
Ben Hewitt, host of Cruise with Ben & David on YouTube, expressed his disappointment and frustration with the virus in an interview Thursday from his stateroom.
"It's just so disappointing that this has happened because everybody has their hopes up high, and we can't see anything more that they could've done," said Hewitt.
"It's just such a horrible virus, it just gets everywhere even with the constant testing."
The use of masks on the voyage has been far less stringent.
Sloan told CNN that initially no one was wearing face masks, not even the crew. Crew members told him they weren't necessary since the ship was a Covid-free "bubble."
Then a few days into sailing, SeaDream instituted a mask policy but didn't offer an explanation, he said.
Fewer than 250 guests
SeaDream's ships, which the company refers to as "superyachts," have 56 staterooms, with a capacity for 112 guests and 95 crew.
Carrying fewer than 250 guests outside of US waters allows SeaDream to operate outside of the US Centers for Disease Control and Prevention's orders around cruising.
The CDC recently issued a "Framework for Conditional Sailing Order for Cruise Ships."
The order, which applies to cruise ships in US territorial waters that have capacity to carry at least 250 passengers, is considered a tentative step toward the resumption of cruising.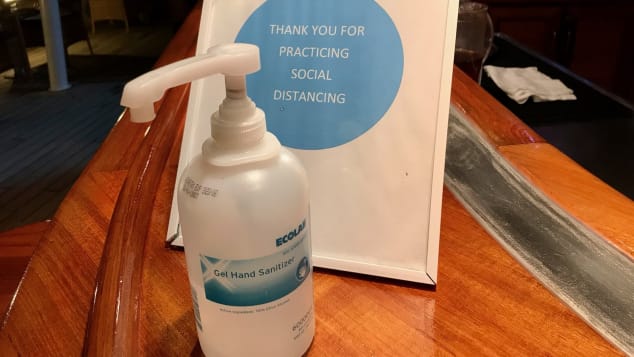 Trade group Cruise Lines International Association said it will work with the CDC to resume US sailings as soon as possible, but that its members would continue a voluntary suspension of operations through the end of 2020.
On Friday, a letter signed by Sen. Richard Blumenthal (D-CT) and Rep. Doris Matsui (D-CA) called on the CDC to reinstate its no-sail order for cruise ships and reverse efforts to restart the industry's US operations.
The letter cites the outbreak aboard SeaDream 1.
Despite precautions, "the virus was still able to infect multiple people on the ship, with the possibility of more confirmed cases emerging as passengers and crew are retested," the letter reads.
"Unfortunately, this troubling development is not surprising and reaffirms the need to exercise extreme caution before sending passengers and crew back out to sea on cruises."
Obama Rips Trump For Refusing To Congratulate President-Elect Biden
Former President Barack Obama is reminding the nation he congratulated President Donald Trump as soon as he won the election … a courtesy the President's refusing to extend to President-Elect Joe Biden.
The former president ripped Trump for failing to acknowledge Biden as president-elect with so much as a congratulatory phone call in an interview with "CBS This Morning," telling Gayle King Trump is damaging our democracy with the way he's eschewing what's traditionally been a peaceful — and cordial — transfer of power.
Obama recalled election night 2016, saying he stayed up until the wee hours of the morning to phone Trump and congratulate the president-elect. Obama says he was doing what presidents do, just as George W. Bush graciously did during Obama's historic 2008 victory.
Trump's refusal to concede and call up president-elect Biden is clearly not sitting well with Obama.
As you know … Obama previously chided Trump and the GOP for continuing to make baseless claims of election fraud in an interview with "60 Minutes," telling Scott Pelley it undermines the country.
Obama points out Biden and 2016 Trump will end up with the same number of Electoral College votes, 306, but says half the country likely won't take that into account if they keep consuming conservative media … which Obama says presents voter fraud allegations as fact.
Bottom line. Obama explains why Republicans can't stop Biden and Vice-President Elect Kamala Harris from being sworn in.
Joe Biden wins the 2020 US Presidential election
Following a tense week of vote tallying, Joe Biden won the state of Pennsylvania and vaulted ahead in the race to become the next president of the United States. Biden's win in the critical state put him over the threshold of 270 electoral votes, cutting off all avenues for his opponent.
Biden prevailed by flipping key states that went to Trump in 2016, including Wisconsin, Michigan and Pennsylvania. Trump again won in Florida and Ohio, but in the end was unable to chart a path to an electoral victory. Biden also leads by millions in the popular vote, with a record number of votes cast this year, many through the mail.
As his vice president, Kamala Harris will make history in myriad ways, becoming the first woman — and the first woman of color — to occupy the office. Harris, a California senator and the state's former attorney general, built a career in the tech industry's front yard.
Shattered barriers aside, this year's election will likely go down in infamy for many in the U.S. The race was the strangest in recent years, characterized by rising storms of misinformation, fears over the fate of scaled-up vote-by-mail systems and a deadly virus that's claimed well over 230,000 American lives. Biden's campaign was forced to adapt to drive-up rallies and digital campaigning instead of relying on door-knocking and face-to-face interaction to mobilize the vote.
The circumstances of the election also created the perfect ecosystem for misinformation — a situation made worse by President Trump's false claim of victory early Wednesday morning and ongoing claims of Democratic voter fraud. Trump appears to be in no mood to concede the election, but in the end the vote is what it is and Joe Biden will take office on January 20, 2021.
While a sitting president rejecting that unwritten democratic norm would be alarming, Trump's decision will have little bearing on the ultimate political outcome. Whatever the coming days hold, the U.S. is entering into a new and unprecedented phase of uncertainty in which misinformation abounds and political tensions and fears of politically-motivated violence are running high.
The former vice president's win brings a four year run of Trumpism to an abrupt end, though its effects will still reverberate throughout American politics, likely for decades. It also ushers in a new era in which Joe Biden plans to draw on the influence of an unlikely coalition of Democrats from across the political spectrum. The Senate still hangs in the balance with two tight races in Georgia headed to January runoffs.
Biden has laid out plans for sweeping climate action, and a healthcare extension that would cover more Americans and provide an opt-in Medicare-like public option. But his ability to enact most of those grand plans would hinge on a Democratic Senate. While either party was likely to continue pursuing more aggressive regulation for the technology industry, we'll be watching closely for signals of what's to come for tech policy.
But even without the Senate, the president-elect may be capable of making a swift and critical impact where it's most needed: the coronavirus pandemic. In the continued absence of a national plan to fight the virus and a White House that downplays its deadliness and discourages mask-wearing, COVID-19 is raging out of control in states across the country, signaling a very deadly winter just around the corner.