Music Review: Hip-Hop Gospel Artist Lecrae's "Gravity"
The distinguishment between Lecrae's previous recordings and "Gravity" is his growth, his truth, and his desire to continue express himself and his faith in ways most are afraid to speak of. Tradition dictates the subjects we're 'allowed' to talk about and share with the world—at least that's what Christianity has been upheld to—in a box.…
The distinguishment between Lecrae's previous recordings and "Gravity" is his growth, his truth, and his desire to continue express himself and his faith in ways most are afraid to speak of. Tradition dictates the subjects we're 'allowed' to talk about and share with the world—at least that's what Christianity has been upheld to—in a box. Lecrae expresses ways of thinking outside of the box to draw people to God's awesomeness. So many powerful messages he touches on this album.
His mixtape "Church Clothes" generated much criticism within the Christian community for his perception of the church through the mind of an unbeliever. With the world constantly changing, more issues are being looked over, untouched, and unaware. If we never address the problem, how can we expect to find the solution? That's what Lecrae has been conveying, broadening the "Gospel/Hip-Hop" genre to other horizons.
Lecrae's growing and shaping more into his own as he lyrically expresses himself in a way of importance and impacting the whole world. I think "Gravity" is more personal than Lecrae's previous albums and mixtapes. To see his journey and his humbleness is very uplifting and encouraging. He discusses love for a companion, his father, wealth, violence, and etc. It is the best album of his and I cannot wait for the next. And the next and so forth. That's why "Gravity" is one of my all-time favorite albums with a rating of 5 Stars.
So which songs on "Gravity" are my favorites?
"Gravity" can be one ugly thing. Sometimes you can feel like your on top of the world and it can pull you down. But a really good message that Lecrae portrays is, "I can't stay." Another message, "Everything in your hand you'll never keep so why hold on?" The world, everything is going to all go down soon. This track bridges tracks "Wall With Me and "Free From It All" into "Falling Down," with its underlining if you feel despair or defeat, everything will do down and you'll "go somewhere where there's no gravity."
A personal track from Lecrae, "Walk With Me," speaks about his father never wanted him, his mother skipped out and his grandfather's death, it hit him how people keep leaving him…those moments when we need someone to lean on or uplift up, I recommend listening to this one. "Jesus, come walk with me, hear my cry, let your love rain from the sky." The pressures and problems in life can wear you down, fall to your knees.
"Free From It All" is an very uplifting song—the vocals and lyrics were so empowering. This song you can play when you wake up in the morning before starting your day. Feeling free from it all relieves all the weights and pressures of life.
Violence- Another powerful, touchy subject that Lecrae tackles—violence instilled in young men to where they think it's the "Man" thing if you don't sell drugs, be in a gang, or carry a weapon. "Little boys want to bang but they barely got a brain…too scared to be better." He conveys the message that taking someone's life is like giving up your life to the system, violence isn't the answer. "War, violence, six feet, rest in silence."
"Mayday"—-Ashthon Jones vocals on this track are phenomenal. This track speaks about false prophets, despair, and hope of "Doing what I can…leave it in the Lord's hands." The song is uplifting as well. "When I look at Jesus, he lived the life I couldn't," Lecrae shows his appreciation. I recommend this song as well for when you need encouraging.
"Confe$sions" tells the tale of how many people want fame and fortunes but really don't consider what it all entails. You can have all the money in the world, companionship, cars, homes, etc. but what would it matter if you're alone or unhappy. I think Lecrae portrays this wonderfully. Everyone who wants to be famous should hear this song.
Dedicated to a female companion, one can assume to Lecrae's wife, the track "Buttons" should be the anthem for the male population I think. Marriage is for better and for worse. Through the ups and downs, we'll stick it out and make it work together."Though you push my buttons, I ain't going nowhere." This shows his romantic side.
"Power Trip" conveys the pressures of the world and everything in it. Lecrae delivers the question, "Do you really want it all, the world in the palm of your hands?" Envy can corrupt you if you let it, humility not being shown or taught, can take you out to where you think you're on top of the world and then it's all over.
Lecrae speaks to the criticism, the haters and naysayers in "I Know." The tenacity and strength in saying, "Yes, I know what they're saying but I'm not tripping. Even when I do the right thing, they still want fight me." Pleasing yourself and the Man Above is all that matters when it comes to people's ideas of what you should be, how you should do it, and who they want you to be.
This song speaks to the heart of it all and you can hear it in this song, "Tell The World." Mali Music is the icing on the delicious cake. The message, "I gave you no reason…what did I do to deserve this loving? Christ came and rescued me and I'm going to tell the world. I'm a Billboard."
"Lucky Ones" expresses his gratefulness for being one of the "Lucky Ones," this is another personal one. This song registers with my soul from beginning to end. The emotion and flow of this track makes this one my ultimate most favorite on the album. God gives us a second chance even when we don't deserve it. "I'm not saying I'm perfect, I ain't always right and I know I don't deserve it but I'm glad I got this life."
Here's an insight to the creation of "Gravity."

UNITED MASTERS TEAMS UP WITH THE MATRIX RESURRECTIONS
BPRW) UNITEDMASTERS TEAMS UP WITH THE MATRIX RESURRECTIONS TO GIVE INDEPENDENT ARTISTS THE OPPORTUNITY TO WIN $15K AND HAVE THEIR MUSIC INCLUDED IN THE FILM'S PROMOTIONAL CAMPAIGN
ORIGINAL SONG "BACK TO LIFE" FROM EMERGING HIP-HOP ARTIST QUANTRELLE WINS GRAND PRIZE; 5 RUNNERS UP TO RECEIVE $1,000
(Prestige Celebrity Magazine) NEW YORK, NY — In celebration of the highly anticipated film The Matrix Resurrections, UnitedMasters – the "record label in your pocket" for independent artists – has joined forces with Warner Bros. Pictures to offer a once-in-a-lifetime opportunity for artists to win $15,000 and have their original music included in the film's promotional campaign.
Today, UnitedMasters has revealed rising hip-hop artist and Charlotte, NC native Quantrelle as the winner of the contest. Quantrelle's song, "Back to Life," written specially for the open call, will receive the $15,000 cash prize and be featured in The Matrix Resurrections promotional campaign. Quantrelle's track was selected as the lead song out of thousands of entries.
Quantrelle shared, "When I first started working on this song, the intention was to create a sound that embodied the energy of the movie. Once that feeling was solidified, I got inspired to write lyrics that really speak to the film and are words any Matrix fan would understand. I was really inspired by the scene of Neo dodging bullets, which I watched during the process, and that illustrious moment felt so in sync with what I was going for, that's when I knew we had something special."
Five runners-up were also selected to receive $1,000 each to put towards their music careers. Each track was judged by UnitedMasters' professional sync team and based on encompassing The Matrix themes, overall creativity, production quality, lyrical content, dynamics, mood, and emotion. The Matrix Resurrections is set to release in U.S. theaters and on HBO Max on December 22nd.
UnitedMasters' engagement with The Matrix Resurrections aligns with their mission of ensuring the next generation of creators take their futures into their own hands. UnitedMasters is dedicated to helping artists level the playing field by offering opportunities and exclusive resources often reserved for major label acts. The platform gives independent artists access to premium music distribution services, a suite of tools to help directly connect with their fans, and opportunities to connect with brands that want access to premium music produced and owned by independent artists. UnitedMasters artists maintain ownership over their master recording rights while being introduced to millions of new fans worldwide through direct brand partnerships.
About UnitedMasters
Launched in 2017 by Translation founder and music industry veteran Steve Stoute, UnitedMasters is a music technology company that gives creators access to premium music distribution services, a suite of tools to help them directly connect with fans, and opportunities for unique partnerships with some of the world's biggest brands all while allowing them to maintain full ownership over their master recording rights.
About The Matrix Resurrections
The Matrix Resurrections reunites Keanu Reeves and Carrie-Anne Moss as cinematic icons Neo and Trinity. Return to a world of two realities: one, everyday life; the other, what lies behind it. To find out if his reality is a physical or mental construct, to truly know himself, Mr. Anderson will have to choose to follow the white rabbit once more. And if Thomas…Neo…has learned anything, it's that choice, while an illusion, is still the only way out of—or into—the Matrix. Of course, Neo already knows what he has to do. But what he doesn't yet know is the Matrix is stronger, more secure and more dangerous than ever before. Déjà vu.
The film also stars Yahya Abdul-Mateen II, Jessica Henwick, Jonathan Groff, Neil Patrick Harris, Priyanka Chopra Jonas, and Jada Pinkett Smith ("Angel Has Fallen," TV's "Gotham").
Lana Wachowski directed from a screenplay by Wachowski & David Mitchell & Aleksander Hemon, based on characters created by The Wachowskis. The film was produced by James McTeigue, Lana Wachowski and Grant Hill. The executive producers were Garrett Grant, Terry Needham, Michael Salven, Karin Wachowski, Jesse Ehrman and Bruce Berman.
Wachowski's creative team behind the scenes included directors of photography Daniele Massaccesi and John Toll, production designers Hugh Bateup and Peter Walpole, editor Joseph Jett Sally, costume designer Lindsay Pugh, visual effects supervisor Dan Glass, and composers Johnny Klimek and Tom Tykwer.
Warner Bros. Pictures Presents, In Association with Village Roadshow Pictures, In Association with Venus Castina Productions, The Matrix Resurrections. The film will be distributed worldwide by Warner Bros. Pictures. It will be in theaters nationwide and on HBO Max via the Ad-Free plan on December 22, 2021; it will be available on HBO Max in 4K UHD, HDR10, Dolby Vision and Dolby Atmos (English only) on supported devices for 31 days from theatrical release.
NFL Legend Lawrence Taylor Arrested In Florida
Retired NFL legend Lawrence Taylor was arrested in Florida on Thursday. The Hall of Fame pass-rusher and longtime Giants star is facing two felony charges for failing to alert authorities to a change in address. This comes 10 years after Taylor, 62, pleaded guilty to charges of sexual misconduct and patronizing a prostitute, resulting in him becoming a registered sex offender — which requires informing authorities of new residences.
Taylor was booked around 8:45 p.m. ET, and released later Thursday night from the Broward County Sheriff's Office. His attorney, Arthur Aidala, told TMZ that the former linebacker "has been compliant with all of the rules and regulations regarding his legal status for the past decade." Taylor is "in the middle of a divorce," however, "and his local police department suggested it would be best if he slept at a nearby hotel."
"Mr. Taylor was constantly a resident of the marital home where he was registered," Taylor's attorney continued, "but on advice of local law enforcement, he was sleeping outside the home. We are confident that this will be dismissed at the first court hearing."
This isn't the first time Taylor has been in legal trouble since his 2011 charges. The two-time Super Bowl champion pleaded guilty to DUI charges in 2017 after crashing into a parked police car in Florida. During Taylor's prestigious playing career, in which he won NFL MVP, went to 10 Pro Bowls and redefined modern-day pass-rushing, the longtime Giant also battled off-field issues, serving a suspension for repeated drug use.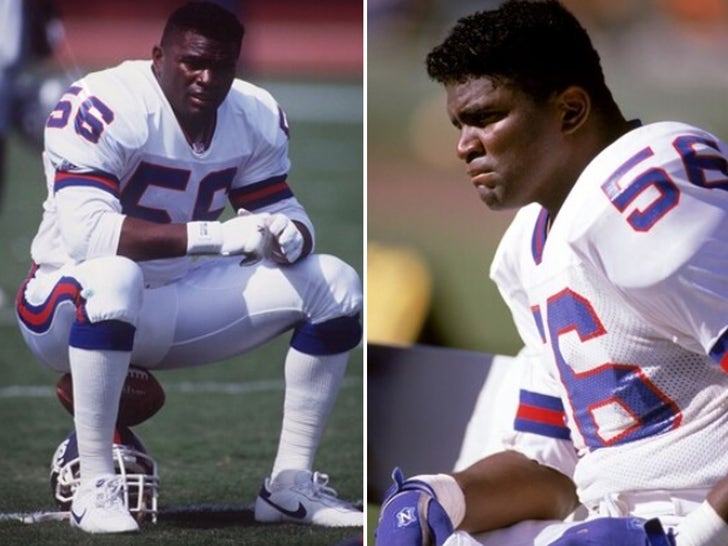 Michael Jordan's Son, Jeffrey, Accused Of Assault In AZ
Update: September 26th Jeffrey Jordan was booked today for one count of aggravated assault of a healthcare professional. He has since been released.
______________________________________________________________________________
Jeffrey is, Michael Jordan's 32-year-old son who is now accused of assaulting staff at a hospital in Arizona Friday night, where he was being treated for an injury he sustained in a bar.
Here's the deal … Jeffrey was at Casa Amigos bar in Scottsdale when he "fell and hit his head," according to police. They say Jordan then became combative with security who were attempting to escort him out of the bar to receive medical attention.
Scottsdale PD, who were in the area for an unrelated call, were summoned to assist. Cops interviewed bar staff, and eventually deemed the incident "medical in nature," not criminal. An ambulance was called to transport JJ to a hospital.
After arriving at a local hospital, that's when things allegedly took a turn.
Jeffrey is accused of assaulting hospital staff while being treated for the injury he sustained at the bar. A report for aggravated assault, a felony, was taken at the hospital.
As for Jeffrey's side, our sources tell us he was confused and disoriented following the fall.
Jordan was NOT arrested or charged with a crime. As of this morning, he still remains in the hospital.
Police tell us the relevant reports will be sent to the Maricopa County Prosecutors Office … where they will review the case and determine if charges are warranted.
6'1″ Jeffrey, MJ's oldest son, played college basketball at the University of Illinois, before transferring to the University of Central Florida in 2010. He played 107 college basketball games over his career, averaging about 2 points a game.
This report continues to unfold.