Khloe Kardashian Threatens To Sue Tristan Thompson's Paternity Accuser
Khloe Kardashian is fed up with the harassment from a woman claiming Tristan Thompson is her baby daddy, saying her attempted 15 minutes of fame are up … and Khloe's threatening to sue the woman if she doesn't shut up. Ok Prestige readers…Please say it ain't so..
Khloe's attorney, Lynda Goldman, fired off a cease-and-desist letter to Tristan's paternity accuser, Kimberly Alexander, Tuesday … calling her out for recently admitting to faking DM's from Khloe.
The legal threat, reads, "You put words in her mouth that she never said and that she wouldn't say. You faked the whole thing. And you have now publicly admitted it."
Goldman lays out a timeline, saying Alexander's son was 7 at the time she asked Thompson's for a paternity test, which he took twice, and according to Goldman, the results were clear — he was NOT the dad.
Goldman also addresses Alexanders past claim the lab that did the test was a "Kardashian affiliated facility," saying, "It is no such thing. It is one of the most reputable labs in the country, and your own lawyers approved it and accepted the test results."
It's the second cease-and-desist letter Khloe sent to Alexander. As we first told you, Khloe and Tristan's lawyer, legal pit bull attorney Marty Singer, fired off a legal threat back in May 2020, claiming Tristan took a paternity test at a reputable lab approved by both parties that proved he's not the father.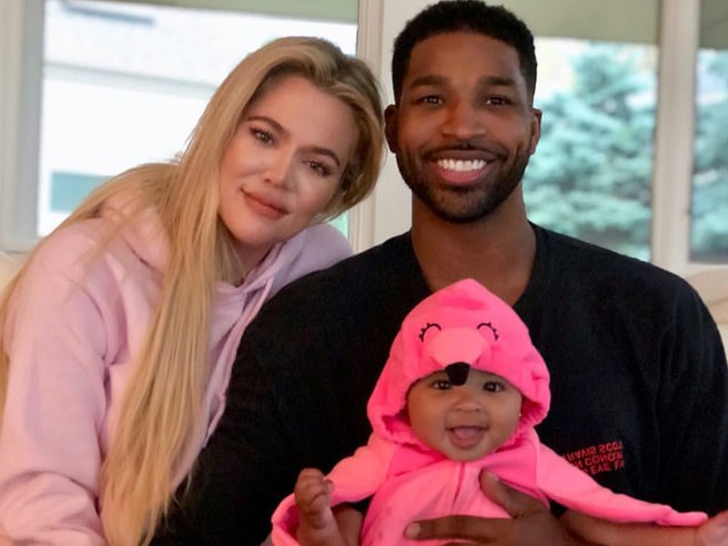 In Tuesday's legal threat, Khloe's lawyer claims Alexander refuses to accept the paternity results and instead keeps harassing Khloe.
Khloe's demanding Alexander stop defaming or harassing her on social media and elsewhere … or face a lawsuit like the one Tristan recently filed against her.
Michael Jordan's Son, Jeffrey, Accused Of Assault In AZ
Update: September 26th Jeffrey Jordan was booked today for one count of aggravated assault of a healthcare professional. He has since been released.
______________________________________________________________________________
Jeffrey is, Michael Jordan's 32-year-old son who is now accused of assaulting staff at a hospital in Arizona Friday night, where he was being treated for an injury he sustained in a bar.
Here's the deal … Jeffrey was at Casa Amigos bar in Scottsdale when he "fell and hit his head," according to police. They say Jordan then became combative with security who were attempting to escort him out of the bar to receive medical attention.
Scottsdale PD, who were in the area for an unrelated call, were summoned to assist. Cops interviewed bar staff, and eventually deemed the incident "medical in nature," not criminal. An ambulance was called to transport JJ to a hospital.
After arriving at a local hospital, that's when things allegedly took a turn.
Jeffrey is accused of assaulting hospital staff while being treated for the injury he sustained at the bar. A report for aggravated assault, a felony, was taken at the hospital.
As for Jeffrey's side, our sources tell us he was confused and disoriented following the fall.
Jordan was NOT arrested or charged with a crime. As of this morning, he still remains in the hospital.
Police tell us the relevant reports will be sent to the Maricopa County Prosecutors Office … where they will review the case and determine if charges are warranted.
6'1″ Jeffrey, MJ's oldest son, played college basketball at the University of Illinois, before transferring to the University of Central Florida in 2010. He played 107 college basketball games over his career, averaging about 2 points a game.
This report continues to unfold.
Lizzo Trying to Manifest Banging Drake After New Song Name-Drop
Lizzo says she name-dropped Drake in her new song to turn the tables on an age-old trope of rappers doing the same for women — but it seems she's actually trying to bang the dude.
During an interview with Zane Lowe, the singer mentioned Drake on her new song with Cardi B, "Rumors," because she felt it'd be fun to give society a taste of its own medicine — and in this context, that means flipping the script on rappers/male musicians name-dropping fine women in their tunes.
If you didn't hear the bar yet, it goes … "Last year, I thought I would losе it // Readin' s*** on the internet // My smoothie cleanse and my diet // No, I ain't f*** Drake yet (Ha)."
The Drake thing seems to have come out of left field … but Lizzo explained further in the ZL sit-down, jokingly saying she hasn't quite been able to manifest some bedroom boom with Toronto's Certified Lover Boy — even though it sounds like she'd love to take a dip.
All kidding aside, Lizzo says she included the line as a way to turn what rappers have often done in music — namely, name-dropping ladies/would-be sexual exploits — upside down on its head. It's true … fellas have done that for a long time in the genre .
As far as their real-life relationship … Lizzo says she kinda knows Drake, and that he's super cool.
Still, it seems she does, in fact, want some of what he's got — at least based on her Twitter activity shortly after this interview aired. She tweeted right at Champagne Papi for the whole world to see, writing … "Hey big head @Drake." Classic "wyd" vibes for modern dating.
Aubrey hasn't publicly responded yet … but wouldn't that be something if he did??? Unfortunately for her, he seems to have his hands full with
Johanna Leia and other things these days.
Boxer Gervonta Davis Involved in Minor Plane Crash, Documents Aftermath
Gervonta Davis just, miraculously, walked away from a plane crash relatively unscathed — and it sounds like what's hurting him the most in the aftermath are his feet … and his caboose.
The professional boxer went live Saturday to document a terrifying encounter he says he and his crew had just gone through after boarding a private jet … which apparently failed to properly take off and crash landed back down to the airport grounds it was trying to leave.
Thankfully, it doesn't appear the aircraft got very far up before coming back down to Earth — because Gervonta and other passengers seemed more or less okay … with their health and bodies intact.
That's not to say Gervonta wasn't feeling some hurt afterwards — on his live feed, he noted that his booty was aching like no other … this while he wrapped his feet in gauze. He's pretty jovial about the whole thing, which is great to see, but this could've easily been way worse.
Gervonta also was able to get some shots of the downed plane, and it sure looks like something went wrong internally. There were also fire engines that showed up on the scene to evaluate the damage and tend to anyone's injuries. Again, though, most everyone seems to be fine … which is absolutely incredible, because it appears there were even children aboard, based on a photo Gervonta posted shortly before getting on his flight. His video doesn't capture any kids, though.
It's unclear what exactly caused the malfunction — but you can hear Gervonta and his friends speculate on what happened … seems like there might've been some overheating of some sort. They also appear to be discussing some of the flight maneuvers the pilot(s) were using in the air … and the group seems to think that may have attributed to it going down.
Stay tuned while we here at Prestige try to get a hold of Gervonta's team for more answers.