Hugo Chavez dies at 58 (1954-2013)
CARACAS, Venezuela– President Hugo Chavez, the fiery populist who declared a socialist revolution in Venezuela, crusaded against U.S. influence and championed a leftist revival across Latin America, died Tuesday at age 58 after a nearly two-year bout with cancer. Vice President Nicolas Maduro, surrounded by other government officials, announced the death in a national television…
CARACAS, Venezuela– President Hugo Chavez, the fiery populist who declared a socialist revolution in Venezuela, crusaded against U.S. influence and championed a leftist revival across Latin America, died Tuesday at age 58 after a nearly two-year bout with cancer.
Vice President Nicolas Maduro, surrounded by other government officials, announced the death in a national television broadcast. He said Chavez died at 4:25 p.m. local time.
During more than 14 years in office, Chavez routinely challenged the status quo at home and internationally. He polarized Venezuelans with his confrontational and domineering style, yet was also a masterful communicator and strategist who tapped into Venezuelan nationalism to win broad support, particularly among the poor.
Chavez repeatedly proved himself a political survivor. As an army paratroop commander, he led a failed coup in 1992, then was pardoned and elected president in 1998. He survived a coup against his own presidency in 2002 and won re-election two more times.
The burly president electrified crowds with his booming voice, often wearing the bright red of his United Socialist Party of Venezuela or the fatigues and red beret of his army days. Before his struggle with cancer, he appeared on television almost daily, talking for hours at a time and often breaking into song of philosophical discourse.
Chavez used his country's vast oil wealth to launch social programs that include state-run food markets, new public housing, free health clinics and education programs. Poverty declined during Chavez's presidency amid a historic boom in oil earnings, but critics said he failed to use the windfall of hundreds of billions of dollars to develop the country's economy.
Inflation soared and the homicide rate rose to among the highest in the world.
Chavez underwent surgery in Cuba in June 2011 to remove what he said was a baseball-size tumor from his pelvic region, and the cancer returned repeatedly over the next 18 months despite more surgery, chemotherapy and radiation treatments. He kept secret key details of his illness, including the type of cancer and the precise location of the tumors.
"El Comandante," as he was known, stayed in touch with the Venezuelan people during his treatment via Twitter and phone calls broadcast on television, but even those messages dropped off as his health deteriorated.
Two months after his last re-election in October, Chavez returned to Cuba again for cancer surgery, blowing a kiss to his country as he boarded the plane. He was never seen again in public.
After a 10-week absence marked by opposition protests over the lack of information about the president's health and growing unease among the president's "Chavista" supporters, the government released photographs of Chavez on Feb. 15 and three days later announced that the president had returned to Venezuela to be treated at a military hospital in Caracas.
Throughout his presidency, Chavez said he hoped to fulfill Bolivar's unrealized dream of uniting South America.
He was also inspired by Cuban leader Fidel Castro and took on the aging revolutionary's role as Washington's chief antagonist in the Western Hemisphere after Castro relinquished the presidency to his brother Raul in 2006.
Supporters saw Chavez as the latest in a colorful line of revolutionary legends, from Castro to Argentine-born Ernesto "Che" Guevara. Chavez nurtured that cult of personality, and even as he stayed out of sight for long stretches fighting cancer, his out-sized image appeared on buildings and billboard throughout Venezuela. The airwaves boomed with his baritone mantra: "I am a nation." Supporters carried posters and wore masks of his eyes, chanting, "I am Chavez."
Chavez saw himself as a revolutionary and savior of the poor.
"A revolution has arrived here," he declared in a 2009 speech. "No one can stop this revolution."
Chavez's social programs won him enduring support: Poverty rates declined from 50 percent at the beginning of his term in 1999 to 32 percent in the second half of 2011.  But he also charmed his audience with sheer charisma and a flair for drama that played well for the cameras.
He ordered the sword of South American independence leader Simon Bolivar removed from Argentina's Central Bank to unsheathe at key moments. On television, he would lambast his opponents as "oligarchs," announce expropriations of companies and lecture Venezuelans about the glories of socialism. His performances included renditions of folk songs and impromptu odes to Chinese revolutionary Mao Zedong and 19th century philosopher Friedrich Nietzsche.
Chavez carried his in-your-face style to the world stage as well. In a 2006 speech to the U.N. General Assembly, he called President George W. Bush the devil, saying the podium reeked of sulfur after Bush's address.
Critics saw Chavez as a typical Latin American caudillo, a strongman who ruled through force of personality and showed disdain for democratic rules. Chavez concentrated power in his hands with allies who dominated the congress and justices who controlled the Supreme Court.
He insisted all the while that Venezuela remained a vibrant democracy and denied trying to restrict free speech. But some opponents faced criminal charges and were driven into exile.
While Chavez trumpeted plans for communes and an egalitarian society, his soaring rhetoric regularly conflicted with reality. Despite government seizures of companies and farmland, the balance between Venezuela's public and private sectors changed little during his presidency.
And even as the poor saw their incomes rise, those gains were blunted while the country's currency weakened amid economic controls.
Nonetheless, Chavez maintained a core of supporters who stayed loyal to their "comandante" until the end.
"Chavez masterfully exploits the disenchantment of people who feel excluded … and he feeds on controversy whenever he can," Cristina Marcano and Alberto Barrera Tyszka wrote in their book "Hugo Chavez: The Definitive Biography of Venezuela's Controversial President."
Hugo Rafael Chavez Frias was born on July 28, 1954, in the rural town of Sabaneta in Venezuela's western plains. He was the son of schoolteacher parents and the second of six brothers.
Chavez was a fine baseball player and hoped he might one day pitch in the U.S. major leagues. When he joined the military at age 17, he aimed to keep honing his baseball skills in the capital.
But the young soldier immersed himself in the history of Bolivar and other Venezuelan heroes who had overthrown Spanish rule, and his political ideas began to take shape.
Chavez burst into public view in 1992 as a paratroop commander leading a military rebellion that brought tanks to the presidential palace. When the coup collapsed, Chavez was allowed to make a televised statement in which he declared that his movement had failed "for now." The speech, and those two defiant words, launched his career, searing his image into the memory of Venezuelans.
He and other coup prisoners were released in 1994, and President Rafael Caldera dropped the charges against them.
Chavez then organized a new political party and ran for president four years later, vowing to shatter Venezuela's traditional two-party system. At age 44, he became the country's youngest president in four decades of democracy with 56 percent of the vote.
Chavez was re-elected in 2000 in an election called under a new constitution drafted by his allies. His increasingly confrontational style and close ties to Cuba, however, disenchanted many of the middle-class supporters who had voted for him. The next several years saw bold but failed attempts by opponents to dislodge him from power.
In 2002, he survived a short-lived coup, which began after a large anti-Chavez street protest ended in deadly shootings. Dissident military officers detained the president and announced he had resigned. But within two days, he returned to power with the help of military loyalists while his supporters rallied in the streets.
Chavez emerged a stronger president. He defeated a subsequent opposition-led strike that paralyzed the country's oil industry, and he fired thousands of state oil company employees.
The coup also turned Chavez more decidedly against the U.S. government, which had swiftly recognized the provisional leader who had briefly replaced him. He created political and trade alliances that excluded the U.S., and he cozied up to Iran and Syria in large part, it seemed, due to their shared antagonism toward the U.S. government.
Despite the souring relationship, Chavez sold the bulk of Venezuela's oil to the United States.
He easily won re-election in 2006, and then said it was his destiny to lead Venezuela until 2021 or even 2031.
"I'm still a subversive," Chavez said in a 2007 interview with The Associated Press. "I think the entire world has to be subverted."
Playing such a larger-than-life public figure ultimately left little time for a personal life.
His second marriage, to journalist Marisabel Rodriguez, deteriorated in the early years of his presidency, and they divorced in 2004. In addition to their one daughter, Rosines, Chavez had three children from his first marriage, which ended before Chavez ran for office.
Chavez acknowledged after he was diagnosed with cancer that he had been recklessly neglecting his health. He had taken to staying up late and drinking as many as 40 cups of coffee a day. He regularly summoned his Cabinet ministers to the presidential palace late at night.
He often said he believed Venezuela was on its way down a long road toward socialism, and that there was no turning back. After winning re-election in 2012, he vowed to deepen his push to transform Venezuela.
His political movement, however, was mostly a one-man show. Only three days before his final surgery, Chavez named Maduro as his chosen successor.
Now, it will be up to Venezuelans to determine whether the Chavismo movement can survive, and how it will evolve, without the leader who inspired it.
—
Biographical information for this report was contributed by former Caracas bureau chief Ian James.
Derek Chauvin found GUILTY in the murder of George Floyd
The former Minneapolis Police officer who knelt on George Floyd's neck for more than 9 minutes last year was found guilty Tuesday of all three charges against him in one of the most consequential trials of the Black Lives Matter era.Derek Chauvin, 45, was convicted of second-degree unintentional murder, third-degree murder and second-degree manslaughter. The jurors deliberated for more than 10 hours over two days before coming to their decision.Wearing a mask inside the Hennepin County Courthouse in Minneapolis, Chauvin had no apparent reaction to the guilty verdict. Afterward, his bail was revoked and he was placed in handcuffs and removed from the court through a side door.He was taken to a facility in Stillwater, Minnesota, about 25 miles east of downtown Minneapolis, officials said.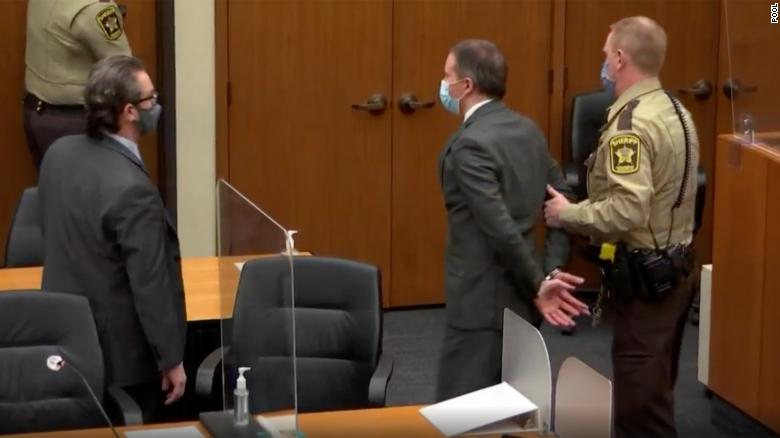 Former Minneapolis Police officer Derek Chauvin was removed from the court in handcuffs on Tuesday, April 20, 2021.The second-degree murder charge said Chauvin assaulted Floyd with his knee, which unintentionally caused Floyd's death. The third-degree murder charge said Chauvin acted with a "depraved mind," and the manslaughter charge said his "culpable negligence" caused Floyd's death.Chauvin could face up to 40 years in prison for second-degree murder, up to 25 years for third-degree murder and up to 10 years for manslaughter. Minnesota's sentencing guidelines recommend about 12.5 years in prison for each murder charge and about four years for the manslaughter charge. In this case, the state has asked for a tougher sentence than the recommendations provide. Chauvin's sentencing is set for eight weeks from now.
The verdict comes about 11 months after bystander video showed Chauvin impassively kneeling on the neck and back of Floyd, handcuffed and lying prone on the street, for 9 minutes and 29 seconds on May 25, 2020. Under the officer's knees, the 46-year-old Black man gasped for air, repeatedly exclaimed "I can't breathe" and ultimately went silent.His final moments illustrated in clear visuals what Black Americans have long said about the ways that the criminal justice system dehumanizes Black people, setting off mass protests across the country as well as incidents of looting and unrest.
Inside court, Philonise Floyd, George Floyd's younger brother, clasped his hands over his head in prayer as the verdicts were read, according to pool reporters, including CNN's Josh Campbell. During the third guilty verdict, his hands shook back and forth and he kept his head down and eyes closed as his head nodded up and down, the report said.After court concluded, Philonise Floyd was seen crying as he hugged all four prosecutors."I was just praying they would find him guilty," he explained. "As an African American, we usually never get justice."In the streets of Minneapolis, the verdicts led to cries of joy and sighs of relief among those nervously watching the trial, including many people outside the Cup Foods store where Floyd took his final breaths. Hundreds of people remained in what is now called George Floyd Square as night approached.
We know Chauvin prepped to make at least one phone call after arriving at the jail, Chauvin scribbled the phone number for Eric Nelson, his defense attorney, on the palm of his left hand. The smudged pen marks were visible on his hand as the bailiff led him out of the courtroom.
Suspect in Colorado grocery store shooting faces 10 counts of murder, police say
The 21-year-old suspect in Monday's massacre at a Colorado supermarket — which left 10 dead including a store manager and a police officer — faces 10 counts of murder in the first degree, police said Tuesday.Ahmad Al Aliwi Alissa, of Arvada, near Denver, is accused of opening fire Monday afternoon at the King Soopers store in the university city of Boulder, killing people ranging in age from 20 to 65, authorities said. Police took the suspect into custody at the store Monday afternoon, less than an hour after panicked 911 callers told dispatchers of the killings unfolding there.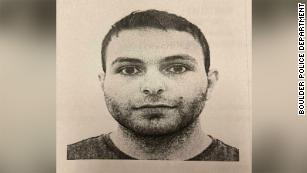 Here's what we know about the Boulder shooting suspect Alissa, who at some point was shot in the leg Monday, was booked Tuesday into county jail after being treated at a hospital, authorities said. Officers described his wound as a "through and through" gunshot wound to his upper right thigh, according to an affidavit from Boulder County. It wasn't clear who shot him, Boulder Police Chief Maris Herold said.Alissa will have his first court appearance at 8:15 a.m. (10:15 a.m. ET) Thursday, according to Colorado Judicial Branch online records.
The motive in the Boulder killings — one of several mass shootings in the US over the past week — isn't immediately known, and the investigation will take a long time, authorities said. Still, investigators believe he was the only perpetrator, they said."I promise that all of us here will work tirelessly … to make sure that the killer is held absolutely and fully accountable for what he did," Boulder County District Attorney Michael Dougherty said Tuesday at a news conference in Boulder.Police on Tuesday also released the names of those killed: Denny Stong, 20; Neven Stanisic, 23; Rikki Olds, 25; Tralona Bartkowiak, 49; Suzanne Fountain, 59; Teri Leiker, 51; Boulder police Officer Eric Talley, 51; Kevin Mahoney, 61; Lynn Murray, 62; Jody Waters, 65.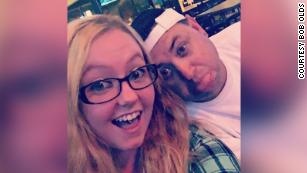 A young grocery store manager and a heroic officer were among the 10 Boulder shooting victims. The suspect has "lived most of his life in the United States," Dougherty said Tuesday, without elaborating.The shootings in Boulder, home to the University of Colorado's main campus nestled by the Rocky Mountains northwest of Denver, came less than a week after shootings at three spas in the Atlanta area left eight people dead.In the past week alone, the United States has seen at least seven shootings, in each of which at least four people were injured or killed.
Witnesses describe terror and panic
Witnesses have described scenes of terror and panic at the supermarket Monday.The affidavit states Boulder police 911 dispatch received multiple calls. One caller told dispatchers the shooter shot out the window of a car and chased a man toward the street. Other callers said the shooter was wearing "an armored vest."Multiple callers said they were hiding in the store. Employees told dispatchers they "observed the suspect shoot an elderly man in the parking lot. The suspect then walked up to the elderly man, stood over him and shot him multiple additional times," the affidavit said.
College student Anna Haynes was across the street in her apartment when heard what turned out to be gunshots, and then looked outside and "saw a body in the middle of the parking lot.""I also saw the gunman himself holding a semiautomatic rifle," and eventually he was "shooting rapid-fire" at something before entering the building, said Haynes, editor-in-chief of the University of Colorado's CU Independent."And a few seconds later, I saw people running out of the building; I heard screaming; I heard people leaving in their cars, and it just evolved into chaos within just a couple of minutes," she said.Maggie Montoya, a pharmacy tech at King Soopers, told CNN's Anderson Cooper she was signing people up for Covid-19 vaccinations when she heard the first shot and her store manager yelled there was an active shooter."We all just scattered just at the first sound," Montoya said.Montoya and a fellow pharmacist then ran into a counseling room and hid under a desk. The two of them called 911 and stayed under the desk for about an hour. They didn't realize how close the shooter was until police announced they had the building surrounded and they heard him right outside the pharmacy."They found his weapons right by the pharmacy," she said, adding that she heard the shooter say: "I surrender. I'm naked."Walking out of the grocery store was when it hit Montoya. She said she saw Olds' body."And that's when it all crashed down," she said. "It all came crashing down, seeing someone I knew dead, that wasn't going to be able to walk out to her family."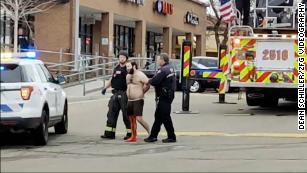 This image shows police escorting Ahmad Al Aliwi Alissa from the supermarket, according to his brother. Ryan Borowski told CNN he was grabbing a bag of chips and a soda when he heard the first shot and saw a terrified woman running toward him. By the third shot, he was running with her toward the back of the store. They and others gathered with employees in the back."I saw a lot of very wide eyes. … The employees in the back of the house didn't know what was going on, so we told them that there was a shooter, and they told us where the exit was," he told CNN on Tuesday. Images from the scene — from a livestreamer and from CNN affiliate KMGH — recorded police escorting from the building a shirtless man with blood on his leg, with his hands apparently cuffed. That man was the arrested suspect, Ahmad Al Aliwi Alissa, his brother Ali Aliwi Alissa told CNN Tuesday.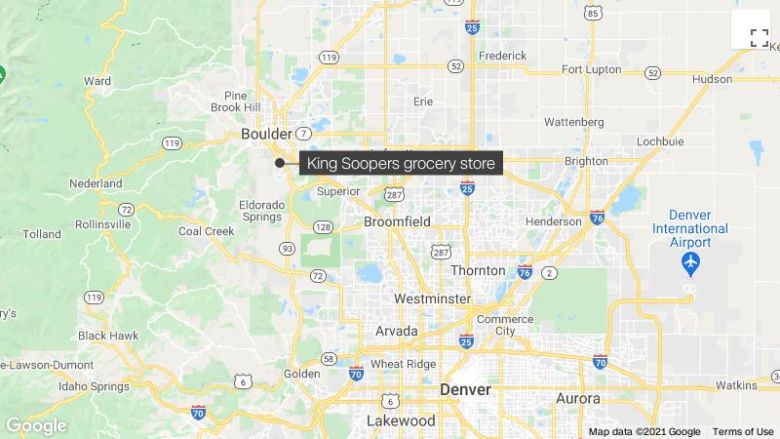 Police officer and store manager among those killed
The slain officer, Talley, was one of the first to respond to the scene, according to Herold. Witnesses told dispatchers they reported seeing the shooter shoot at police, the affidavit said. Officers had exchanged gunfire with Alissa at the store, Herold said.Officers wrote that Talley was down and had to be dragged out by SWAT officers, the affidavit said. Officers reported Talley had a gunshot wound to the head.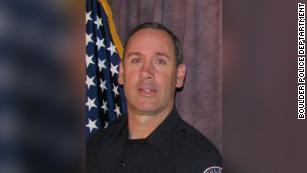 Officer who responded to a mass shooting in Boulder was killed. He leaves behind seven children Talley joined the Boulder police force in 2010, she said.Talley, a father of seven children ages 5 to 18, once had a different profession and "didn't have to go into policing, but he felt a higher calling," Herold said Tuesday."He cared about this community … and he was willing to die to protect others," she said.Olds, 25, of Lafayette, was a front-end manager at the store, her uncle, Bob Olds, told CNN.She was a "strong, independent young woman" who was raised by her grandparents, Bob Olds said. "She was so energetic and charismatic and she was a shining light in this dark world," he told CNN.Olds and another victim were graduates of Boulder-area high schools, said Rob Anderson, superintendent of the Boulder Valley School District.Olds was a 2013 graduate of Centaurus High School and Denny Stong was a 2019 graduate of Fairview High School, Anderson's statement read."Several of the other victims were parents of our graduates and given the fact that this is a close knit community, there will likely be many other connections to BVSD schools both amongst those who were killed and other victims," Anderson said.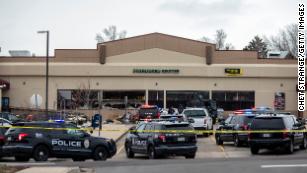 'Gun, gun, gun! Run, run, run!' Grocery store witnesses describe the deadly rampage in Colorado Kroger, which owns King Soopers, said Tuesday three of the victims were employees: Denny Stong, Rikki Olds and Teri Leiker."In the hours since the shooting, we're learning of truly heroic acts that included associates, customers, and first responders selflessly helping to protect and save others. We will remain forever grateful to the first responders who so bravely responded to protect our associates and customers," the company's statement read.King Soopers in Boulder will remain closed while the shooting is being investigated, Kroger said.Suzanne Fountain "was a person who all of her life really was about doing service, helping others," her longtime friend Helen Forster told CNN's Erin Burnett.Forster said she met Fountain during a community theater production in the late 1980s and later hired her to work at her non-profit organization, where Fountain worked for 17 years."She would be the first person that people would see when they walked in the door of the non-profit building that we operate, and she just would take care of everybody. She was calm and reassuring when things were stressful," Forster said.Forster said Fountain also worked at a local hospital for a number of years and later became a Medicare consultant, helping seniors."I think we're still a little bit in shock, and we're stunned. And I think we just have to take one day at a time and remember what she did for all of us," Forster said. "You hold someone in your heart, whether they're on the planet or not, you know. So, I think that that's what a lot of us will be doing moving forward."Stong was a "wise young man," according to his coworker Logan Ezra Smith."Me and him were both big Second Amendment supporters and would go shooting on the weekends," Smith said. "I will miss his smile and his laugh but as well as his honesty. He put you in your place."
What authorities say happened
Police said they were called there about gunfire around 2:40 p.m. (4:40 p.m. ET) Monday.Ambulances and officers from several law enforcement agencies arrived at the store, part of a large shopping center with a two-story strip mall next door.In scanner traffic, officers radioed that they were in a gunfight. They reported being fired at with multiple rounds through at least 3:21 p.m. local time.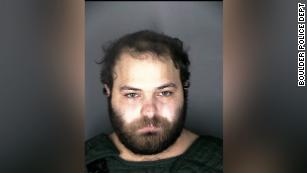 Boulder Police released this booking photo of shooting suspect Ahmad Al Aliwi Alissa.A SWAT team responded to the scene, the affidavit said. An officer says they saw the shooter walking backward toward the SWAT team to be taken into custody. The shooter "removed all of his clothing and was dressed only in shorts."Alissa did not answer officers questions about other suspects, but he did ask to speak to his mother, the affidavit said.The suspect was taken into custody at 3:28 p.m., Herold said. There was no indication of alcohol or drug use, the affidavit said.An AR-15-style pistol, modified with an arm brace, was used in the shooting, a senior law enforcement source told CNN on condition of anonymity. A search of the suspect's home turned up other weapons, the source said.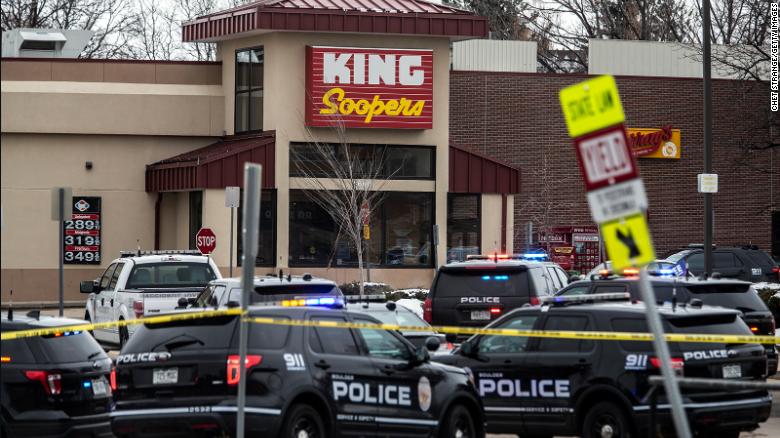 Suspect in Atlanta shootings that left eight dead might have frequented spas, authorities say
Shootings at three Atlanta-area spas on Tuesday left eight people dead, including six Asian women, prompting widespread concern that the killings could be the latest in a surge of hate crimes against Asian Americans.
Police said the lone suspect told investigators he has a "sexual addiction" and that the spas were "a temptation for him that he wanted to eliminate." But the authorities added it was too early to be certain that the slayings were not racially motivated.
Robert Aaron Long, 21, was arrested after a brief manhunt Tuesday. Authorities said Long admitted he was responsible for the slayings, and they believe he acted alone.
Here's what to know:
Police identified the four victims killed in Cherokee County, and added that a fifth suffered wounds that are not life-threatening.
Long was reportedly on his way to Florida to carry out additional shootings, Atlanta Mayor Keisha Lance Bottoms (D) said.
Baker said that Long claimed during interviews that the acts of violence were not racially motivated. Atlanta Police Chief Rodney Bryant said that it remains unclear whether the shootings could be classified as a hate crime.
Vice President Harris called the shootings "tragic" and expressed condolences to the families of the eight people killed. President Biden also said he was "very concerned" about the shootings.
Georgia state Sen. Michelle Au (D) said that regardless of what authorities determine to be the motive, "it is taking place in a landscape where Asian-Americans are increasingly terrified and fearful for their lives and their safety because of these escalating threats against against our people."
2:31 PM: Suspect's youth pastor describes his active Southern Baptist life as a teenager
Years before being suspected of killing eight people in a suburb of Atlanta, including six Asian women, Robert Aaron Long was active in his Southern Baptist congregation, his youth pastor said Wednesday.
Long, 21, was arrested Tuesday in the three shootings.
As a teenager, Long would stack chairs and clean floors at Crabapple First Baptist Church in Milton, Ga., said Brett Cottrell, who led the youth ministry at Crabapple from 2008 to 2017. Long's father was considered an important lay leader in the church, Cottrell said, and they would attend Sunday morning and evening activities, as well as Wednesday evening meetings and mission trips.
"There's nothing that I'm aware of at Crabapple that would give approval to this," Cottrell said in an interview, referring to the shootings. "I'm assuming it's as shocking and numbing to them as it has been to me."
1:56 PM: Head of women's group says those 'most fearful to go to work today in Atlanta are Asian American women'
© Chris Aluka Berry/For The Washington Post The back entrance to Aromatherapy Spa, one of three locations where deadly shootings happened Tuesday in the Atlanta area.
Sung Yeon Choimorrow, executive director of the National Asian Pacific American Women's Forum, said when she first saw news of Tuesday night's shooting, she thought: "This is what we feared."
She pointed to the disproportionate impact that anti-Asian violence has on women. Choimorrow acknowledged that even though authorities said Long, the suspect, claimed the violence was not racially motivated, she wondered whether his personal biases — and larger social factors — were important to recognize.
"The reality is this tragedy is impacting the Asian American community in ways it's not in the other communities in Atlanta right now," she said. "If you step back a little bit, pull back the curtains a bit, and really understand the history of how this country has perceived and treated Asian American women, it won't be a surprise to come to the conclusion that there was some racialized motivation behind what happened yesterday."
She pointed to a history of "exotifying" Asian American women: "Many people interact with Asian American women as service workers, right? People who do body work. Whether it's highly professionalized as doctors who cure your body, to nurses, to child-care workers to beauty service industry, to the hospitality industry," she said.
"The people that are most fearful to go to work today in Atlanta are Asian American women. It's not White women, it's Asian American women," Choimorrow said. "They're fearful to go to their service jobs today because of what happened yesterday."
1:53 PM: Biden says he is 'very concerned' about Atlanta shootings, notes 'very troubling' uptick in violence targeting AsiansBiden on Atlanta shootings: 'It is very, very troubling'
President Biden said Wednesday that he was "very concerned" about the Atlanta area spa shootings that left eight people dead, including six Asian women, noting the sharp uptick in violence in the United States targeting people of Asian descent.
Biden said he had been briefed on Tuesday's violence and that the investigation remains ongoing.
"I'm very concerned, because as you know, I've been speaking about the brutality against Asian Americans for the last couple months, and I think it is very, very troubling," Biden said. "I am making no connection at this moment to the motivation of the killer. I'm waiting for an answer as the investigation proceeds from the FBI and from the Justice Department."
"I'll have more to say when the investigation is completed," he added.
Biden's comments in the Oval Office came at the outset of hosting a virtual meeting with Irish Prime Minister Micheál Martin.
1:27 PM: Atlanta rampage fits patterns seen in prior mass killings
Some details offered by authorities about the shooting rampage in the Atlanta area fit patterns seen in other mass killings.
Researchers have found that mass killers and active shooters are usually male, typically target places known to them and are often fueled by grievances. These grievances can involve attackers blaming others for their issues or otherwise perceiving some wrong, researchers have found.
Law enforcement officials said Wednesday that the suspect in the shootings at the three Atlanta-area spas "may have frequented some of these places in the past." They also suggested during a news briefing that he described the spas as "a temptation for him that he wanted to eliminate," one official said.
An FBI study in 2018 looking at active shooters found that most of those examined had a grievance that "may not have been reasonable or even grounded in reality, but it appeared to serve as the rationale for the eventual attack, giving a sense of purpose to the shooter." Mass attackers also typically unnerve people around them beforehand, alarming at least someone in their lives before the outburst of violence, researchers have found.
Authorities also said that the shooting suspect told investigators that the killings were not racially motivated. In some recent high-profile cases, attackers or people charged in mass killings have been explicit about their intentions and sentiments, including during and after mass killings in Pittsburgh, El Paso and Charleston, S.C.
The suspected attacker in Pittsburgh allegedly said he wanted to "kill Jews" while rampaging inside a synagogue. Police said the man charged with killing people at an El Paso Walmart told them that he was targeting "Mexicans" that day. And the man who massacred Black parishioners inside a Charleston church detailed his racist motivations at length.
All of those massacres led to hate-crime charges.
12:43 PM: House Democrats suggest Trump's rhetoric about 'China virus' to blame for rising violence against Asian Americans
Two House Democrats called out former president Donald Trump for his repeated use of terms such as "China virus" and "Wuhan virus" for the rising violence against Asian Americans the day after shootings at three Atlanta-area spas left eight people dead, including six Asian women.
Law enforcement officials said Wednesday that the shooting suspect claimed that the acts of violence Tuesday were not racially motivated. Atlanta Police Chief Rodney Bryant said that it remains unclear whether the shootings could be classified as a hate crime.
"President Trump clearly stoked the flames of xenophobia against AAPIs with his rhetoric," said Rep. Judy Chu (D-Calif.) at a Capitol Hill news conference Wednesday. "The CDC and the World Health Organization said we should all use the official term covid-19 in order to make sure this disease is not associated with a particular geographical location or ethnicity due to the stigma it causes. And President Trump refused to acknowledge that and instead used the terms 'China virus,' 'Wuhan Virus' and 'Kung flu.'"
In a telephone interview with Fox News's Maria Bartiromo Tuesday night, the former president again used the term "China virus" to describe the coronavirus.
Chu said Trump and his followers doubled down on the rhetoric and "what we saw yesterday is the result of that."
Rep. Hakeem Jeffries (D-N.Y.) went further, saying, "We encourage members of Congress who used that kind of hateful rhetoric — cut it out because you also have blood on your hands."
Hate crimes against Asian Americans have spiked across the United States. Since the start of the pandemic, Asian Americans reported nearly 3,800 hate-related incidents in all 50 states, according to a report released Tuesday by Stop AAPI Hate.
12:22 PM: Obama: 'We urge meaningful action that will save lives'
12:15 PM: Asian American leader says community feels 'hurt' over attack: 'I'm trying to keep it together'
Sookyung Oh, the Washington-area director of the advocacy group National Korean American Service and Education Consortium, said local Asian Americans have been nervously monitoring news coverage of Tuesday's shooting.
"I'm trying to keep it together," said Oh, a second-generation Korean American. "I feel hurt. Asian American people feel hurt."
Oh said the recent attacks follow a long history of violence against Asian Americans, largely fueled by negative stereotypes and xenophobia. President Donald Trump exacerbated those problems by labeling the coronavirus the "China virus," she said.
"I don't know how many times somebody has asked if I'm from here," Oh said. "The ongoing story is that we don't actually get to belong in the U.S."
She called on Asian Americans to be more vocal about attacks against other ethnic groups.
"We have to join with Jewish Americans, the Black community, Middle Eastern and Arab Americans," she said. "And really be clear that we want a country where we're not going to stand for hateful behavior."
11:46 AM: Harris: 'We grieve for the loss'
Vice President Harris called the shootings "tragic" and expressed condolences to the families of the eight people killed, including six Asian women.
"We grieve for the loss," she said. "It speaks to a larger issue, which is violence in our country and to never tolerate it."
While saying the motive of the shooter is not clear, Harris, a former prosecutor, noted that most of the victims were Asian and said no "form of hate" should be tolerated.
11:23 AM: Four Cherokee County victims identified by police
The Cherokee County Sheriff's Office identified four of the people killed in Tuesday's shootings in the Atlanta area:
-Delaina Ashley Yaun, 33, of Acworth, Ga.
-Paul Andre Michels, 54, of Atlanta
-Xiaojie Yan, 49, of Kennesaw, Ga.
-Daoyou Feng, 44
A fifth victim, Elcias R. Hernandez-Ortiz, 30, of Acworth, suffered wounds that are not life-threatening, police said.
After Long, the suspect, was taken into custody, police said they recovered a 9mm firearm. They say he confessed to the shootings during his interview with authorities.
11:15 AM: 'People in the Asian-American community are scared,' says Georgia state senator who warned about hate crimes this week
Georgia state Sen. Michelle Au, a Democrat who represents a swath of North Fulton and Gwinnett counties, said that she was "shocked and saddened" when she first saw news of Tuesday night's shootings, but also that she was "not surprised."
"Obviously the events are still unfolding, and we're still getting more information. So I don't want to jump to any conclusions as to the motivations behind this particular crime," she said. "But just stepping back for a bit, I think that there is a picture in this country, especially over the past year, of increasing discrimination and violence against our Asian American communities."
She said that regardless of what authorities determine to be the motive for Tuesday's shootings, "it is taking place in a landscape where Asian Americans are increasingly terrified and fearful for their lives and their safety because of these escalating threats against our people."
The day before the shooting, Au had warned her fellow state senators about the surge in crimes against Asian Americans. She said media coverage of crimes against Asian Americans have largely focused on incidents in California and New York.
"I did not want this to be a story that people in Georgia ignored because they felt they were immune to it, because, first of all, there is a fairly significant and growing Asian population in the state of Georgia, particularly in my Senate district," she said, noting that Asian Americans and Pacific Islanders make up more than 24 percent of her district.
"The point of speaking about it in the [Senate] well is saying that there's a brewing problem, and we need to be aware of it before it manifests," she said.
During a news conference Wednesday, authorities said the suspect claimed the acts were not racially motivated. Atlanta Police Chief Rodney Bryant said it is not yet clear whether the shootings that killed eight people, including six Asian women, could be classified as a hate crime.
In a separate statement released by Au's office, she added: "Our AAPI community has been living in fear this past year in the shadow of escalating racial discrimination and attacks. This latest series of murders only heightens that terror."
11:08 AM: Suspect was possibly on his way to Florida, Atlanta mayor says
Officials: Atlanta spa shooting suspect claimed possible 'sexual addiction,' but motive undeterminedClick to expand
Robert Aaron Long was reportedly on his way to Florida after the shootings in the Atlanta area, the city's mayor said.
At a news conference Wednesday, Atlanta Mayor Keisha Lance Bottoms (D) indicated that Long, who admitted he was responsible for the shootings, had plans to head to Florida for a potential similar string of violence.
"The suspect was on his way to Florida, perhaps to carry out additional shootings," Bottoms said.
Police say that while the suspect claimed the attacks were not racially motivated, Long showed indicators in his interview with authorities of having a possible "sexual addiction."
10:59 AM: Shooting suspect shows indicators of 'potential sexual addiction,' police say
© Chris Aluka Berry/For The Washington Post ATLANTA, GEORGIA - MARCH 17: Cherokee County Sheriff's Office Captain Jay Baker waits to speak at a press conference for the deadly spa shootings that happened yesterday in Atlanta, Georgia, U.S. March 17, 2021. (Photo by Chris Aluka Berry for The Washington Post)
The Cherokee County Sheriff's Office said Wednesday that the suspect in the Atlanta-area shootings showed indicators of having a possible "sexual addiction" in his interview with authorities.
"He made indicators that he has some issues, potentially sexual addiction, and may have frequented some of these places in the past," Sheriff's Capt. Jay Baker said at a news conference. "We still have a lot of things to process."
Baker later added that in the interview, Long indicated that the spas were "a temptation" for him.
"It's a temptation for him that he wanted to eliminate," Baker told reporters. "It's still early on, but those were comments that he made."
10:58 AM: Church leaders wrestle with shooting suspect's Southern Baptist ties
Russell Moore, head of the Southern Baptist Church's public policy arm, said in a statement that the "shocking" shootings on Tuesday night come at a time when he has heard increasingly from Asian Americans who face escalating "immoral and unjust" bigotry.
"Christians must also lead the way in refusing to listen to and refusing to amplify the voices of those who would incite hatred against minority populations," Moore said.
The denomination has been engulfed in an explosive debate over race in recent months, especially since Southern Baptist leaders condemned something called Critical Race Theory, an academic movement that views racism as central to society's problems. Several Black pastors have left the denomination, and prominent Bible teacher Beth Moore revealed last week that she has also parted ways.
Long's Atlanta church is part of a group in the SBC called Founders Ministry, which has pushed the convention in a more conservative direction in recent years.
Raymond Chang, a Korean American who is head of the Asian American Christian Collaborative, said he was disappointed but not surprised to learn Long was a member of a Southern Baptist Church.
"One of the things that is difficult about White evangelical Christian churches and spaces is that they struggle to talk about race and racism in any meaningful way and create conditions in which racism and white supremacy can sadly flourish," said Chang, who is campus minister at the evangelical Wheaton College outside of Chicago.
He said people of color within White evangelical spaces who try to help on issues of race are often silenced, pushed out, or they burn out. The SBC, Chang said, seems to consistently spend more energy on resisting efforts to dismantle racism than address racism within its church.
10:55 AM: Police: Suspect claims shooting was not racially motivated
© Chris Aluka Berry/For The Washington Post ATLANTA, GEORGIA - MARCH 17: Cherokee County Sheriff Frank Reynolds speaks to the press as Atlanta Mayor Keisha Lance Bottoms listens during a press conference for the deadly spa shootings that happened yesterday in Atlanta, Georgia, U.S. March 17, 2021. (Photo by Chris Aluka Berry for The Washington Post)
Cherokee County Sheriff Frank Reynolds said Tuesday that the killing of eight people in three separate shootings at Atlanta-area massage parlors may not be a hate crime targeting Asians, but more investigation will be done to reach a final conclusion.
Police arrested Robert Aaron Long, 21, after a brief manhunt and said he is the suspect in all three shootings. Police said they interviewed the suspect Tuesday night, with the assistance of the FBI.
Atlanta Police Chief Rodney Bryant said that it remains unclear whether the shootings could be classified as a hate crime.
"I think it's important we acknowledge the fact if this is hate crime," Bryant said at a news conference. "We are still early in this investigation, so we can't make a determination. We are very early."
The killings come as Asian American hate crimes have spiked across the United States. Since the start of the pandemic, Asian Americans reported nearly 3,800 hate-related incidents in all 50 states, according to a report released Tuesday by Stop AAPI Hate.
Bryant emphasized that officials are still early in the investigation.
"Even though we have made an arrest, there's still a lot more work to be done," he said.
Investigators will not simply take the suspect's word for his motives, and have already spoken to his parents. They will also comb through any online postings, writings or witness accounts that may offer clues to what he did, officials said. Denying hate as a motive is unlikely to spare him any punishment, since he already faces eight counts of murder, and the possibility in Georgia of the death penalty.
10:55 AM: Atlanta mayor: 'A crime against any community is a crime against us all'
Atlanta Mayor Keisha Lance Bottoms (D) on Wednesday condemned the area shootings that killed eight people, including six Asian women.
"A motive is still not clear, but a crime against any community is a crime against us all," Bottoms said in a statement.
Police arrested Robert Aaron Long, 21, after a brief manhunt and said he is the suspect in the shootings.
Bottoms praised law enforcement for apprehending Long. She said she is working with the White House and the Atlanta Police Department as law enforcement "investigate the suspect who is responsible for this senseless violence in our city."
"My prayers are with the families and friends of the victims whose lives were cut short by these shootings," Bottoms said.
10:30 AM: Mayorkas says he has been briefed on Atlanta shootings, FBI is on the case
Homeland Security Secretary Alejandro Mayorkas said Wednesday that he has been briefed on the Atlanta-area spa shootings that left eight people dead and that the FBI is on the case.
Mayorkas made his comments during his opening remarks at a hearing of the House Homeland Security Committee where much of the focus is on the migrant surge at the southwestern border.
"At the very outset, I should recognize the tragic event that took place in the surrounding areas of Atlanta yesterday," Mayorkas said. "Our thoughts and prayers are with the victims of that tragic event, those who lost their lives, as well as those who were injured."
"We are tracking that event very carefully," he said. "I have already been briefed on it. And I know that the Federal Bureau of Investigation is working underway to understand all of the facts and that the individual who is a suspect of that event is in custody."
10:24 AM: Biden briefed on shooting
President Biden was briefed overnight about "the horrific shootings" in Atlanta, White House press secretary Jen Psaki said in a statement Wednesday.
"White House officials have been in touch with the Mayor's office and will remain in touch with the FBI," Psaki said.
According to a pool report, Biden will be speak by phone Wednesday morning with Attorney General Merrick Garland and FBI Director Christopher Wray.
10:17 AM: 'These acts of hate and violence must stop,' Georgia secretary of state says
8:52 AM: Asian Americans in Atlanta stunned by shootings as advocates demand action
Bronze-colored plaques with the message "Wuhan plague" popped up on buildings across Atlanta. An Asian American student on his way to a boba tea shop was told, "Thanks for covid." In suburban Atlanta, an Asian American couple returning from the movies found a slur spray painted on their car.
For months, Asian Americans in Georgia, like in many areas across the country, have faced escalating verbal abuse and harassment, local advocates said. The already on-guard community reacted with shock and fear on Tuesday as it mourned the deaths of six Asian American women and two others fatally shot at Atlanta-area spas.
The violence toward the businesses "is frightening and alarming," Chris Chan, an advisory chair for the Asian American Action Fund Georgia Chapter, told The Washington Post.
Chan said Asian Americans in Georgia had recently faced "words yelled at us or threatening gestures and actions" but "nothing rising to what we are seeing tonight."
7:55 AM: Victims included four women of Korean ethnicity, South Korea says
The killings come as hate crimes against Asians have spiked across the United States. Since the start of the pandemic, Asian Americans reported nearly 3,800 hate-related incidents in all 50 states, according to a report released Tuesday by Stop AAPI Hate.
Among the victims killed in Atlanta were four women of Korean ethnicity, South Korea's Foreign Ministry said on Wednesday. South Korea's Consulate General in Atlanta dispatched a consul to the site, according to a Ministry statement.
Local advocates said they were stunned by the shootings and called for quick action.
"We are shaken by the violence in our city that has left 8 people dead, including members of the Asian American community," said Asian Americans Advancing Justice Atlanta in a statement. "We are gathering information about what happened and what the needs of those directly impacted are. Now is the time to hold the victims and their families in our hearts and with light."
7:39 AM: A timeline of the shootings — and a suspect's arrest
The killings began just before 5 p.m. on Tuesday, authorities said, when surveillance video showed a man in a navy and red hoodie walking into Young's Asian Massage, a spa on a busy commercial strip about 40 miles north of downtown Atlanta.
Four victims were shot inside the parlor along Highway 92, Cherokee County Sheriff's Capt. Jay Baker said; two died on the scene and two later died in a hospital. A fifth man, who was coming out of a nearby business, was wounded, the man's niece told WSB-TV.
Those fatally shot were two Asian women, a White woman and a White man. A Hispanic man was taken to the hospital with injuries, Baker said.
Video showed the suspect jumping into a black Hyundai Tucson and speeding away, police said. Less than an hour later, at about 5:47 p.m., a gunman killed three women inside Gold Massage Spa, about 27 miles south of the first shooting, said Sgt. John Chafee of the Atlanta Police Department.
Police responded to a call of a "robbery in progress" at Gold Massage Spa, and were still on the scene when shots were fired across the street inside Aromatherapy Spa, according to Chafee. Officers found one woman inside that business who was also fatally shot.
With the help of surveillance footage, police said they soon identified Long, who lives in Woodstock, Ga., as the suspect. Police posted photos of the Hyundai Tucson and Long and launched a massive search. In Crisp County, about 150 miles south of Atlanta, the sheriff's office said it heard at about 8 p.m. that a homicide suspect was headed its way.
About a half-hour later, state patrol troopers and Crisp County deputies spotted a 2007 black Hyundai Tucson on the highway, and a trooper performed a tactical "PIT" maneuver, or pursuit intervention technique, that caused the car to "spin out of control," Crisp County Sheriff Billy Hancock said.
Long was taken to jail "without incident," Hancock said, and his office forwarded its information to the Cherokee Sheriff's Office and the FBI.
© AP/AP This booking photo provided by the Crisp County Sheriff's Office shows Robert Aaron Long on Tuesday.