Masters 2013: First ever Australian Adam Scott win
AUGUSTA, Ga. — Adam Scott became the first Australian to win the Masters, beating Angel Cabrera on the second hole of a playoff on a soggy Sunday at Augusta National. The Masters went to a sudden-death playoff for the second year in a row when Scott and Cabrera made matching birdies on the 72nd hole.…
AUGUSTA, Ga. — Adam Scott became the first Australian to win the Masters, beating Angel Cabrera on the second hole of a playoff on a soggy Sunday at Augusta National.
The Masters went to a sudden-death playoff for the second year in a row when Scott and Cabrera made matching birdies on the 72nd hole.
They both made par on the first extra hole, returning to No. 18, before Scott rolled in a 12-footer for birdie to win it.
Scott pumped his fists in the air, screaming toward the gray, darkening sky, and embraced caddie Steve Williams, who was on the bag for 13 of Tiger Woods' 14 major titles.
For Scott, this is the first, making up for his major meltdown at last year's British Open, where he bogeyed the last four holes to lose by a stroke to Ernie Els.
"I found my way today," Scott said.
Scott, playing in the next-to-last group, made a 20-foot putt at 18 and celebrated with Williams as if it were over. Cabrera, in the final group, watched from the fairway knowing he had to hit a brilliant shot.
He did.
Cabrera's ball pulled up 3 feet from the cup for an easy birdie that sent the two players to the playoff tied at 9-under 279.
"That's how golf is," said Cabrera, who was denied his third major title. "I had some issues during the course but I came back."
Another Australian, Jason Day, had the lead until he bogeyed the 16th and 17th holes. He finished two strokes out of the playoff at 281.
Woods, the overwhelming favorite, came up short again. He hasn't won the Masters since 2005, or any major championship since the 2008 U.S. Open.
Woods struggled with the putter on the front side, then missed a birdie try at No. 16 that could have put some pressure on the leaders.
"I had a hard time getting accustomed to the speed," said Woods, who finished in a tie for fourth at 283. "Every putt I left short for probably the first eight holes."
Boxer Michael Conlan OK after being knocked out of ring
The Irish boxer who gestured at 2016 Rio Olympic judges with his middle fingers after losing a controversial decision was reported to be "conscious and stable" and recovering in a hospital after being knocked out of the ring in a WBA featherweight title fight on Saturday.
Michael Conlan was knocked out in the 12th round by English boxer Leigh Wood, who recovered from an early knockdown to retain his title after an often bruising fight at Nottingham's Motorpoint Arena.
Topping the bill in his home city, Wood was put on his back by a looping overhand left towards the end of the first round and while he rose on wobbly legs, the 33-year-old Wood was outclassed over the first half of the fight.
In the final round, though, a bruising right hand seemed to buckle Conlan before Wood unloaded with a further flurry to back up his opponent, who tumbled between the ropes and out of the ring.
Conlan was taken by stretcher from the arena. Wood's promoter Eddie Hearn said on Twitter: "Update on Michael Conlan..conscious and stable, sitting up and talking and await CT scans."
Later Conlan tweeted that he was OK: "I'm all good folks, cheers for the messages. I'll be back, good shot and congrats to Leigh and his team."
NFL Legend Lawrence Taylor Arrested In Florida
Retired NFL legend Lawrence Taylor was arrested in Florida on Thursday. The Hall of Fame pass-rusher and longtime Giants star is facing two felony charges for failing to alert authorities to a change in address. This comes 10 years after Taylor, 62, pleaded guilty to charges of sexual misconduct and patronizing a prostitute, resulting in him becoming a registered sex offender — which requires informing authorities of new residences.
Taylor was booked around 8:45 p.m. ET, and released later Thursday night from the Broward County Sheriff's Office. His attorney, Arthur Aidala, told TMZ that the former linebacker "has been compliant with all of the rules and regulations regarding his legal status for the past decade." Taylor is "in the middle of a divorce," however, "and his local police department suggested it would be best if he slept at a nearby hotel."
"Mr. Taylor was constantly a resident of the marital home where he was registered," Taylor's attorney continued, "but on advice of local law enforcement, he was sleeping outside the home. We are confident that this will be dismissed at the first court hearing."
This isn't the first time Taylor has been in legal trouble since his 2011 charges. The two-time Super Bowl champion pleaded guilty to DUI charges in 2017 after crashing into a parked police car in Florida. During Taylor's prestigious playing career, in which he won NFL MVP, went to 10 Pro Bowls and redefined modern-day pass-rushing, the longtime Giant also battled off-field issues, serving a suspension for repeated drug use.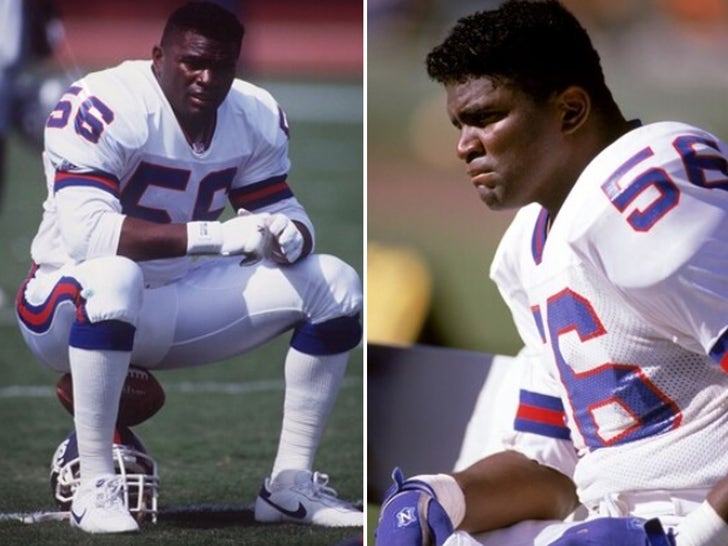 Boxer Gervonta Davis Involved in Minor Plane Crash, Documents Aftermath
Gervonta Davis just, miraculously, walked away from a plane crash relatively unscathed — and it sounds like what's hurting him the most in the aftermath are his feet … and his caboose.
The professional boxer went live Saturday to document a terrifying encounter he says he and his crew had just gone through after boarding a private jet … which apparently failed to properly take off and crash landed back down to the airport grounds it was trying to leave.
Thankfully, it doesn't appear the aircraft got very far up before coming back down to Earth — because Gervonta and other passengers seemed more or less okay … with their health and bodies intact.
That's not to say Gervonta wasn't feeling some hurt afterwards — on his live feed, he noted that his booty was aching like no other … this while he wrapped his feet in gauze. He's pretty jovial about the whole thing, which is great to see, but this could've easily been way worse.
Gervonta also was able to get some shots of the downed plane, and it sure looks like something went wrong internally. There were also fire engines that showed up on the scene to evaluate the damage and tend to anyone's injuries. Again, though, most everyone seems to be fine … which is absolutely incredible, because it appears there were even children aboard, based on a photo Gervonta posted shortly before getting on his flight. His video doesn't capture any kids, though.
It's unclear what exactly caused the malfunction — but you can hear Gervonta and his friends speculate on what happened … seems like there might've been some overheating of some sort. They also appear to be discussing some of the flight maneuvers the pilot(s) were using in the air … and the group seems to think that may have attributed to it going down.
Stay tuned while we here at Prestige try to get a hold of Gervonta's team for more answers.