Ester Ledecka wins 2nd gold medal of Pyeongchang Games
Ester Ledecka has won the second leg of an unheard-of Olympic double, taking the gold medal in snowboarding's parallel giant slalom to go with her surprise skiing victory in the Alpine super-G earlier in the games.
The Czech star is the first to win gold medals in both sports. She is top-ranked on the snowboarding circuit but never a threat until now in skiing.
She outraced Selina Joerg of Germany to the line in the final and won by .46 seconds, a much more comfortable margin than the .01-second edge in the super-G race that left her staring at the clock in shock.
This time, it was no surprise. Ledecka crossed the line and simply pumped her fist, then offered a long congratulatory hug to Joerg.
NFL Legend Lawrence Taylor Arrested In Florida
Retired NFL legend Lawrence Taylor was arrested in Florida on Thursday. The Hall of Fame pass-rusher and longtime Giants star is facing two felony charges for failing to alert authorities to a change in address. This comes 10 years after Taylor, 62, pleaded guilty to charges of sexual misconduct and patronizing a prostitute, resulting in him becoming a registered sex offender — which requires informing authorities of new residences.
Taylor was booked around 8:45 p.m. ET, and released later Thursday night from the Broward County Sheriff's Office. His attorney, Arthur Aidala, told TMZ that the former linebacker "has been compliant with all of the rules and regulations regarding his legal status for the past decade." Taylor is "in the middle of a divorce," however, "and his local police department suggested it would be best if he slept at a nearby hotel."
"Mr. Taylor was constantly a resident of the marital home where he was registered," Taylor's attorney continued, "but on advice of local law enforcement, he was sleeping outside the home. We are confident that this will be dismissed at the first court hearing."
This isn't the first time Taylor has been in legal trouble since his 2011 charges. The two-time Super Bowl champion pleaded guilty to DUI charges in 2017 after crashing into a parked police car in Florida. During Taylor's prestigious playing career, in which he won NFL MVP, went to 10 Pro Bowls and redefined modern-day pass-rushing, the longtime Giant also battled off-field issues, serving a suspension for repeated drug use.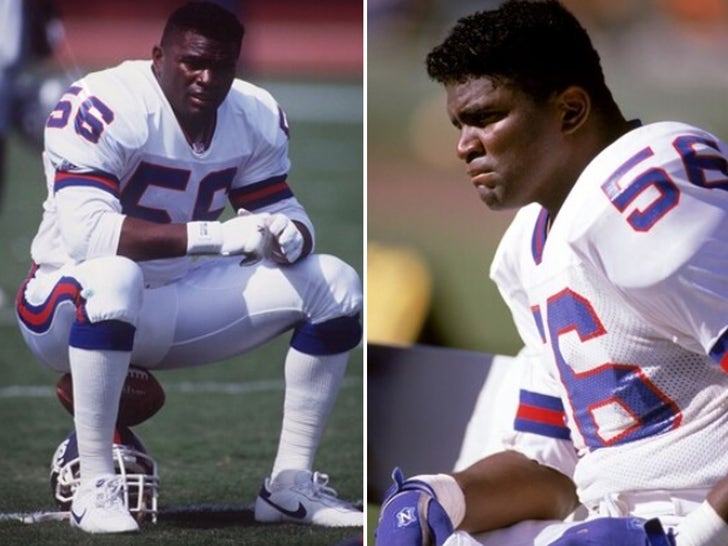 Boxer Gervonta Davis Involved in Minor Plane Crash, Documents Aftermath
Gervonta Davis just, miraculously, walked away from a plane crash relatively unscathed — and it sounds like what's hurting him the most in the aftermath are his feet … and his caboose.
The professional boxer went live Saturday to document a terrifying encounter he says he and his crew had just gone through after boarding a private jet … which apparently failed to properly take off and crash landed back down to the airport grounds it was trying to leave.
Thankfully, it doesn't appear the aircraft got very far up before coming back down to Earth — because Gervonta and other passengers seemed more or less okay … with their health and bodies intact.
That's not to say Gervonta wasn't feeling some hurt afterwards — on his live feed, he noted that his booty was aching like no other … this while he wrapped his feet in gauze. He's pretty jovial about the whole thing, which is great to see, but this could've easily been way worse.
Gervonta also was able to get some shots of the downed plane, and it sure looks like something went wrong internally. There were also fire engines that showed up on the scene to evaluate the damage and tend to anyone's injuries. Again, though, most everyone seems to be fine … which is absolutely incredible, because it appears there were even children aboard, based on a photo Gervonta posted shortly before getting on his flight. His video doesn't capture any kids, though.
It's unclear what exactly caused the malfunction — but you can hear Gervonta and his friends speculate on what happened … seems like there might've been some overheating of some sort. They also appear to be discussing some of the flight maneuvers the pilot(s) were using in the air … and the group seems to think that may have attributed to it going down.
Stay tuned while we here at Prestige try to get a hold of Gervonta's team for more answers.
Tennis Player Coco Gauff Tests Positive For COVID-19, Will Not Attend Olympics
17-year-old tennis player Cori "Coco" Gauff was slated to be on the U.S. tennis team at the upcoming Olympic Games, but has withdrawn after testing positive for COVID-19.
She broke the news via social media.
"I am so disappointed to share the news that I have tested positive for COVID and won't be able to play in the Olympic Games in Tokyo," she wrote in a note. "It has always been a dream of mine to represent the USA at the Olympics, and I hope there will be many more chances for me to make this come true in the future." At #25, Gauff is the youngest player with a Women's Tennis Association ranking in the top 100 .
00:00 of 00:49Volume 0% More VideosCoco Gauff Beats Defending Champ Naomi Osaka at Australian OpenPart 1: COVID-19 The Black SouthCOVID-19: Black Folks Say Data Is PoliticalDr. Robinson discusses Community Impact of COVID-19Dr. Patrice Harris Answers COVID-19 QuestionsDr. Powell Shares Reliable Sources For COVID-19 InformationThe OverExplainer: Body PositivityOctavia Spencer On Staying Mentally Well During COVID-19
At 15, Gauff shocked the sports world when she beat tennis icon Venus Williams in the opening round of Wimbledon in 2019. She then bested Williams again during her Australian Open debut in January 2020 and defeated Naomi Osaka at the same event.
Gauff finished her statement by wishing all of her fellow athletes well. "I want to wish TEAM USA best of luck and a safe game for every Olympian and the entire Olympic family."