Elijah Cummings, Baltimore congressman and civil rights leader, dies at 68
U.S. Representative Elijah E. Cummings, a Democratic congressman from Maryland who gained national attention for his principled stands on politically charged issues in the House, his calming effect on anti-police riots in Baltimore, and his forceful opposition to the presidency of Donald Trump, died Oct. 17 at a hospice center in Baltimore. He was 68.
The cause was "complications concerning long-standing health challenges," his office said in a statement. Mr. Cummings was chairman of the House Oversight and Reform Committee and a leading figure in the Trump impeachment inquiry and had been out of his office for weeks while recovering from an unspecified medical procedure.
Born to a family of Southern sharecroppers and Baptist preachers, Mr. Cummings grew up in the racially fractured Baltimore of the 1950s and 1960s. At 11, he helped integrate a local swimming pool while being attacked with bottles and rocks. "Perry Mason," the popular TV series about a fictional defense lawyer, inspired him to enter the legal profession.
Many young men in my neighborhood were going to reform school," he told the East Texas Review. "Though I didn't completely know what reform school was, I knew that Perry Mason won a lot of cases. I also thought that these young men probably needed lawyers."
'It was like a gut punch': Reactions pour in after Cummings's death
Following the news of Rep. Elijah E. Cummings's (D-Md.) death on Oct. 17, politicians, television hosts and community leaders paid tribute to the civil rights leader.
In the Maryland House of Delegates, he became the youngest chairman of the Legislative Black Caucus and the first African American to serve as speaker pro tem, the member who presides in the speaker's absence.
In 1996, he won the seat in the U.S. House of Representatives that Kweisi Mfume (D) vacated to become NAACP president. Mr. Cummings eventually served as chairman of the Congressional Black Caucus and as ranking Democrat and then chairman of what became the House Oversight and Reform Committee. 
'A giant of integrity and knowledge has fallen': Congress reacts to the death of Rep. Elijah Cummings
He drew national attention as Secretary of State Hillary Clinton's chief defender during 2015 congressional hearings into her handling of the attack three years earlier on U.S. government facilities in Benghazi, Libya. The attack killed U.S. Ambassador J. Christopher Stevens and three other Americans.
He was "the quintessential speaking-truth-to-power representative," said Herbert C. Smith, a political science professor at McDaniel College in Westminster, Md. "Cummings has never shied from a very forceful give-and-take."
Baltimore's plight informed Mr. Cummings's life and work on Capitol Hill, a connection exemplified by his response to the death of 25-year-old Freddie Gray in April 2015 and the explosion of outrage that came after it.
Gray died of injuries suffered while riding, improperly secured, in a police van after he was arrested for carrying a knife, in his pocket, that police said was illegal. His death ignited rioting in Baltimore and elevated tensions nationally over perceived racism and excessive violence in law enforcement.
Speaking at the funeral, Mr. Cummings, who lived near where Gray was arrested, bemoaned the presence of media to chronicle Gray's death without celebrating his life.
"Did you see him? Did you see him?" Mr. Cummings asked in his booming baritone. The church exploded with applause, and civil rights activist Jesse L. Jackson sat, rapt, behind him. "Did you see him?" 

"I've often said, our children are the living messages we send to a future we will never see," he said, his voice rising. "But now our children are sending us to a future they will never see! There's something wrong with that picture!"
When looting began, hours after the funeral, Mr. Cummings rushed, bullhorn in hand, to a troubled West Baltimore neighborhood, where he worked to restore order and to assure residents that authorities were taking the case seriously. (Six officers would be charged in Gray's death, although prosecutors failed to secure a conviction against any of them.)
Amid the unrest, he and a dozen other residents marched, arm in arm, through the streets, singing "This Little Light of Mine."
Mr. Cummings was known for showing the same kind of commitment in the House. The bullhorn he wielded in West Baltimore was emblazoned with a gold label that read, "The gentleman will not yield." It was a gift from his Democratic colleagues, bestowed after Rep. Darrell Issa (R-Calif.) silenced Mr. Cummings's microphone at a 2014 hearing into complaints that the Internal Revenue Service had unfairly targeted conservative nonprofit groups.
The next year, while serving on the House Select Committee on Benghazi, he sparred with Chairman Trey Gowdy (R-S.C.) during hearings Republicans convened to examine Clinton's role in the Benghazi debacle.
When Gowdy interrogated Clinton about Libya-related emails sent from a longtime confidant of hers, Sidney Blumenthal, Mr. Cummings interjected: "Gentleman, yield! Gentleman, yield! You have made several inaccurate statements."
Talking to reporters in the hallway later, Mr. Cummings said his primary purpose was not to defend Clinton but to seek "the truth, the whole truth and nothing but the truth."
"Let the world see it," he said. The experience didn't appear to sour Gowdy on Mr. Cummings.
"It's not about politics to him; he says what he believes," Gowdy told the Hill newspaper. "And you can tell the ones who are saying it because it was in a memo they got that morning, and you can tell the ones who it's coming from their soul. And with Mr. Cummings, it's coming from his soul."
Cummings Dealing With Trump
Cummings defends unleashing subpoenas over Trump security clearances
House Oversight chairman Elijah Cummings (D-Md.) urged Congress April 2 to support issuing subpoenas over Trump administration security clearances.  The first two years of the Trump administration, 2017 and 2018, were agonizing for Mr. Cummings, who was battling ill health, including complications of heart surgery, as well as political frustration.
Mr. Cummings said his efforts to work with Trump and members the GOP majority in the House were fruitless. He said that at the luncheon after Trump's inauguration and during other encounters, he urged the president to pursue policies that could unite the country and burnish his legacy. The congressman said that after a few promising meetings, he stopped hearing from Trump. 
"Perhaps if I knew then what I know now, I wouldn't have had a lot of hope," Mr. Cummings later remarked. "He is a man who quite often calls the truth a lie and calls a lie the truth."
As ranking Democrat on the Oversight Committee, Mr. Cummings became a leading voice against the Trump administration's efforts to add a citizenship question to the 2020 Census, a change that critics contended would discourage participation by documented and undocumented immigrants alike.
He was also a forceful opponent of an immigration policy that separated thousands of children from their parents after they illegally crossed the southern U.S. border. He described the Trump White House as inhumane in its use of "child internment camps."
In turn, the president went on a Twitter tirade against Mr. Cummings and described his majority black Baltimore district as a "disgusting, rat and rodent infested mess" and suggested the congressman focus his efforts on cleaning up "this very dangerous & filthy place."
Mr. Cummings' response was not to dignify the attack, instead telling an audience at the National Press Club in Washington: "Those at the highest levels of government must stop invoking fear, using racist language and encouraging reprehensible behavior. As a country, we finally must say that enough is enough. That we are done with the hateful rhetoric."
After Democrats won control of the House in the November 2018 midterm elections, Mr. Cummings was elevated to chairman of the Oversight Committee, a position that he used to spearhead probes into security clearances issued by the White House over the objections of career officials and payments made during the 2016 campaign to silence women who claimed to have had affairs with Trump.
Mr. Cummings had a combative streak, but he was adept at calming volatile situations, such as the sharp exchange between Rep. Mark Meadows (R-N.C.) and Rep. Rashida Tlaib (D-Mich.) during a hearing in February 2019.
The Oversight Committee was taking testimony from Michael Cohen, Trump's former personal lawyer, and Tlaib accused Meadows of pulling a "racist" stunt by having a black woman, an administration employee, stand behind him. Meadows demanded that her words be stricken from the record.
Mr. Cummings called Meadows "one of my best friends" and prompted Tlaib to say that she was not calling Meadows a racist. By the next day, the conservative Meadows and liberal freshman Tlaib were hugging in public.
"Interaction, man," Mr. Cummings said by way of explanation. "Human interaction, that's all."
'Not my Baltimore': In Cummings's district, a rich tapestry of problems and gems.
Lawyer and lawmaker
House Oversight and Government Reform Chairman Elijah Cummings (D-Md.) addresses a National Press Club luncheon on his "committee's investigations into President Donald Trump and his administration," in August 7. Cummings died early Thursday at the age of 68.
Elijah Eugene Cummings was born in Baltimore on Jan. 18, 1951. His father worked at a chemical factory, his mother at a pickle factory and later as a maid while raising seven children. Both parents came from sharecropping families in South Carolina. Although they struggled to feed their family, his parents would can apples and peaches and give half the preserves to people in need.
The proprietor of a Baltimore drugstore where Mr. Cummings worked paid his application fee to Howard University and, during Mr. Cummings's time as a Howard student, regularly sent him $10 with a note that read, "Hang in there."
At Howard, he served as student government president, and he received a bachelor's degree in political science in 1973. He received a law degree from the University of Maryland three years later and practiced law, mostly in private practice, for nearly two decades.
He also helped law students develop their oral and writing skills as chief judge on the Maryland Moot Court, a competition in which students submit briefs and present oral arguments in a hypothetical appellate case.
In the Maryland House of Delegates, where Mr. Cummings served from 1983 to 1996, he championed a ban on alcohol and tobacco ads on inner-city billboards in Baltimore — the first prohibition of its kind in a major U.S. city.
On Capitol Hill, Mr. Cummings was among the minority of House members and senators who voted in 2002 against authorizing a military invasion of Iraq. President George W. Bush's administration, in the aftermath of the Sept. 11, 2001, terrorist attacks, was alleging that Iraq continued to possess and develop weapons of mass destruction. 
Mr. Cummings said there was not sufficient evidence of such weapons to "send our young people off to war and thereby place their lives in harm's way," an opinion supported by subsequent investigations.
Also in 2002, Mr. Cummings was elected chairman of the Congressional Black Caucus, a position he used to push for increased funding for public education and the Head Start program.
His first marriage, to Joyce Matthews, ended in divorce after a long separation. In 2008, he married Maya Rockeymoore, a policy consultant and chairwoman of the Maryland Democratic Party. A complete list of survivors was not immediately available.
In the mid-1990s, he had financial difficulties. He was sued by creditors and owed $30,000 in federal taxes, which he eventually paid. He told the Baltimore Sun that during his time as a congressman, he endured two winters without heat because he could not afford to fix his furnace.
He has said the money problems stemmed from his struggles to keep his law practice afloat while running for Congress and also from helping to support his three children. "I have a moral conscience that is real central," he told the newspaper. "I didn't ask the federal government or anyone else to do me any favors."
Mr. Cummings said he considered running to succeed Sen. Barbara A. Mikulski (D-Md.), who did not seek reelection in 2016, but decided that he was needed in Baltimore to help the riot-torn city. 

A member of New Psalmist Baptist Church in Baltimore, Mr. Cummings said he was driven by his faith and secure in his conviction that history would recognize his resolve to stand up for what he believed was right.
"In the city of Baltimore, there are over a thousand monuments, and not one monument is erected to memorialize a critic," he once said in a speech. "Every one of the monuments is erected to memorialize one who was severely criticized."
UNITED AIRLINES PASSENGER DIES AFTER LYING ABOUT COVID SYMPTOMS
A passenger on a United jet with nearly 200 others onboard was pronounced dead shortly after the pilot made an emergency landing, and it's almost certain the man had COVID.
Furious United Airlines passengers have criticized the company after a man who they claimed was showing clear coronavirus-like symptoms was allowed to board the plane and died before he reached his destination.
The flight took off from Orlando bound for Los Angeles on Monday, and the victim was pronounced dead after an emergency landing in New Orleans.
Medics on board attempted to save him, including by reportedly performing CPR. His wife, one passenger said, told all within earshot that he had been showing symptoms for the past week and so she suspected COVID-19.
United said on Friday they were trying to trace those on board United Flight 591.
The flight was a Boeing 737-900 with capacity for 179 people, according to Flight Aware.
The victim was taken off and the plane and all other passengers then carried on to LA – with some later saying they were not offered the chance to rebook onto a different flight.
The plane, pictured at the gate in LA, made an emergency stop in New Orleans and the man was pronounced dead. The plane, and all its passengers, then continued to LA
A United flight from Orlando to Los Angeles Monday was diverted due to a medical emergency
'Can I ask how you guys let a covid positive man on my flight last night?' said one woman.
'He was shaking and sweating boarding the plane. He was clearly sick and then died mid flight. We had an emergency landing in New Orleans and we didn't even switch planes afterwards.
'We all sat there for hours waiting while you guys cleaned up his blood and germs with wet wipes. Is this how you guys handle other people's safety and health?'
She said that the airline's claim that they believed he had a heart attack was 'laughable', adding: 'There was never any mention of we are diverting this flight because of cardiac arrest reasons.
'Everyone was aware this was COVID related because the wife was relaying his medical information, and shared he was in fact COVID positive and symptomatic for over a week. That is them covering up the fact that they handled this situation poorly.'
Another woman, named Shay, also tweeted angrily at United, accusing them of failing to check on the passengers before boarding, and criticizing the man and his wife for flying.
'United, why did you never check our temperatures before boarding?' she tweeted.
'The family of the man, why didn't you go to the hospital or not let your husband get on the flight feeling like that?
'An entire plane had to watch him seize or have a heart attack none of us know which, and die.'
Shay said she noticed the man having breathing difficulties.
'I made eye contact with his wife and looked at him and she just looked down,' Shay said.
She said the medical team on board tried to revive him for an hour.
'The family was crying, people were freaking out,' she said.
'He was shocked twice, given an epi-pen, 2 shots of adrenaline and mouth to mouth after chest compressions…'
The Centers for Disease Control and Prevention (CDC) asked United for the passenger manifest so other passengers can be told that they might have been exposed to a disease, spokesman Charles Hobart said.
The passenger had filled out a form before the flight saying he had not tested positive for COVID-19 and had no symptoms of the disease caused by the novel coronavirus, according to the airline.
'It is apparent the passenger wrongly acknowledged this requirement,' United said.
United said the CDC did not specify the man's cause of death, and United does not know whether it was COVID-19.
But, the airline said, the man's wife was overheard telling an emergency medical technician that he had shown symptoms of the disease, including loss of taste and smell.
The CDC is collecting information to decide whether further public health action is appropriate, an agency spokesman said in a text message.
'To protect the privacy of the individual, we aren't providing this information to the public,' the CDC spokesman told AP.
All four flight attendants were quarantined for two weeks once they arrived at Los Angeles, 'per written guidelines,' said Taylor Garland, spokeswoman for Association of Flight Attendants.
'Our union continues to provide support to the crew,' Garland said.
'We urge passengers to comply with airline COVID policies and stay home if you´re sick.'
The man was taken to a hospital in New Orleans where he was pronounced dead, according to the airline.
Hobart said United originally was told that he died from heart trouble, so passengers were allowed to stay on the plane and complete the flight to Los Angeles or take a later flight.
The airline said all passengers stayed on the plane.
The incident occurred last Monday, and the CDC is now scrambling to contact the 179 passengers who were onboard.
Covid-19 cases rise aboard first cruise to resume sailing in the Caribbean
So far a total of seven passengers have tested positive for Covid-19 aboard the SeaDream 1 cruise ship docked in Barbados, according to two passengers on the ship.
Passengers who have tested negative for the virus will be able to leave the ship and travel home, Gene Sloan and Ben Hewitt told CNN on Friday. They are both among a handful of cruise journalists and bloggers on board.

The SeaDream Yacht Club cruise was the first to return to the Caribbean since the coronavirus pandemic shut operations down in March and was meant to demonstrate that increased safety protocols, including regular testing aboard the ship, could allow cruise voyages to take place during the pandemic.
Instead one passenger fell ill on Wednesday, forcing the SeaDream 1 to return to Barbados, where all 53 passengers and 66 crew were tested.
Hewitt said the crew had informed passengers that everyone who had tested negative twice would be allowed to disembark the ship and fly home on Saturday.
SeaDream Yacht Club said in a news release Thursday afternoon that "guests" had received "assumptive positive" results to preliminary rapid Covid tests, but did not specify the number who had done so.
SeaDream was asked to confirm the exact number of positive results.
SeaDream responded "We are working closely with local health and government authorities to resolve this situation in the best possible way," said SeaDream's Andreas Brynestad, in the SeaDream release.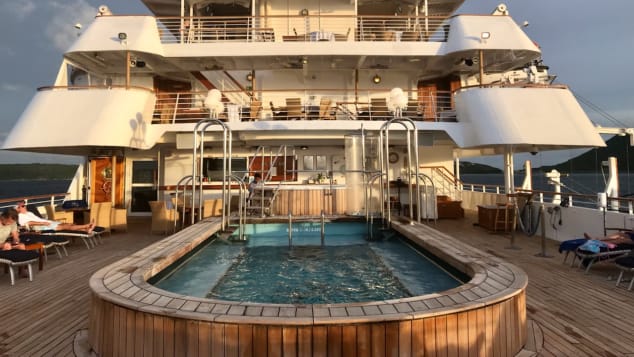 Intercom announcement of positive test result
Sloan, who is a senior reporter for cruise and travel at The Points Guy, reported that the Covid scare started when the captain informed passengers of the preliminary positive test over the ship's intercom system shortly before lunchtime on Wednesday.
Passengers were instructed to return to their cabins and remain isolated there, he said.
The ship, which was in the Grenadines at the time of the first preliminary positive test, docked in Barbados Wednesday evening.
"It's not a great development for the cruise industry," Sloan told CNN via email on Wednesday from his cabin on board. "I think the hope had been that the rigorous testing that SeaDream was doing would keep Covid off its ship."
Multilayer testing for Covid-19 has been an integral part of SeaDream's efforts to create a Covid-19 negative bubble aboard its ships.
Passengers were tested in advance of traveling to the ship and also before boarding the ship, Sloan said.
"And SeaDream also was testing passengers four days into the trip," he said. "We were scheduled to be tested again today. That's a more rigorous testing plan than most lines had been discussing for the restarts."
The protocol is due in part to the strict testing required by Barbados, where the ship will be based for the season, Sloan noted.
"I think what this shows is it's going to happen. And until there's a vaccine or herd immunity, when cruising starts up you're going to see things like this happen. The question is how often and how big?"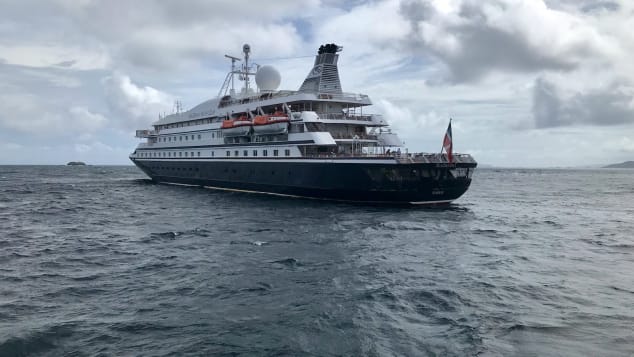 Voyages from Barbados
SeaDream's winter voyages from Barbados started on November 7 with the sailing that has now been cut short.
These new Caribbean sailings follow a successful summer season for SeaDream in Norway, which the company said "resulted in zero positive cases during the entire Norwegian summer season."
"After completing a successful summer season in Norway, we implemented even stricter health and safety protocols for our Barbados winter season. All guests were tested twice prior to embarkation and we are in the process of retesting guests," said SeaDream's Andreas Brynestad in the statement released on Thursday.
Ben Hewitt, host of Cruise with Ben & David on YouTube, expressed his disappointment and frustration with the virus in an interview Thursday from his stateroom.
"It's just so disappointing that this has happened because everybody has their hopes up high, and we can't see anything more that they could've done," said Hewitt.
"It's just such a horrible virus, it just gets everywhere even with the constant testing."
The use of masks on the voyage has been far less stringent.
Sloan told CNN that initially no one was wearing face masks, not even the crew. Crew members told him they weren't necessary since the ship was a Covid-free "bubble."
Then a few days into sailing, SeaDream instituted a mask policy but didn't offer an explanation, he said.
Fewer than 250 guests
SeaDream's ships, which the company refers to as "superyachts," have 56 staterooms, with a capacity for 112 guests and 95 crew.
Carrying fewer than 250 guests outside of US waters allows SeaDream to operate outside of the US Centers for Disease Control and Prevention's orders around cruising.
The CDC recently issued a "Framework for Conditional Sailing Order for Cruise Ships."
The order, which applies to cruise ships in US territorial waters that have capacity to carry at least 250 passengers, is considered a tentative step toward the resumption of cruising.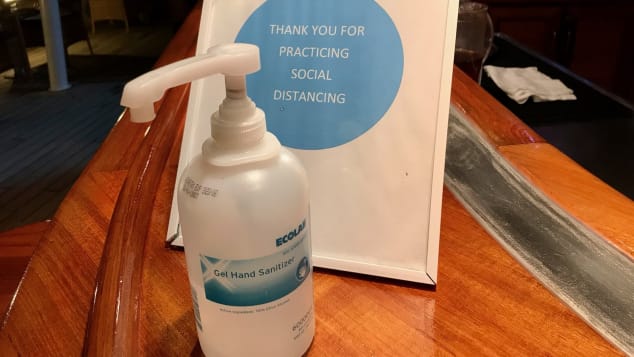 Trade group Cruise Lines International Association said it will work with the CDC to resume US sailings as soon as possible, but that its members would continue a voluntary suspension of operations through the end of 2020.
On Friday, a letter signed by Sen. Richard Blumenthal (D-CT) and Rep. Doris Matsui (D-CA) called on the CDC to reinstate its no-sail order for cruise ships and reverse efforts to restart the industry's US operations.
The letter cites the outbreak aboard SeaDream 1.
Despite precautions, "the virus was still able to infect multiple people on the ship, with the possibility of more confirmed cases emerging as passengers and crew are retested," the letter reads.
"Unfortunately, this troubling development is not surprising and reaffirms the need to exercise extreme caution before sending passengers and crew back out to sea on cruises."
Joe Biden wins the 2020 US Presidential election
Following a tense week of vote tallying, Joe Biden won the state of Pennsylvania and vaulted ahead in the race to become the next president of the United States. Biden's win in the critical state put him over the threshold of 270 electoral votes, cutting off all avenues for his opponent.
Biden prevailed by flipping key states that went to Trump in 2016, including Wisconsin, Michigan and Pennsylvania. Trump again won in Florida and Ohio, but in the end was unable to chart a path to an electoral victory. Biden also leads by millions in the popular vote, with a record number of votes cast this year, many through the mail.
As his vice president, Kamala Harris will make history in myriad ways, becoming the first woman — and the first woman of color — to occupy the office. Harris, a California senator and the state's former attorney general, built a career in the tech industry's front yard.
Shattered barriers aside, this year's election will likely go down in infamy for many in the U.S. The race was the strangest in recent years, characterized by rising storms of misinformation, fears over the fate of scaled-up vote-by-mail systems and a deadly virus that's claimed well over 230,000 American lives. Biden's campaign was forced to adapt to drive-up rallies and digital campaigning instead of relying on door-knocking and face-to-face interaction to mobilize the vote.
The circumstances of the election also created the perfect ecosystem for misinformation — a situation made worse by President Trump's false claim of victory early Wednesday morning and ongoing claims of Democratic voter fraud. Trump appears to be in no mood to concede the election, but in the end the vote is what it is and Joe Biden will take office on January 20, 2021.
While a sitting president rejecting that unwritten democratic norm would be alarming, Trump's decision will have little bearing on the ultimate political outcome. Whatever the coming days hold, the U.S. is entering into a new and unprecedented phase of uncertainty in which misinformation abounds and political tensions and fears of politically-motivated violence are running high.
The former vice president's win brings a four year run of Trumpism to an abrupt end, though its effects will still reverberate throughout American politics, likely for decades. It also ushers in a new era in which Joe Biden plans to draw on the influence of an unlikely coalition of Democrats from across the political spectrum. The Senate still hangs in the balance with two tight races in Georgia headed to January runoffs.
Biden has laid out plans for sweeping climate action, and a healthcare extension that would cover more Americans and provide an opt-in Medicare-like public option. But his ability to enact most of those grand plans would hinge on a Democratic Senate. While either party was likely to continue pursuing more aggressive regulation for the technology industry, we'll be watching closely for signals of what's to come for tech policy.
But even without the Senate, the president-elect may be capable of making a swift and critical impact where it's most needed: the coronavirus pandemic. In the continued absence of a national plan to fight the virus and a White House that downplays its deadliness and discourages mask-wearing, COVID-19 is raging out of control in states across the country, signaling a very deadly winter just around the corner.