Dodgers Force World Series to Game 7 With 3-1 Win Over Astros
Joc Pederson sliced a drive over the left-field wall, pounded his chest and danced around the bases, taking as many twists and turns as this World Series itself. Of course, the Los Angeles Dodgers forced the Houston Astros to Game 7.
Chris Taylor hit a tying double off Justin Verlander during a two-run rally in the sixth inning, Corey Seager followed with a go-ahead sacrifice fly and the Dodgers beat the Astros 3-1 on Tuesday night to push this dramatic Fall Classic to the ultimate game. Pederson homered in the seventh against Joe Musgrove, connecting off the right-hander for the second time in three games to make it a record 24 long balls hit in this Series. Pederson pranced all the way to the plate, pointing at the Dodgers' dugout and rubbing his thumbs and index fingers together to indicate what a money shot it was. Mired in a major slump earlier this season, Pederson was demoted to the minors — and teammates began offering to pay him for opposite-field home runs in an effort to get him to hit the ball the other way. "I kind of black out in a situation like that," said Pederson, who has three homers in the Series. "I'm going to have to re-watch it to see what I did."
Yu Darvish starts Wednesday for the Dodgers, trying to win their first title since 1988, and Dodgers ace Clayton Kershaw will be ready in the bullpen. Lance McCullers Jr. goes for the Astros in the first World Series Game 7 ever at Dodger Stadium. "It's only fitting," Dodgers manager Dave Roberts said. Darvish was chased in the second inning of Game 2, when McCullers pitched Houston to a 5-3 victory. "Two incredible teams, trying to get to the finish line," Astros manager A.J. Hinch said. Two nights after a 13-12, 10-inning slugfest under the roof at Minute Maid Park, pitching dominated.
George Springer's third-inning home run against starter Rich Hill had given a 1-0 lead to Verlander and the Astros, trying for the first championship in their 56-season history. On Halloween night, a championship for a team with orange in its colors seemed appropriate. But it served only to set up the 10th blown lead of the Series, the fifth by Houston, as Verlander fell to 9-1 with Houston.
Dodgers relievers combined for 4 1/3 scoreless innings. Brandon Morrow retired Alex Bregman on a grounder to strand the bases loaded in the fifth, winner Tony Watson got Marwin Gonzalez to fly out with two on and two outs in the sixth, and Kenta Maeda escaped two-on trouble in the seventh when third baseman Justin Turner gloved Jose Altuve's grounder and threw a one-hop throw that first baseman Cody Bellinger scooped just in time. After wasting a ninth-inning lead in Game 2 and losing Game 5, Kenley Jansen retired six straight batters for the save and ended by striking out 40-year-old pinch-hitter Carlos Beltran.
This will be the third World Series Game 7 in four years. Ten of the last 12 teams that won Game 6 to force a seventh game also won the title, but the Dodgers lost the previous six World Series in which they trailed 3-2. They have won just one of their six championships at home, in 1963. A heat wave over, the temperature dropped to 67 degrees at game time from 103 for last week's opener. The San Gabriel Mountains were occluded by heavy clouds.
Los Angelenos with a laid-back reputation were more energetic and on their feet for two-strike counts against Astros batters, a wave in Pantone 294 — also known as Dodger blue. Stadium organist Dieter Ruehle greeted the Astros with "Hotel California" for the start of batting practice, but there was an un-LA-like drizzle in the middle innings. "We feed off the crowd, for sure," Taylor said. "We feel we have a huge home-field advantage."
Yuli Gurriel, who made a racist gesture toward Darvish in Game 3, was booed loudly during introductions and each time he batted, Verlander has 11 postseason wins but dropped to 0-4 in the Series with Detroit and Houston, which acquired him from the Tigers on Aug. 31 to win on nights like this.
The 2011 AL MVP and Cy Young Award winner, Verlander allowed just one baserunner before Austin Barnes singled leading off the sixth. Verlander bounced a pitch that hit Chase Utley on the front of his right foot, and Taylor sent a 97 mph fastball down the right-field line as Barnes came home. Seager followed with a sacrifice fly to the right-field warning track, a ball that likely would have landed in the pavilion in last week's hot air.
Verlander prevented more damage when Turner fouled out and the right-hander fanned Bellinger, who struck out four times for the second time in the Series. Springer homered for the third straight game and fourth time in the Series, one shy of the record set by Reggie Jackson in 1977 and matched by Chase Utley in 2009. While it silenced the Dodger Stadium crowd, Astros fans erupted at a watch party in Minute Maid Park. Los Angeles has allowed home runs in all 14 of its postseason games.
Brian McCann singled leading off the fifth and Gonzalez doubled past Turner and down the left-field line. Hill struck out Josh Reddick and Verlander, and Springer was intentionally walked to load the bases. Morrow relieved as the crowd booed Roberts' decision, and Hill slapped at four cups of liquid in the dugout, sending them spraying against the wall. "With Verlander on the mound, I felt that was going to be the game," Roberts said.  Appearing in his sixth straight Series game, Morrow got Bregman to ground to shortstop on his second pitch.
Watson walked Reddick leading off the seventh, Evan Gattis pinch hit for Verlander and Maeda relieved. Gattis bounced to shortstop, just beating Utley's throw from second to avoid a double play. Springer reached on an infield single that bounced off Seager's glove at shortstop and into left field, and Bregman's fly to deep center allowed pinch-runner Derek Fisher to tag up and advance to third, bringing up Altuve. Walking down the dugout steps after his groundout, Altuve slammed his helmet.
NFL Legend Lawrence Taylor Arrested In Florida
Retired NFL legend Lawrence Taylor was arrested in Florida on Thursday. The Hall of Fame pass-rusher and longtime Giants star is facing two felony charges for failing to alert authorities to a change in address. This comes 10 years after Taylor, 62, pleaded guilty to charges of sexual misconduct and patronizing a prostitute, resulting in him becoming a registered sex offender — which requires informing authorities of new residences.
Taylor was booked around 8:45 p.m. ET, and released later Thursday night from the Broward County Sheriff's Office. His attorney, Arthur Aidala, told TMZ that the former linebacker "has been compliant with all of the rules and regulations regarding his legal status for the past decade." Taylor is "in the middle of a divorce," however, "and his local police department suggested it would be best if he slept at a nearby hotel."
"Mr. Taylor was constantly a resident of the marital home where he was registered," Taylor's attorney continued, "but on advice of local law enforcement, he was sleeping outside the home. We are confident that this will be dismissed at the first court hearing."
This isn't the first time Taylor has been in legal trouble since his 2011 charges. The two-time Super Bowl champion pleaded guilty to DUI charges in 2017 after crashing into a parked police car in Florida. During Taylor's prestigious playing career, in which he won NFL MVP, went to 10 Pro Bowls and redefined modern-day pass-rushing, the longtime Giant also battled off-field issues, serving a suspension for repeated drug use.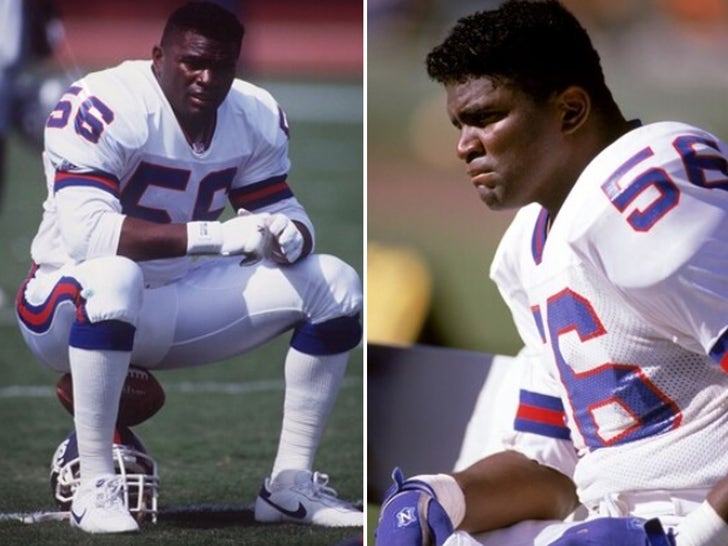 Boxer Gervonta Davis Involved in Minor Plane Crash, Documents Aftermath
Gervonta Davis just, miraculously, walked away from a plane crash relatively unscathed — and it sounds like what's hurting him the most in the aftermath are his feet … and his caboose.
The professional boxer went live Saturday to document a terrifying encounter he says he and his crew had just gone through after boarding a private jet … which apparently failed to properly take off and crash landed back down to the airport grounds it was trying to leave.
Thankfully, it doesn't appear the aircraft got very far up before coming back down to Earth — because Gervonta and other passengers seemed more or less okay … with their health and bodies intact.
That's not to say Gervonta wasn't feeling some hurt afterwards — on his live feed, he noted that his booty was aching like no other … this while he wrapped his feet in gauze. He's pretty jovial about the whole thing, which is great to see, but this could've easily been way worse.
Gervonta also was able to get some shots of the downed plane, and it sure looks like something went wrong internally. There were also fire engines that showed up on the scene to evaluate the damage and tend to anyone's injuries. Again, though, most everyone seems to be fine … which is absolutely incredible, because it appears there were even children aboard, based on a photo Gervonta posted shortly before getting on his flight. His video doesn't capture any kids, though.
It's unclear what exactly caused the malfunction — but you can hear Gervonta and his friends speculate on what happened … seems like there might've been some overheating of some sort. They also appear to be discussing some of the flight maneuvers the pilot(s) were using in the air … and the group seems to think that may have attributed to it going down.
Stay tuned while we here at Prestige try to get a hold of Gervonta's team for more answers.
Tennis Player Coco Gauff Tests Positive For COVID-19, Will Not Attend Olympics
17-year-old tennis player Cori "Coco" Gauff was slated to be on the U.S. tennis team at the upcoming Olympic Games, but has withdrawn after testing positive for COVID-19.
She broke the news via social media.
"I am so disappointed to share the news that I have tested positive for COVID and won't be able to play in the Olympic Games in Tokyo," she wrote in a note. "It has always been a dream of mine to represent the USA at the Olympics, and I hope there will be many more chances for me to make this come true in the future." At #25, Gauff is the youngest player with a Women's Tennis Association ranking in the top 100 .
00:00 of 00:49Volume 0% More VideosCoco Gauff Beats Defending Champ Naomi Osaka at Australian OpenPart 1: COVID-19 The Black SouthCOVID-19: Black Folks Say Data Is PoliticalDr. Robinson discusses Community Impact of COVID-19Dr. Patrice Harris Answers COVID-19 QuestionsDr. Powell Shares Reliable Sources For COVID-19 InformationThe OverExplainer: Body PositivityOctavia Spencer On Staying Mentally Well During COVID-19
At 15, Gauff shocked the sports world when she beat tennis icon Venus Williams in the opening round of Wimbledon in 2019. She then bested Williams again during her Australian Open debut in January 2020 and defeated Naomi Osaka at the same event.
Gauff finished her statement by wishing all of her fellow athletes well. "I want to wish TEAM USA best of luck and a safe game for every Olympian and the entire Olympic family."