The former Minneapolis Police officer who knelt on George Floyd's neck for more than 9 minutes last year was found guilty Tuesday of all three charges against him in one of the most consequential trials of the Black Lives Matter era.Derek Chauvin, 45, was convicted of second-degree unintentional murder, third-degree murder and second-degree manslaughter. The jurors deliberated for more than 10 hours over two days before coming to their decision.Wearing a mask inside the Hennepin County Courthouse in Minneapolis, Chauvin had no apparent reaction to the guilty verdict. Afterward, his bail was revoked and he was placed in handcuffs and removed from the court through a side door.He was taken to a facility in Stillwater, Minnesota, about 25 miles east of downtown Minneapolis, officials said.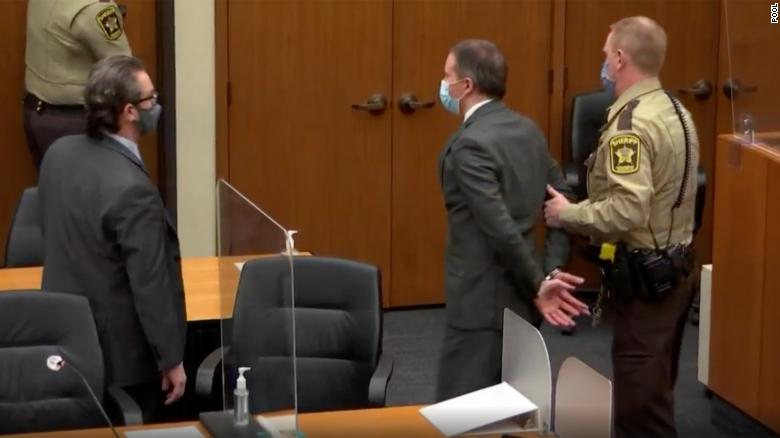 Former Minneapolis Police officer Derek Chauvin was removed from the court in handcuffs on Tuesday, April 20, 2021.The second-degree murder charge said Chauvin assaulted Floyd with his knee, which unintentionally caused Floyd's death. The third-degree murder charge said Chauvin acted with a "depraved mind," and the manslaughter charge said his "culpable negligence" caused Floyd's death.Chauvin could face up to 40 years in prison for second-degree murder, up to 25 years for third-degree murder and up to 10 years for manslaughter. Minnesota's sentencing guidelines recommend about 12.5 years in prison for each murder charge and about four years for the manslaughter charge. In this case, the state has asked for a tougher sentence than the recommendations provide. Chauvin's sentencing is set for eight weeks from now.
The verdict comes about 11 months after bystander video showed Chauvin impassively kneeling on the neck and back of Floyd, handcuffed and lying prone on the street, for 9 minutes and 29 seconds on May 25, 2020. Under the officer's knees, the 46-year-old Black man gasped for air, repeatedly exclaimed "I can't breathe" and ultimately went silent.His final moments illustrated in clear visuals what Black Americans have long said about the ways that the criminal justice system dehumanizes Black people, setting off mass protests across the country as well as incidents of looting and unrest.
Inside court, Philonise Floyd, George Floyd's younger brother, clasped his hands over his head in prayer as the verdicts were read, according to pool reporters, including CNN's Josh Campbell. During the third guilty verdict, his hands shook back and forth and he kept his head down and eyes closed as his head nodded up and down, the report said.After court concluded, Philonise Floyd was seen crying as he hugged all four prosecutors."I was just praying they would find him guilty," he explained. "As an African American, we usually never get justice."In the streets of Minneapolis, the verdicts led to cries of joy and sighs of relief among those nervously watching the trial, including many people outside the Cup Foods store where Floyd took his final breaths. Hundreds of people remained in what is now called George Floyd Square as night approached.
We know Chauvin prepped to make at least one phone call after arriving at the jail, Chauvin scribbled the phone number for Eric Nelson, his defense attorney, on the palm of his left hand. The smudged pen marks were visible on his hand as the bailiff led him out of the courtroom.
Tags:
Derek Chauvin
,
featured
,
George Floyd