David & Tamela Mann Get Candid On "Us Against the World" Book, Album and Tour
David and Tamela Mann is known as a dynamic husband and wife team that have become household names across television, movie screens, on stage and radio. They're known for bringing good old fashion family values, laughter and music to whatever they do.
David & Tamela recently sat down for an interview with Prestige Editor-in-Chief and spoke candidly about their album Us Against the World: The Love Project that will be released on Friday November 9th, their book Us Against the World: Our Secrets to Love, Marriage and Family that will be released on Tuesday November 13th, their tour Us Against the World Mann Family Tour and the premiere of their movie Merry Wish Mas that will premiere on TV One on Sunday December 2nd.
In the book, David talks about always being "transparent" about their relationship and family with their fans. "In our book we'll tell our whole story and share our secrets to a successful marriage," David added. Tamela called their marriage a top priority and the couple's greatest accomplishment. "We're excited to share what we've learned doing life together as a couple and how to fully love your spouse," Tamela shared. The couple shares with us their lessons on how to stay together through the ups and downs. And also provides couples with tips on how you and your soul mate can both build careers and still keep the family together and happy. Also in a quest to take fans on a 30-year journey, the Mann's are "spilling some junk" on their relationship and how they've been able to persevere through it all. David gets candid and highlights the chapter, "The Knock At The Door," where 5 years into their marriage he receives notice from the constable that he has a child. Now this child was conceived prior to their marriage, but David admits that it "almost broke [them] apart and that's where the title, 'Us Against The World' came from."
Read below Part 1 of Prestige interview with David & Tamela Mann
David: When talking about Us Against the World tour. We wanted to have something that we could actually and physically go out and be a ministry to, for us, and our marriage ministry, but we wanted to do it where it wasn't just a concert, it wasn't just a comedy show, and it wasn't just a conference.
We wanted to do something that was an experience. So, we came up with the concept of having it all in one night. And so, we start the whole thing off with the whole family doing the title song.
Tamela: Us Against the World. And then my son kicks it off with a big like family reunion back yard party. He's a DJ, so he gets it all crunk and all hyped up.
David: Do they still say, "Crunk"?
Tamela: Well, I'm old so it's okay.
David: Okay, well, crunk. I think it's lit now.
Tamela: Okay.
David: Crunk or lit.  (laughter)
Tamela: Then my daughter Tia comes out and she does a neo-soul vibe set.
David: And she does a tribute to the Queen, Aretha Franklin which is a really nice tribute.
Tamela: And then David comes out and he does comedy. And he talks about our 30 years of marriage, and he's talking more on love.
David: Yeah, I do the whole comedy set and I give little teachable moments. Like, there's one segment during my set I ask a couple, "Do you all love each other?" And of course they say, "Yeah, we love each other." But, "Are you guys in love?" Because it's possible to love somebody and not be in love. And you don't realize I'm giving moments of teaching in love, and stuff like that, because I wrap it in comedy. Then after I'm done with my set then that's when —
Tamela: I come out and I do the gospel portion of my upbeat songs and then we kind of take a roller coaster ride. We start out fast and we slow it down.
David: We start out jumping and then end up crying. I'm like, "How did this happen?"
Tamela: And then we also incorporate a love set which are songs from our new project, Us Against the World: The Love Project, where me and David have a collaboration album that we've done together.
David: Now, we start the love set off with some of our friends and family to give us what their definition of love is, and so we video that to introduce the love set, and we give you the definition of what love is, what the biblical definition of love is, and they're practical. And then Tam and I, for the first time, we sing together. 
Tamela: Finally, I got David in the studio and on the stage to sing with me which he's been running from for quite a few years.
David: I haven't been running. I've just been quite honestly intimidated about singing with Tamela Mann, that's what it is.
Tamela: No need for intimidation.
David: Yeah, I was intimidated.
Tamela: And then we go from that and then I finish it off with —
David: The end of the worship set is what we call it. Oh, and let me back up, while we're doing the love set we kind of do this re-dedication with couples and we do a prayer, we pray for marriages and families.
Tamela: And being unified in the unit and unity of marriage. So, we end with a prayer.
David: And then Tamela Mann takes us to straight worship again. And when I tell you it's an experience, it's a roller coaster ride, it's just a little bit of everything. So, we call it the experience. And so, you know, once everybody gets the experience, we all come back out and just thank everybody for coming out. So, that's the, Us Against the World tour. 
Now, the book is, Us Against the World: Our Secrets to Love, Marriage, and Family. And so, what we do in the book is we take everybody on a journey, a journey of 30 years with the Mann's. So, we kind of take you on our ups, and we take you on our downs, and there's something in the book, even while we were writing the book we had to go back and revisit some things, issues, problems, situations that we thought we had already resolved.
Tamela: That we had dealt with in our marriage. So, I'd say there's a few skeletons that we talk about and be transparent about. Our goal is to encourage families, and give them that hope and inspiration that they can stay together and not give up on each other.
David: There's a few nuggets in there that you haven't heard from the Mann's. In the book we also share some prayers for different situations. We talk about love, we talk about finances, we talk about keeping the fire in your marriage. We talk about simple things like just sitting down and having a good laugh with each other —
Tamela: And staying committed to each other and not just tolerating each other, but loving each other through every up and down that you have, which you will have, in your relationship.
David: We also definitely deal with some of the tougher issues that come up in our life like we have one where we talk about the art of arguing where we share our biggest argument that we've had in the book which started out real rough and rugged, but it ended up being funny because — you have to read the book because it didn't quite go according to plan for me in my anger.
Tamela: In the book we also talk about our blended family, how we're a super-blended family and how we came together as one family unit.
David: Yes and about revisiting the vows. A lot of couples may not understand what they're fully getting into when they're talking about revisiting and renewing their vows, or even saying their vows. So, we go back and talk about revisiting and renewing our own vows. 
Tamela: And we talk about the knock at the door, which was kind of a hard place in our marriage.
David: To put it mildly.
Tamela: It was five years into the marriage and we had the knock at the door and surprise!
David: I have another child by another woman that happened before our marriage, but that just to kind of give you a backstory on it without giving it all away. That's where the, Us Against the World title and saying came from, and that was from that knock at the door in the book. It was the knock at the door and Tam was kind of like, "I'm not going to be able to do this."
Tamela: Because we're blended, we already had — he had one child when we started out as a couple and I didn't know if I was going to be — I didn't really know where I would fit in. I felt like I was going to be kind of lost in the shuffle of things. It's like, "Well, where do I fit in here? Am I going to be like — "
David: First, second, third, fifth?
Tamela: Or below, since we had a new child coming and then having to deal with the other baby mama drama. So, he explained to me that it was us against the world, and he really made it plain to me.
David: Once I sat her down and explained to her, "Look, I love my kids." All of that, I'm a stand-up guy, I'm going to make sure I take care of my kids, but at the end of the day you are my first priority. It's us against everything else. It's us against the world. It's us against anything that will come against us to try and tear us apart, and that's what the whole, Us Against the World title came from. And even when we're out on the road we say, "Us Against the World," we're not necessarily talking about the Mann's against the world. We're talking about the body of Christ.
Tamela: We're the people as a family unit.
David: Right. And just representing us against anything that's going to come and tear at the family structure, tear at our marriage, and anything that would come and try to destroy that, we're against that. So, it's not like, "It's us fighting against everybody."
Tamela: No.
David: It's —
Tamela: All of us.
David: Yes all of us.
Tamela: The "U" in "Us" means you as the family, all of us. And that all filters and lead into the actual album because it's based off of the stories that we have in the book. That's where the love CD comes from. Us Against the World: The Love Project. So, that all fits into it, and also into why David is singing some songs to me, and I'm singing some songs to him, and we're also singing songs together.
David: It's our first project that we're totally doing a whole album together.
Tamela: It's our love music.
David: It's straight love music. And part of the — I don't want to say problem that we've had in the music industry is because Tam is such a gospel — known for her strong gospel roots.
People kind of are looking at it like, "Is she trying to cross over? Is she trying to go R&B?" That wasn't the goal. The goal was to encourage marriages.
Tamela: And to just sing about love. You know, something from us, to us, for us, and to just actually show another side that, for one, that I'm in love with my husband, that I like my husband, and I like being with him, and I feel very secure in my marriage and the love that I have for him, and I wanted to share that in song.
David: So, what we did was took the book and we sat down with some producers and my son put together a team. David Jr. is the brainchild behind the whole album. He pulled together some producers and writers. And the reason I was so afraid at first is because it's been so long since I've been in the studio. And so, I guess it's a bit of being insecure about singing, and then singing with Tam, and so once they got the song and tailor-made them just for me, and for my voice.
Tamela: And they did. If you haven't heard the album music yet, he's done a wonderful job, and hopefully everyone gets a copy of it so you can actually get to hear my Christian Babyface.
David: There's some baby-making love music. But we wanted to do genuine love music. So, we wanted to do a soundtrack from the book, and once they put the songs together, and we got to doing it, and it was like, "Where do we put this?"
Tamela: I think it's an amazing body of work that we've put together and I really hope that everyone enjoys it like we enjoyed writing and listening to it. Even my grand kids, they really inspired us because they're really enjoying it as well.
David: And some of the titles like, Mason Jar, we was able to explain to them how Mason Jar came about.
Tamela: Mason Jar is a song, it's talking about me as young girl, teenager, how most of my friends experienced love early, and boyfriends, and everything, and I never had that, but I finally found love that I can preserve like you do preserves in a mason jar, that I could package up and put in the jar and hold dear to my heart. So, that's what Mason Jar is about, finally finding love that I can cherish forever.
David: And then I'm doing a song on the album called Still Do. And it's just where I'm re-dedicating my love, my vows, to Tam. It's kind of me saying, "Look, I would do this all over again." And so, there's songs like that on there. There's songs like, Feels Like. That's your song.
Tamela: Feels Like is a song that I'm singing to David when he touches me he makes me feel like a special girl, or special woman. I mean, it's just a wonderful thing and it gets more in-depth as you go in the song, but he makes me feel like I'm on top of the world.
David: Yup. And then there's songs that speak about making up. One of the songs is called, Making Up and a couple of the lyrics are, "Every time we fight it feels like the end, butterflies in my stomach, and I just don't think we're going to come back from this."
Tamela: And then there's another song that's entitled Signs.
David: Aw, yeah.
Tamela: Which talks about when you want to be with your mate.
David: In an intimate way.
Tamela: You just kind of know what's going on.
David: You know the signs that you give.
Tamela: It's like a special touch, or special feeling, that they give us that makes us feel like we're number one all the time for us to commune together.
David: Or worship in a very spiritual way, hallelujah. You know, Us Against the World we call it, it's a movement for us. It's something that we just want everybody to join in because — our president — well, yeah. He's talking about making America great again. Let's make America great again, that cannot begin to happen until we get the foundation, the base, and that's family. Husbands and wives unified, families unified.
Tamela: Let's make marriage great again. Let's make family great again as well.
David: And that's when we'll start to see America become great when we're starting in the house, starting at home. Then it will start to infect and affect everything else around us.
When it comes to their album entitled Us Against the World: The Love Project. They're set to drop a soulful 10-song musical collaboration about resilient and enduring love. Listening to the album, you can feel the vocal chemistry that they share.
"The whole album is an inside look at our love story and the journey we've been on together," added Tamela. "So, recording this project has been really special for both of us."
Produced by David, Tamela and their son David Mann, Jr., Us Against the World: The Love Project is a candidly honest album chronicling defining moments in David and Tamela's relationship.
The title track "Us Against the World" features the duo's fine vocal blend layered on top of funky, soulful grooves. On "Mason Jar" Tamela's tender vocals pay tribute to her grandmother, mother and love of her life, David.
The two recreate an epic revelation from early on in their marriage that could have undone them on the heart-wrenching yet resolutely hopeful track "I Love You O."
The album reconstructs other 'big reveals' in the couple's relationship, leading to "Signs," the ultimate love letter to each other.
The first single off the album is "Good Love," a timeless romantic duet in the vein of one of the Motown classics featuring David and Tamela's soulfully smooth harmonies.
The couple is currently on tour and tells us that couples have come forth stating their stories are helping them to "heal [their] marriage[s]." Known for their musical talents, the Mann's couldn't be more excited to release their forthcoming album, "Us Against The World: The Love Project," an audio compilation that also a compliment to their new book.
Tracklist of Us Against The World: The Love Project
Us Against The World (David & Tamela)
Mason Jar (Tamela)
I Love You O (David)
Still Do (David)
Good Love (David & Tamela)
You (David & Tamela)
Feels Like (Tamela)
Ups and Downs (David & Tamela)
Making Up (David & Tamela)
Signs (David & Tamela)
"Good Love" video by David and Tamela Mann below:

Stay tuned for Part II of Prestige Interview with David & Tamela Mann in the December issue of Prestige.
Stay up to date on the latest with David & Tamela
Website: www.tillymannmusic.com
Instagram: @DavidandTamela
Facebook: www.facebook.com/davidtamelamann
Twitter: @DavidandTamela
Us Against The World Mann Family Tour: October 11th- November 11th
Us Against The World" Album Release Date: November 9th
Us Against The World" Book Release Date: November 13th
Merry Wish Mas" Premiere Date (TV One): December 2nd
UNITED AIRLINES PASSENGER DIES AFTER LYING ABOUT COVID SYMPTOMS
A passenger on a United jet with nearly 200 others onboard was pronounced dead shortly after the pilot made an emergency landing, and it's almost certain the man had COVID.
Furious United Airlines passengers have criticized the company after a man who they claimed was showing clear coronavirus-like symptoms was allowed to board the plane and died before he reached his destination.
The flight took off from Orlando bound for Los Angeles on Monday, and the victim was pronounced dead after an emergency landing in New Orleans.
Medics on board attempted to save him, including by reportedly performing CPR. His wife, one passenger said, told all within earshot that he had been showing symptoms for the past week and so she suspected COVID-19.
United said on Friday they were trying to trace those on board United Flight 591.
The flight was a Boeing 737-900 with capacity for 179 people, according to Flight Aware.
The victim was taken off and the plane and all other passengers then carried on to LA – with some later saying they were not offered the chance to rebook onto a different flight.
The plane, pictured at the gate in LA, made an emergency stop in New Orleans and the man was pronounced dead. The plane, and all its passengers, then continued to LA
A United flight from Orlando to Los Angeles Monday was diverted due to a medical emergency
'Can I ask how you guys let a covid positive man on my flight last night?' said one woman.
'He was shaking and sweating boarding the plane. He was clearly sick and then died mid flight. We had an emergency landing in New Orleans and we didn't even switch planes afterwards.
'We all sat there for hours waiting while you guys cleaned up his blood and germs with wet wipes. Is this how you guys handle other people's safety and health?'
She said that the airline's claim that they believed he had a heart attack was 'laughable', adding: 'There was never any mention of we are diverting this flight because of cardiac arrest reasons.
'Everyone was aware this was COVID related because the wife was relaying his medical information, and shared he was in fact COVID positive and symptomatic for over a week. That is them covering up the fact that they handled this situation poorly.'
Another woman, named Shay, also tweeted angrily at United, accusing them of failing to check on the passengers before boarding, and criticizing the man and his wife for flying.
'United, why did you never check our temperatures before boarding?' she tweeted.
'The family of the man, why didn't you go to the hospital or not let your husband get on the flight feeling like that?
'An entire plane had to watch him seize or have a heart attack none of us know which, and die.'
Shay said she noticed the man having breathing difficulties.
'I made eye contact with his wife and looked at him and she just looked down,' Shay said.
She said the medical team on board tried to revive him for an hour.
'The family was crying, people were freaking out,' she said.
'He was shocked twice, given an epi-pen, 2 shots of adrenaline and mouth to mouth after chest compressions…'
The Centers for Disease Control and Prevention (CDC) asked United for the passenger manifest so other passengers can be told that they might have been exposed to a disease, spokesman Charles Hobart said.
The passenger had filled out a form before the flight saying he had not tested positive for COVID-19 and had no symptoms of the disease caused by the novel coronavirus, according to the airline.
'It is apparent the passenger wrongly acknowledged this requirement,' United said.
United said the CDC did not specify the man's cause of death, and United does not know whether it was COVID-19.
But, the airline said, the man's wife was overheard telling an emergency medical technician that he had shown symptoms of the disease, including loss of taste and smell.
The CDC is collecting information to decide whether further public health action is appropriate, an agency spokesman said in a text message.
'To protect the privacy of the individual, we aren't providing this information to the public,' the CDC spokesman told AP.
All four flight attendants were quarantined for two weeks once they arrived at Los Angeles, 'per written guidelines,' said Taylor Garland, spokeswoman for Association of Flight Attendants.
'Our union continues to provide support to the crew,' Garland said.
'We urge passengers to comply with airline COVID policies and stay home if you´re sick.'
The man was taken to a hospital in New Orleans where he was pronounced dead, according to the airline.
Hobart said United originally was told that he died from heart trouble, so passengers were allowed to stay on the plane and complete the flight to Los Angeles or take a later flight.
The airline said all passengers stayed on the plane.
The incident occurred last Monday, and the CDC is now scrambling to contact the 179 passengers who were onboard.
Covid-19 cases rise aboard first cruise to resume sailing in the Caribbean
So far a total of seven passengers have tested positive for Covid-19 aboard the SeaDream 1 cruise ship docked in Barbados, according to two passengers on the ship.
Passengers who have tested negative for the virus will be able to leave the ship and travel home, Gene Sloan and Ben Hewitt told CNN on Friday. They are both among a handful of cruise journalists and bloggers on board.

The SeaDream Yacht Club cruise was the first to return to the Caribbean since the coronavirus pandemic shut operations down in March and was meant to demonstrate that increased safety protocols, including regular testing aboard the ship, could allow cruise voyages to take place during the pandemic.
Instead one passenger fell ill on Wednesday, forcing the SeaDream 1 to return to Barbados, where all 53 passengers and 66 crew were tested.
Hewitt said the crew had informed passengers that everyone who had tested negative twice would be allowed to disembark the ship and fly home on Saturday.
SeaDream Yacht Club said in a news release Thursday afternoon that "guests" had received "assumptive positive" results to preliminary rapid Covid tests, but did not specify the number who had done so.
SeaDream was asked to confirm the exact number of positive results.
SeaDream responded "We are working closely with local health and government authorities to resolve this situation in the best possible way," said SeaDream's Andreas Brynestad, in the SeaDream release.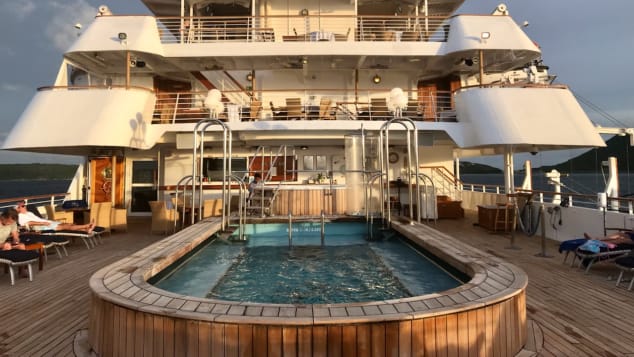 Intercom announcement of positive test result
Sloan, who is a senior reporter for cruise and travel at The Points Guy, reported that the Covid scare started when the captain informed passengers of the preliminary positive test over the ship's intercom system shortly before lunchtime on Wednesday.
Passengers were instructed to return to their cabins and remain isolated there, he said.
The ship, which was in the Grenadines at the time of the first preliminary positive test, docked in Barbados Wednesday evening.
"It's not a great development for the cruise industry," Sloan told CNN via email on Wednesday from his cabin on board. "I think the hope had been that the rigorous testing that SeaDream was doing would keep Covid off its ship."
Multilayer testing for Covid-19 has been an integral part of SeaDream's efforts to create a Covid-19 negative bubble aboard its ships.
Passengers were tested in advance of traveling to the ship and also before boarding the ship, Sloan said.
"And SeaDream also was testing passengers four days into the trip," he said. "We were scheduled to be tested again today. That's a more rigorous testing plan than most lines had been discussing for the restarts."
The protocol is due in part to the strict testing required by Barbados, where the ship will be based for the season, Sloan noted.
"I think what this shows is it's going to happen. And until there's a vaccine or herd immunity, when cruising starts up you're going to see things like this happen. The question is how often and how big?"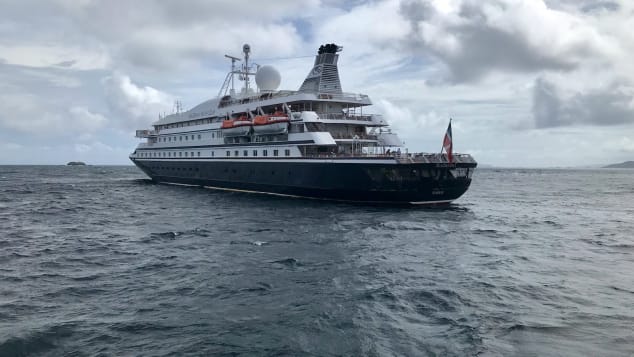 Voyages from Barbados
SeaDream's winter voyages from Barbados started on November 7 with the sailing that has now been cut short.
These new Caribbean sailings follow a successful summer season for SeaDream in Norway, which the company said "resulted in zero positive cases during the entire Norwegian summer season."
"After completing a successful summer season in Norway, we implemented even stricter health and safety protocols for our Barbados winter season. All guests were tested twice prior to embarkation and we are in the process of retesting guests," said SeaDream's Andreas Brynestad in the statement released on Thursday.
Ben Hewitt, host of Cruise with Ben & David on YouTube, expressed his disappointment and frustration with the virus in an interview Thursday from his stateroom.
"It's just so disappointing that this has happened because everybody has their hopes up high, and we can't see anything more that they could've done," said Hewitt.
"It's just such a horrible virus, it just gets everywhere even with the constant testing."
The use of masks on the voyage has been far less stringent.
Sloan told CNN that initially no one was wearing face masks, not even the crew. Crew members told him they weren't necessary since the ship was a Covid-free "bubble."
Then a few days into sailing, SeaDream instituted a mask policy but didn't offer an explanation, he said.
Fewer than 250 guests
SeaDream's ships, which the company refers to as "superyachts," have 56 staterooms, with a capacity for 112 guests and 95 crew.
Carrying fewer than 250 guests outside of US waters allows SeaDream to operate outside of the US Centers for Disease Control and Prevention's orders around cruising.
The CDC recently issued a "Framework for Conditional Sailing Order for Cruise Ships."
The order, which applies to cruise ships in US territorial waters that have capacity to carry at least 250 passengers, is considered a tentative step toward the resumption of cruising.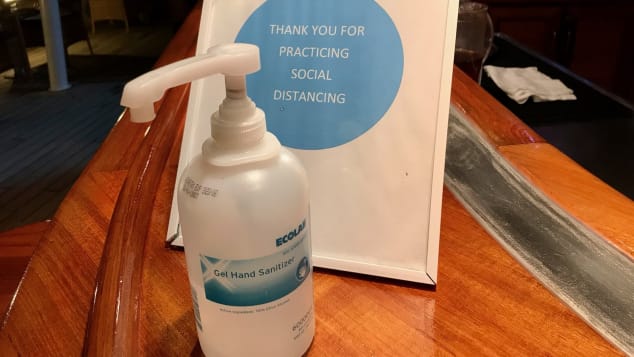 Trade group Cruise Lines International Association said it will work with the CDC to resume US sailings as soon as possible, but that its members would continue a voluntary suspension of operations through the end of 2020.
On Friday, a letter signed by Sen. Richard Blumenthal (D-CT) and Rep. Doris Matsui (D-CA) called on the CDC to reinstate its no-sail order for cruise ships and reverse efforts to restart the industry's US operations.
The letter cites the outbreak aboard SeaDream 1.
Despite precautions, "the virus was still able to infect multiple people on the ship, with the possibility of more confirmed cases emerging as passengers and crew are retested," the letter reads.
"Unfortunately, this troubling development is not surprising and reaffirms the need to exercise extreme caution before sending passengers and crew back out to sea on cruises."
Obama Rips Trump For Refusing To Congratulate President-Elect Biden
Former President Barack Obama is reminding the nation he congratulated President Donald Trump as soon as he won the election … a courtesy the President's refusing to extend to President-Elect Joe Biden.
The former president ripped Trump for failing to acknowledge Biden as president-elect with so much as a congratulatory phone call in an interview with "CBS This Morning," telling Gayle King Trump is damaging our democracy with the way he's eschewing what's traditionally been a peaceful — and cordial — transfer of power.
Obama recalled election night 2016, saying he stayed up until the wee hours of the morning to phone Trump and congratulate the president-elect. Obama says he was doing what presidents do, just as George W. Bush graciously did during Obama's historic 2008 victory.
Trump's refusal to concede and call up president-elect Biden is clearly not sitting well with Obama.
As you know … Obama previously chided Trump and the GOP for continuing to make baseless claims of election fraud in an interview with "60 Minutes," telling Scott Pelley it undermines the country.
Obama points out Biden and 2016 Trump will end up with the same number of Electoral College votes, 306, but says half the country likely won't take that into account if they keep consuming conservative media … which Obama says presents voter fraud allegations as fact.
Bottom line. Obama explains why Republicans can't stop Biden and Vice-President Elect Kamala Harris from being sworn in.