David & Tamela Mann Get Candid On "Us Against the World" Book, Album and Tour
David and Tamela Mann is known as a dynamic husband and wife team that have become household names across television, movie screens, on stage and radio. They're known for bringing good old fashion family values, laughter and music to whatever they do.
David & Tamela recently sat down for an interview with Prestige Editor-in-Chief and spoke candidly about their album Us Against the World: The Love Project that will be released on Friday November 9th, their book Us Against the World: Our Secrets to Love, Marriage and Family that will be released on Tuesday November 13th, their tour Us Against the World Mann Family Tour and the premiere of their movie Merry Wish Mas that will premiere on TV One on Sunday December 2nd.
In the book, David talks about always being "transparent" about their relationship and family with their fans. "In our book we'll tell our whole story and share our secrets to a successful marriage," David added. Tamela called their marriage a top priority and the couple's greatest accomplishment. "We're excited to share what we've learned doing life together as a couple and how to fully love your spouse," Tamela shared. The couple shares with us their lessons on how to stay together through the ups and downs. And also provides couples with tips on how you and your soul mate can both build careers and still keep the family together and happy. Also in a quest to take fans on a 30-year journey, the Mann's are "spilling some junk" on their relationship and how they've been able to persevere through it all. David gets candid and highlights the chapter, "The Knock At The Door," where 5 years into their marriage he receives notice from the constable that he has a child. Now this child was conceived prior to their marriage, but David admits that it "almost broke [them] apart and that's where the title, 'Us Against The World' came from."
Read below Part 1 of Prestige interview with David & Tamela Mann
David: When talking about Us Against the World tour. We wanted to have something that we could actually and physically go out and be a ministry to, for us, and our marriage ministry, but we wanted to do it where it wasn't just a concert, it wasn't just a comedy show, and it wasn't just a conference.
We wanted to do something that was an experience. So, we came up with the concept of having it all in one night. And so, we start the whole thing off with the whole family doing the title song.
Tamela: Us Against the World. And then my son kicks it off with a big like family reunion back yard party. He's a DJ, so he gets it all crunk and all hyped up.
David: Do they still say, "Crunk"?
Tamela: Well, I'm old so it's okay.
David: Okay, well, crunk. I think it's lit now.
Tamela: Okay.
David: Crunk or lit.  (laughter)
Tamela: Then my daughter Tia comes out and she does a neo-soul vibe set.
David: And she does a tribute to the Queen, Aretha Franklin which is a really nice tribute.
Tamela: And then David comes out and he does comedy. And he talks about our 30 years of marriage, and he's talking more on love.
David: Yeah, I do the whole comedy set and I give little teachable moments. Like, there's one segment during my set I ask a couple, "Do you all love each other?" And of course they say, "Yeah, we love each other." But, "Are you guys in love?" Because it's possible to love somebody and not be in love. And you don't realize I'm giving moments of teaching in love, and stuff like that, because I wrap it in comedy. Then after I'm done with my set then that's when —
Tamela: I come out and I do the gospel portion of my upbeat songs and then we kind of take a roller coaster ride. We start out fast and we slow it down.
David: We start out jumping and then end up crying. I'm like, "How did this happen?"
Tamela: And then we also incorporate a love set which are songs from our new project, Us Against the World: The Love Project, where me and David have a collaboration album that we've done together.
David: Now, we start the love set off with some of our friends and family to give us what their definition of love is, and so we video that to introduce the love set, and we give you the definition of what love is, what the biblical definition of love is, and they're practical. And then Tam and I, for the first time, we sing together. 
Tamela: Finally, I got David in the studio and on the stage to sing with me which he's been running from for quite a few years.
David: I haven't been running. I've just been quite honestly intimidated about singing with Tamela Mann, that's what it is.
Tamela: No need for intimidation.
David: Yeah, I was intimidated.
Tamela: And then we go from that and then I finish it off with —
David: The end of the worship set is what we call it. Oh, and let me back up, while we're doing the love set we kind of do this re-dedication with couples and we do a prayer, we pray for marriages and families.
Tamela: And being unified in the unit and unity of marriage. So, we end with a prayer.
David: And then Tamela Mann takes us to straight worship again. And when I tell you it's an experience, it's a roller coaster ride, it's just a little bit of everything. So, we call it the experience. And so, you know, once everybody gets the experience, we all come back out and just thank everybody for coming out. So, that's the, Us Against the World tour. 
Now, the book is, Us Against the World: Our Secrets to Love, Marriage, and Family. And so, what we do in the book is we take everybody on a journey, a journey of 30 years with the Mann's. So, we kind of take you on our ups, and we take you on our downs, and there's something in the book, even while we were writing the book we had to go back and revisit some things, issues, problems, situations that we thought we had already resolved.
Tamela: That we had dealt with in our marriage. So, I'd say there's a few skeletons that we talk about and be transparent about. Our goal is to encourage families, and give them that hope and inspiration that they can stay together and not give up on each other.
David: There's a few nuggets in there that you haven't heard from the Mann's. In the book we also share some prayers for different situations. We talk about love, we talk about finances, we talk about keeping the fire in your marriage. We talk about simple things like just sitting down and having a good laugh with each other —
Tamela: And staying committed to each other and not just tolerating each other, but loving each other through every up and down that you have, which you will have, in your relationship.
David: We also definitely deal with some of the tougher issues that come up in our life like we have one where we talk about the art of arguing where we share our biggest argument that we've had in the book which started out real rough and rugged, but it ended up being funny because — you have to read the book because it didn't quite go according to plan for me in my anger.
Tamela: In the book we also talk about our blended family, how we're a super-blended family and how we came together as one family unit.
David: Yes and about revisiting the vows. A lot of couples may not understand what they're fully getting into when they're talking about revisiting and renewing their vows, or even saying their vows. So, we go back and talk about revisiting and renewing our own vows. 
Tamela: And we talk about the knock at the door, which was kind of a hard place in our marriage.
David: To put it mildly.
Tamela: It was five years into the marriage and we had the knock at the door and surprise!
David: I have another child by another woman that happened before our marriage, but that just to kind of give you a backstory on it without giving it all away. That's where the, Us Against the World title and saying came from, and that was from that knock at the door in the book. It was the knock at the door and Tam was kind of like, "I'm not going to be able to do this."
Tamela: Because we're blended, we already had — he had one child when we started out as a couple and I didn't know if I was going to be — I didn't really know where I would fit in. I felt like I was going to be kind of lost in the shuffle of things. It's like, "Well, where do I fit in here? Am I going to be like — "
David: First, second, third, fifth?
Tamela: Or below, since we had a new child coming and then having to deal with the other baby mama drama. So, he explained to me that it was us against the world, and he really made it plain to me.
David: Once I sat her down and explained to her, "Look, I love my kids." All of that, I'm a stand-up guy, I'm going to make sure I take care of my kids, but at the end of the day you are my first priority. It's us against everything else. It's us against the world. It's us against anything that will come against us to try and tear us apart, and that's what the whole, Us Against the World title came from. And even when we're out on the road we say, "Us Against the World," we're not necessarily talking about the Mann's against the world. We're talking about the body of Christ.
Tamela: We're the people as a family unit.
David: Right. And just representing us against anything that's going to come and tear at the family structure, tear at our marriage, and anything that would come and try to destroy that, we're against that. So, it's not like, "It's us fighting against everybody."
Tamela: No.
David: It's —
Tamela: All of us.
David: Yes all of us.
Tamela: The "U" in "Us" means you as the family, all of us. And that all filters and lead into the actual album because it's based off of the stories that we have in the book. That's where the love CD comes from. Us Against the World: The Love Project. So, that all fits into it, and also into why David is singing some songs to me, and I'm singing some songs to him, and we're also singing songs together.
David: It's our first project that we're totally doing a whole album together.
Tamela: It's our love music.
David: It's straight love music. And part of the — I don't want to say problem that we've had in the music industry is because Tam is such a gospel — known for her strong gospel roots.
People kind of are looking at it like, "Is she trying to cross over? Is she trying to go R&B?" That wasn't the goal. The goal was to encourage marriages.
Tamela: And to just sing about love. You know, something from us, to us, for us, and to just actually show another side that, for one, that I'm in love with my husband, that I like my husband, and I like being with him, and I feel very secure in my marriage and the love that I have for him, and I wanted to share that in song.
David: So, what we did was took the book and we sat down with some producers and my son put together a team. David Jr. is the brainchild behind the whole album. He pulled together some producers and writers. And the reason I was so afraid at first is because it's been so long since I've been in the studio. And so, I guess it's a bit of being insecure about singing, and then singing with Tam, and so once they got the song and tailor-made them just for me, and for my voice.
Tamela: And they did. If you haven't heard the album music yet, he's done a wonderful job, and hopefully everyone gets a copy of it so you can actually get to hear my Christian Babyface.
David: There's some baby-making love music. But we wanted to do genuine love music. So, we wanted to do a soundtrack from the book, and once they put the songs together, and we got to doing it, and it was like, "Where do we put this?"
Tamela: I think it's an amazing body of work that we've put together and I really hope that everyone enjoys it like we enjoyed writing and listening to it. Even my grand kids, they really inspired us because they're really enjoying it as well.
David: And some of the titles like, Mason Jar, we was able to explain to them how Mason Jar came about.
Tamela: Mason Jar is a song, it's talking about me as young girl, teenager, how most of my friends experienced love early, and boyfriends, and everything, and I never had that, but I finally found love that I can preserve like you do preserves in a mason jar, that I could package up and put in the jar and hold dear to my heart. So, that's what Mason Jar is about, finally finding love that I can cherish forever.
David: And then I'm doing a song on the album called Still Do. And it's just where I'm re-dedicating my love, my vows, to Tam. It's kind of me saying, "Look, I would do this all over again." And so, there's songs like that on there. There's songs like, Feels Like. That's your song.
Tamela: Feels Like is a song that I'm singing to David when he touches me he makes me feel like a special girl, or special woman. I mean, it's just a wonderful thing and it gets more in-depth as you go in the song, but he makes me feel like I'm on top of the world.
David: Yup. And then there's songs that speak about making up. One of the songs is called, Making Up and a couple of the lyrics are, "Every time we fight it feels like the end, butterflies in my stomach, and I just don't think we're going to come back from this."
Tamela: And then there's another song that's entitled Signs.
David: Aw, yeah.
Tamela: Which talks about when you want to be with your mate.
David: In an intimate way.
Tamela: You just kind of know what's going on.
David: You know the signs that you give.
Tamela: It's like a special touch, or special feeling, that they give us that makes us feel like we're number one all the time for us to commune together.
David: Or worship in a very spiritual way, hallelujah. You know, Us Against the World we call it, it's a movement for us. It's something that we just want everybody to join in because — our president — well, yeah. He's talking about making America great again. Let's make America great again, that cannot begin to happen until we get the foundation, the base, and that's family. Husbands and wives unified, families unified.
Tamela: Let's make marriage great again. Let's make family great again as well.
David: And that's when we'll start to see America become great when we're starting in the house, starting at home. Then it will start to infect and affect everything else around us.
When it comes to their album entitled Us Against the World: The Love Project. They're set to drop a soulful 10-song musical collaboration about resilient and enduring love. Listening to the album, you can feel the vocal chemistry that they share.
"The whole album is an inside look at our love story and the journey we've been on together," added Tamela. "So, recording this project has been really special for both of us."
Produced by David, Tamela and their son David Mann, Jr., Us Against the World: The Love Project is a candidly honest album chronicling defining moments in David and Tamela's relationship.
The title track "Us Against the World" features the duo's fine vocal blend layered on top of funky, soulful grooves. On "Mason Jar" Tamela's tender vocals pay tribute to her grandmother, mother and love of her life, David.
The two recreate an epic revelation from early on in their marriage that could have undone them on the heart-wrenching yet resolutely hopeful track "I Love You O."
The album reconstructs other 'big reveals' in the couple's relationship, leading to "Signs," the ultimate love letter to each other.
The first single off the album is "Good Love," a timeless romantic duet in the vein of one of the Motown classics featuring David and Tamela's soulfully smooth harmonies.
The couple is currently on tour and tells us that couples have come forth stating their stories are helping them to "heal [their] marriage[s]." Known for their musical talents, the Mann's couldn't be more excited to release their forthcoming album, "Us Against The World: The Love Project," an audio compilation that also a compliment to their new book.
Tracklist of Us Against The World: The Love Project
Us Against The World (David & Tamela)
Mason Jar (Tamela)
I Love You O (David)
Still Do (David)
Good Love (David & Tamela)
You (David & Tamela)
Feels Like (Tamela)
Ups and Downs (David & Tamela)
Making Up (David & Tamela)
Signs (David & Tamela)
"Good Love" video by David and Tamela Mann below:

Stay tuned for Part II of Prestige Interview with David & Tamela Mann in the December issue of Prestige.
Stay up to date on the latest with David & Tamela
Website: www.tillymannmusic.com
Instagram: @DavidandTamela
Facebook: www.facebook.com/davidtamelamann
Twitter: @DavidandTamela
Us Against The World Mann Family Tour: October 11th- November 11th
Us Against The World" Album Release Date: November 9th
Us Against The World" Book Release Date: November 13th
Merry Wish Mas" Premiere Date (TV One): December 2nd
David Ortiz's First Interview Since Shooting, Says He Almost Died
David Ortiz broke his silence with the media since being shot in the Dominican Republic, and he gave an emotional interview … acknowledging he almost died there.
The former Boston Red Sox slugger spoke with Univision in a sit-down that aired in Spanish on Saturday, answering a number of questions related to the scary incident in his home country this past June — when he was ambushed and shot in the back at a club.
Big Papi described the initial feeling of the bullet going in, saying he felt a stinging sensation … adding that in the first five seconds, he felt like he was in a living nightmare. He said the shooting made him disheartened, as he has no problems with anybody.
Ortiz went on to explain that he never lost consciousness en route to the hospital, but said he experienced something he'd never quite felt before … trying to survive for his life.
He says he's never had his life threatened before, and that him sitting with his back to the street and no security around should be an implication … he's not someone who'd ever think he was in danger. Then came the question about who did it … and why.
Ortiz says he has no idea why anyone might've wanted to kill him, again reiterating that he has no enemies … and no issues with anybody (especially criminals) that would make him worry.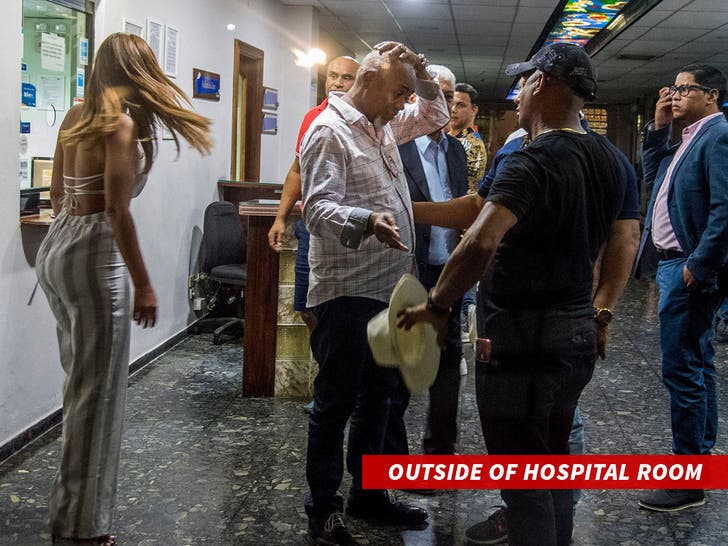 Big Papi also touches on a rumor that Dominican drug lord Cesar Emilio Peralta might've been the one who ordered the hit, but he again came back with uncertainty … saying he couldn't think of any reason why that would be the case — if, in fact, it is.
As we reported … authorities in the Dominican Republic have made several arrests in connection to the shooting, including the alleged shooter himself. Cops say that Ortiz was not the actual target, and that the hit was a case of mistaken identity.
Ortiz is unclear on that himself, but one thing that clearly hurt him as he was in the hospital … people apparently suggesting that he deserved what he'd gotten. He tears up as he recounts the recovery process, saying that at one point he was in a coma … and almost died.
Luckily, Big Papi is getting better each day. He threw out the first pitch at a recent Sox game — and seems to be doing well following multiple life-saving surgeries.
Still, it's pretty gut-wrenching to hear it all again from the man himself.
Justin Bieber Shared a Photo of Hailey Baldwin With ZERO Makeup and She Looks Amazing
It's been a year since Hailey and Justin Bieber tied the knot!
The 22-year-old model celebrated her first year of marriage with the "As Long As You Love Me" singer on Friday night, sharing a handful of photos of the two on her Instagram Story. In Hailey's first pic, she gives Justin, 25, a kiss on the cheek while they are in an elevator.
"1 year of being your Mrs.," the blonde beauty captioned the sweet snap. She continued posting a slew of other pics, including a black-and-white photo of the Canadian crooner hugging her from behind, which she captioned, "My heart."
Hailey and Justin secretly got married at a New York City courthouse last September. A couple of weeks later, a source confirmed to ET that the two were indeed husband and wife.
"The couple kept their marriage a secret from a lot of people. Justin and Hailey wanted to be married and didn't want to wait. They still plan to have a more formal wedding, but for them, this intimate ceremony was exactly what they wanted," the source said at the time. "Justin and Hailey were telling people they weren't married when they were."
The two are also set to have a second wedding with their friends and family later this month in South Carolina. Another source told ET this week that the couple is "gearing up for the event of their lives."
"They wanted to celebrate their love and unity in front of the people they love, especially God," the source said.
According to the source, the ceremony will be as private as possible and will incorporate family. "The [wedding] will be …. a fairy tale with over the top flowers, lights, and an all-around party," the source added. "The couple is planning to make it a family affair with Hailey's sister and Justin's brother, sister, and dad being incorporated. Justin has been through a lot in the past with his family, and he is looking forward to celebrating the special day with everyone."
Britney Spears' Dad Jamie Officially Steps Down as Her Conservator
Britney Spears' father, Jamie Spears, has officially stepped down as the singer's conservator.
After previously petitioning the court to hand over the reins of the singer's conservatorship citing ongoing health issues, a judge on Monday approved the request and appointed Britney's longtime care manager, Jodi Montgomery, as the singer's new conservatory, according to court documents obtained by ET.
According to the documents, Jodi Montgomery has been temporarily granted the same powers previously granted to Jamie, including the power to restrict and limit visitors by any means — provided that Jodi will not prevent Britney from meeting with her court-appointed attorney — and the power to retain caretakers and security guards for Britney on an around-the-clock basis.
The new conservatory will also have the power to prosecute civil harassment restraining orders that Britney deems appropriate, and she will have the power to communicate with all expert medical personnel treating Britney, as well as access to any and all records regarding Britney's medical treatment, diagnosis, and testing.
According to the court documents, Montgomery will serve as Britney's temporary conservator until Jan. 31, 2020, after which time her role as temporary conservator could be extended.
Jamie has been the 37-year-old singer's conservator since 2008, and he became her sole conservator this year after his former co-conservator, attorney Andrew Wallet, resigned in March.
ET has reached out to attorneys for both Jamie and Britney for comment.
The legal filing comes after Britney's two sons — Sean, 13, and Jayden, 12 — were granted a temporary restraining order against Jamie, a source told ET on Wednesday. The source claimed that an incident occurred on Aug. 24, in which Jamie allegedly "engaged in conduct that was physical abuse" toward Sean. According to the source, the very next day, Kevin Federline — Sean and Jayden's father — and Federline's divorce attorney, Mark Vincent Kaplan, filed a police report at the Ventura County Sheriff's Office.
According to Kaplan, "Britney recognized the children were in a dangerous situation and she demonstrated the correct parental judgment by removing them from it." ET also reached out to Federline's attorney on Friday.