David Ortiz's First Interview Since Shooting, Says He Almost Died
David Ortiz broke his silence with the media since being shot in the Dominican Republic, and he gave an emotional interview … acknowledging he almost died there.
The former Boston Red Sox slugger spoke with Univision in a sit-down that aired in Spanish on Saturday, answering a number of questions related to the scary incident in his home country this past June — when he was ambushed and shot in the back at a club.
Big Papi described the initial feeling of the bullet going in, saying he felt a stinging sensation … adding that in the first five seconds, he felt like he was in a living nightmare. He said the shooting made him disheartened, as he has no problems with anybody.
Ortiz went on to explain that he never lost consciousness en route to the hospital, but said he experienced something he'd never quite felt before … trying to survive for his life.
He says he's never had his life threatened before, and that him sitting with his back to the street and no security around should be an implication … he's not someone who'd ever think he was in danger. Then came the question about who did it … and why.
Ortiz says he has no idea why anyone might've wanted to kill him, again reiterating that he has no enemies … and no issues with anybody (especially criminals) that would make him worry.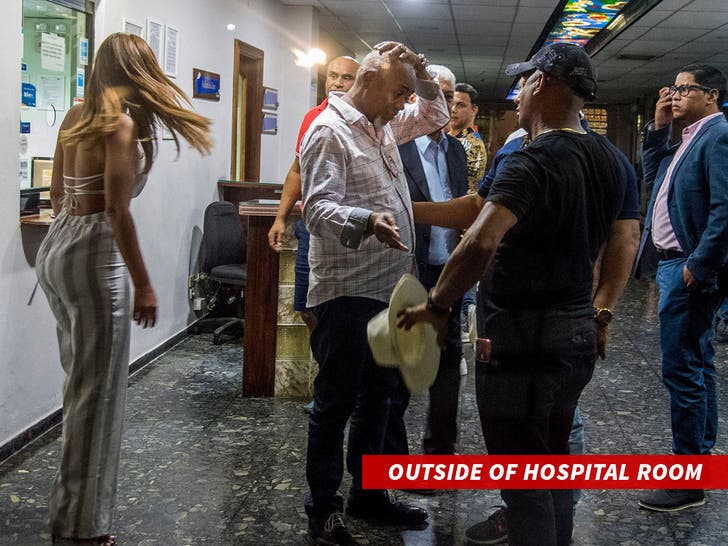 Big Papi also touches on a rumor that Dominican drug lord Cesar Emilio Peralta might've been the one who ordered the hit, but he again came back with uncertainty … saying he couldn't think of any reason why that would be the case — if, in fact, it is.
As we reported … authorities in the Dominican Republic have made several arrests in connection to the shooting, including the alleged shooter himself. Cops say that Ortiz was not the actual target, and that the hit was a case of mistaken identity.
Ortiz is unclear on that himself, but one thing that clearly hurt him as he was in the hospital … people apparently suggesting that he deserved what he'd gotten. He tears up as he recounts the recovery process, saying that at one point he was in a coma … and almost died.
Luckily, Big Papi is getting better each day. He threw out the first pitch at a recent Sox game — and seems to be doing well following multiple life-saving surgeries.
Still, it's pretty gut-wrenching to hear it all again from the man himself.
Black Teenager Attacked by Corrections Deputy in Florida, Investigation Underway
A Florida corrections deputy has been placed on leave after going on the attack against a 17-year-old at a juvenile center … and it's all on video.
The teenager, Terrance Devon Reed III, was taken to the hospital after the violent altercation with Sarasota County Deputy Neil Pizzo last week. The surveillance footage shows Reed sitting on a bench with his arms tucked in his shirt when Pizzo marches toward him.
As Reed stands up and takes his arms out, the deputy immediately goes for his throat. A struggle ensues before Pizzo throws Reed to the ground, but at no point does the teenager appear to fight back.
Another deputy jumps in to try to wrangle Reed's feet, and that's when Pizzo strikes the teen on the back of the head multiple times. Reed's then cuffed and helped to his feet … but not before suffering abrasions to his head.
The altercation reportedly began after Reed — who was previously arrested and charged with contempt of court, probation violations and cocaine possession — became uncooperative in a police lineup.
That, of course, doesn't justify the violence by the deputy, and Sheriff Tom Knight says he's disappointed in what he saw and Pizzo's failure to de-escalate the situation.
Knight says he placed the deputy on administrative duty while an internal investigation is conducted.
Tamar Braxton Boyfriend Files A Restraining Order Indicating Domestic
Tamar Braxton boyfriend is running to court asking for protection against her in what he describes as a domestic violence situation.
The singer's BF, David Adefeso, filed for a restraining order Tuesday in L.A. seeking to prevent Domestic Violence and he's asking a judge to grant him one against Tamar. For now, it's unclear what he's alleging she might've done.
It doesn't look like the court has approved his request just yet
At any rate, it's another sign that things have been volatile lately in her life — especially as it pertains to David. Remember, he's the one who called 911 not too long ago saying Tamar was threatening to kill herself. He also mentioned her WeTV beef to cops at the time.
Also keep in mind … family sources connected to Tamar have told us they believe she's changed since getting with him — claiming her mood seems to align with his. We've also been told that David has come off as controlling in Tamar's reality show, and that he's been quite involved in her business decisions of late.
This continues to be a developing story…..
Bodies of US Couple Found at Bottom of Well in Mexico
The bodies of a missing US couple have been found at the bottom of a well in Mexico.
Ian Hirschsohn, 78 and his 73-year-old wife Kathy Harvey had been missing since August 31, when they were supposed to return home to San Diego from a trip across the border.
Their abandoned car was found in Ensenada, just 90 minutes from the US border, last week.
Investigators then made the grim discovery on Thursday in an unpopulated area just south of the tourist hotspot.
The bodies were recovered over the weekend; San Diego police confirmed their identities, CBS8 reported.
Family members said the couple had been staying at a rented house in El Socorrito, about 200 miles south of the border, a town they frequented over the past 35 years.
Kathy texted her son Robert on August 28 to say they were going to either explore a gold mine or visit a beach; however the family lost contact with them on August 31.
After reporting them missing, the Consulate General in Tijuana finally informed the family the couple's Toyota Land Cruiser had been found in Ensenada.
"She was really enjoying retirement and had multiple groups of friends," Robert told the site. "She loved walking and traveling. She had a huge bucket list of where she wanted to go."
An investigation is now underway. The cause of deaths has not been revealed, nor has a motive, but investigators suspect foul play.