CLEO TV Debuts Signature Profile Series Cleo Speaks Featuring Candid Conversations With Entrepreneurs Dana Chanel and Mahisha Dellinger
CLEO SPEAKS Premieres on Saturday, February 9 at 9 A.M. ET/8C; 
Followed by JUST EATS WITH CHEF JJ airing at 12 P.M. ET/11C;
CURLS Beauty Brands CEO & Founder Mahisha Dellinger and Sprinkle of Jesus Founder Dana Chanel share their personal stories in the premiere episode of the groundbreaking profile series CLEO SPEAKS airing on Saturday, February 9 at 9 a.m. ET. Rapper/Activist David Banner and comedian Glory Mora join culinary star Chef JJ on the next episode of CLEO TV's sizzling new series                              JUST EATS WITH CHEF JJ this Saturday, February 9 at 12 p.m. ET.
CLEO SPEAKS
CLEO TV's signature new series CLEO SPEAKS kicks off with Mahisha Dellinger, founder of the natural hair care line CURLS Beauty Brands, and Dana Chanel, creator of the largest online ministry Sprinkle of Jesus.  Mahisha and Dana share their unique perspectives on issues facing Millennial and Gen X women of color today, and reveal their emotional journeys that have shaped their careers and influenced their success. They also sound off on a variety of topics, including motherhood, fashion, relationships, wellness, politics, arts, social justice, business and more. She speaks. We listen.
CLEO SPEAKS is a candid new series that gives dynamic women a platform to share their truths with the world. Selected for their impact on the world, true modern leaders, from CEOs and activists to entrepreneurs, share their candor.  In intimate settings, they reveal the personal and emotional journeys that have shaped their careers and influenced their success. She speaks. We listen. Featured series participants include Tamika Mallory, Activist; April Reign, Activist/Creator #OscarsSoWhite; Tracy Garraud, Co-Host, Sway in The Morning and Founder, She's Beauty and The Beast; Alicia Garza, Activist/Co-Founder, Black Lives Matter and more.
CLEO SPEAKS is produced by Ruby Red Inc., with Gina Holland and Martine Charles serving as Executive Producers.  For CLEO TV, Jason Ryan is Executive Producer in Charge of Production; Donyell McCullough is Sr. Director of Talent & Casting; and Robyn Greene Arrington is Vice President of Original Programming and Production.
                                 Dana Chanel | CLEO SPEAKS| 
                                       Sat., Feb. 9 @ 9 AM ET
                        Mahisha Dellinger | CLEO SPEAKS |
                                       Sat., Feb. 9 @ 9 AM ET
JUST EATS WITH CHEF JJ
Rapper/Activist David Banner and comedian Glory Mora stop by Chef JJ's kitchen for good laughs and a savory meal on this week's episode.   Chef JJ and his guests bring the heat while preparing an Italian Classic – Crispy Chicken Parmesan covered in Tomato Sauce over Fresh Fettuccine and Salad with Dijon Vinaigrette.
Jackson, MS native David Banner is a Grammy Award-Winning music producer, recording artist, philanthropist, activist and actor whose film credits include "Lee Daniel's The Butler" and Ride Along." Glory Mora is a comedian and Harlem native who recently launched her own production company to provide opportunities for up-and-coming African American and Latino women comedians.  The group dishes on everything from the influences of different cultures on food, the African Diaspora to positive music and creating opportunities for the next generation.  Don't miss the next episode of JUST EATS WITH CHEF JJ.
JUST EATS WITH CHEF JJ is a hot new cooking show where CLEO TV viewers get to hang out with Chef JJ Johnson. Set in a hip, New York City loft, JJ prepares meals from his kitchen and entertains his celebrity friends. Each episode features notable special guests including fashion entrepreneur Nichole Lynel, actress Naturi Naughton, rapper and activist David Banner, activist Tamika Mallory, actor Malik Yoba, celebrity fitness trainer Naphtali Aikens, CLEO TV Personalities Tai Beauchamp and Elton Anderson, gospel artist Koryn Hawthorne, actor Robert Ri'chard and ESPN Commentator and NBA champion Stephen Johnson, among others. The series airs back-to-back episodes of Season 3 on Sunday at 9 a.m. ET with an encore at 7 p.m. ET.
JUST EATS WITH CHEF JJ is produced by Powerhouse Productions, with Rochelle Brown and Sonia Armstead serving as Executive Producers.  For CLEO TV, Tia A. Smith and Jason Ryan are Executive Producers in Charge of Production; Donyell McCullough is Sr. Director of Talent & Casting, and Robyn Greene Arrington is Vice President of Original Programming and Production.
CLICK THE IMAGES TO VIEW THE RECIPES, BEHIND THE SCENES, CLIPS AND MORE FOR 
JUST EATS WITH CHEF JJ ASSETS
                                                (Photo Courtesy Credits: CLEO TV)
What makes Chef JJ unique?
JUST EATS WITH CHEF JJ
Toast to friendship |
JUST EATS WITH CHEF JJ
Words of inspiration from David Banner |
JUST EATS WITH CHEF JJ
For more information about CLEO TV visit www.mycleo.tv and check out CLEO TV YouTube Channel. Viewers can also join the conversation by connecting via social media on Twitter,Instagram and Facebook (@mycleotv) using #JustEatsWithChefJJ and #CleoSpeaks.
UNITED AIRLINES PASSENGER DIES AFTER LYING ABOUT COVID SYMPTOMS
A passenger on a United jet with nearly 200 others onboard was pronounced dead shortly after the pilot made an emergency landing, and it's almost certain the man had COVID.
Furious United Airlines passengers have criticized the company after a man who they claimed was showing clear coronavirus-like symptoms was allowed to board the plane and died before he reached his destination.
The flight took off from Orlando bound for Los Angeles on Monday, and the victim was pronounced dead after an emergency landing in New Orleans.
Medics on board attempted to save him, including by reportedly performing CPR. His wife, one passenger said, told all within earshot that he had been showing symptoms for the past week and so she suspected COVID-19.
United said on Friday they were trying to trace those on board United Flight 591.
The flight was a Boeing 737-900 with capacity for 179 people, according to Flight Aware.
The victim was taken off and the plane and all other passengers then carried on to LA – with some later saying they were not offered the chance to rebook onto a different flight.
The plane, pictured at the gate in LA, made an emergency stop in New Orleans and the man was pronounced dead. The plane, and all its passengers, then continued to LA
A United flight from Orlando to Los Angeles Monday was diverted due to a medical emergency
'Can I ask how you guys let a covid positive man on my flight last night?' said one woman.
'He was shaking and sweating boarding the plane. He was clearly sick and then died mid flight. We had an emergency landing in New Orleans and we didn't even switch planes afterwards.
'We all sat there for hours waiting while you guys cleaned up his blood and germs with wet wipes. Is this how you guys handle other people's safety and health?'
She said that the airline's claim that they believed he had a heart attack was 'laughable', adding: 'There was never any mention of we are diverting this flight because of cardiac arrest reasons.
'Everyone was aware this was COVID related because the wife was relaying his medical information, and shared he was in fact COVID positive and symptomatic for over a week. That is them covering up the fact that they handled this situation poorly.'
Another woman, named Shay, also tweeted angrily at United, accusing them of failing to check on the passengers before boarding, and criticizing the man and his wife for flying.
'United, why did you never check our temperatures before boarding?' she tweeted.
'The family of the man, why didn't you go to the hospital or not let your husband get on the flight feeling like that?
'An entire plane had to watch him seize or have a heart attack none of us know which, and die.'
Shay said she noticed the man having breathing difficulties.
'I made eye contact with his wife and looked at him and she just looked down,' Shay said.
She said the medical team on board tried to revive him for an hour.
'The family was crying, people were freaking out,' she said.
'He was shocked twice, given an epi-pen, 2 shots of adrenaline and mouth to mouth after chest compressions…'
The Centers for Disease Control and Prevention (CDC) asked United for the passenger manifest so other passengers can be told that they might have been exposed to a disease, spokesman Charles Hobart said.
The passenger had filled out a form before the flight saying he had not tested positive for COVID-19 and had no symptoms of the disease caused by the novel coronavirus, according to the airline.
'It is apparent the passenger wrongly acknowledged this requirement,' United said.
United said the CDC did not specify the man's cause of death, and United does not know whether it was COVID-19.
But, the airline said, the man's wife was overheard telling an emergency medical technician that he had shown symptoms of the disease, including loss of taste and smell.
The CDC is collecting information to decide whether further public health action is appropriate, an agency spokesman said in a text message.
'To protect the privacy of the individual, we aren't providing this information to the public,' the CDC spokesman told AP.
All four flight attendants were quarantined for two weeks once they arrived at Los Angeles, 'per written guidelines,' said Taylor Garland, spokeswoman for Association of Flight Attendants.
'Our union continues to provide support to the crew,' Garland said.
'We urge passengers to comply with airline COVID policies and stay home if you´re sick.'
The man was taken to a hospital in New Orleans where he was pronounced dead, according to the airline.
Hobart said United originally was told that he died from heart trouble, so passengers were allowed to stay on the plane and complete the flight to Los Angeles or take a later flight.
The airline said all passengers stayed on the plane.
The incident occurred last Monday, and the CDC is now scrambling to contact the 179 passengers who were onboard.
Covid-19 cases rise aboard first cruise to resume sailing in the Caribbean
So far a total of seven passengers have tested positive for Covid-19 aboard the SeaDream 1 cruise ship docked in Barbados, according to two passengers on the ship.
Passengers who have tested negative for the virus will be able to leave the ship and travel home, Gene Sloan and Ben Hewitt told CNN on Friday. They are both among a handful of cruise journalists and bloggers on board.

The SeaDream Yacht Club cruise was the first to return to the Caribbean since the coronavirus pandemic shut operations down in March and was meant to demonstrate that increased safety protocols, including regular testing aboard the ship, could allow cruise voyages to take place during the pandemic.
Instead one passenger fell ill on Wednesday, forcing the SeaDream 1 to return to Barbados, where all 53 passengers and 66 crew were tested.
Hewitt said the crew had informed passengers that everyone who had tested negative twice would be allowed to disembark the ship and fly home on Saturday.
SeaDream Yacht Club said in a news release Thursday afternoon that "guests" had received "assumptive positive" results to preliminary rapid Covid tests, but did not specify the number who had done so.
SeaDream was asked to confirm the exact number of positive results.
SeaDream responded "We are working closely with local health and government authorities to resolve this situation in the best possible way," said SeaDream's Andreas Brynestad, in the SeaDream release.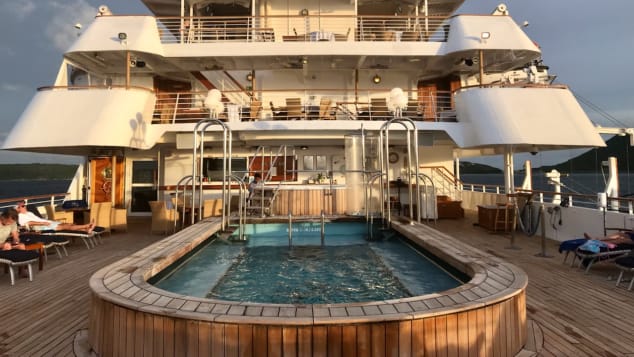 Intercom announcement of positive test result
Sloan, who is a senior reporter for cruise and travel at The Points Guy, reported that the Covid scare started when the captain informed passengers of the preliminary positive test over the ship's intercom system shortly before lunchtime on Wednesday.
Passengers were instructed to return to their cabins and remain isolated there, he said.
The ship, which was in the Grenadines at the time of the first preliminary positive test, docked in Barbados Wednesday evening.
"It's not a great development for the cruise industry," Sloan told CNN via email on Wednesday from his cabin on board. "I think the hope had been that the rigorous testing that SeaDream was doing would keep Covid off its ship."
Multilayer testing for Covid-19 has been an integral part of SeaDream's efforts to create a Covid-19 negative bubble aboard its ships.
Passengers were tested in advance of traveling to the ship and also before boarding the ship, Sloan said.
"And SeaDream also was testing passengers four days into the trip," he said. "We were scheduled to be tested again today. That's a more rigorous testing plan than most lines had been discussing for the restarts."
The protocol is due in part to the strict testing required by Barbados, where the ship will be based for the season, Sloan noted.
"I think what this shows is it's going to happen. And until there's a vaccine or herd immunity, when cruising starts up you're going to see things like this happen. The question is how often and how big?"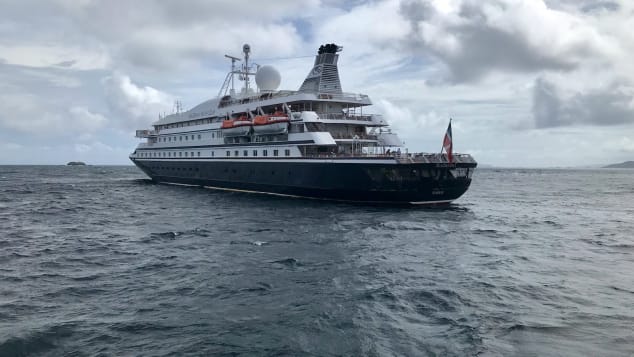 Voyages from Barbados
SeaDream's winter voyages from Barbados started on November 7 with the sailing that has now been cut short.
These new Caribbean sailings follow a successful summer season for SeaDream in Norway, which the company said "resulted in zero positive cases during the entire Norwegian summer season."
"After completing a successful summer season in Norway, we implemented even stricter health and safety protocols for our Barbados winter season. All guests were tested twice prior to embarkation and we are in the process of retesting guests," said SeaDream's Andreas Brynestad in the statement released on Thursday.
Ben Hewitt, host of Cruise with Ben & David on YouTube, expressed his disappointment and frustration with the virus in an interview Thursday from his stateroom.
"It's just so disappointing that this has happened because everybody has their hopes up high, and we can't see anything more that they could've done," said Hewitt.
"It's just such a horrible virus, it just gets everywhere even with the constant testing."
The use of masks on the voyage has been far less stringent.
Sloan told CNN that initially no one was wearing face masks, not even the crew. Crew members told him they weren't necessary since the ship was a Covid-free "bubble."
Then a few days into sailing, SeaDream instituted a mask policy but didn't offer an explanation, he said.
Fewer than 250 guests
SeaDream's ships, which the company refers to as "superyachts," have 56 staterooms, with a capacity for 112 guests and 95 crew.
Carrying fewer than 250 guests outside of US waters allows SeaDream to operate outside of the US Centers for Disease Control and Prevention's orders around cruising.
The CDC recently issued a "Framework for Conditional Sailing Order for Cruise Ships."
The order, which applies to cruise ships in US territorial waters that have capacity to carry at least 250 passengers, is considered a tentative step toward the resumption of cruising.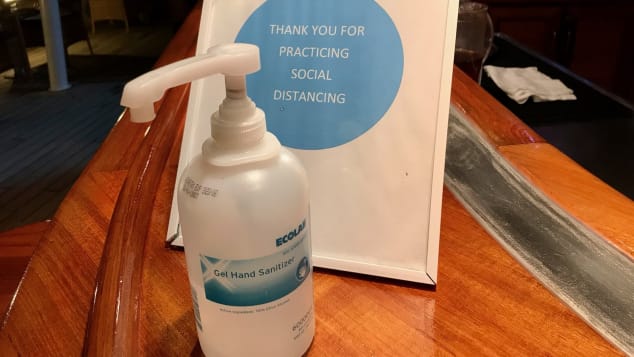 Trade group Cruise Lines International Association said it will work with the CDC to resume US sailings as soon as possible, but that its members would continue a voluntary suspension of operations through the end of 2020.
On Friday, a letter signed by Sen. Richard Blumenthal (D-CT) and Rep. Doris Matsui (D-CA) called on the CDC to reinstate its no-sail order for cruise ships and reverse efforts to restart the industry's US operations.
The letter cites the outbreak aboard SeaDream 1.
Despite precautions, "the virus was still able to infect multiple people on the ship, with the possibility of more confirmed cases emerging as passengers and crew are retested," the letter reads.
"Unfortunately, this troubling development is not surprising and reaffirms the need to exercise extreme caution before sending passengers and crew back out to sea on cruises."
Obama Rips Trump For Refusing To Congratulate President-Elect Biden
Former President Barack Obama is reminding the nation he congratulated President Donald Trump as soon as he won the election … a courtesy the President's refusing to extend to President-Elect Joe Biden.
The former president ripped Trump for failing to acknowledge Biden as president-elect with so much as a congratulatory phone call in an interview with "CBS This Morning," telling Gayle King Trump is damaging our democracy with the way he's eschewing what's traditionally been a peaceful — and cordial — transfer of power.
Obama recalled election night 2016, saying he stayed up until the wee hours of the morning to phone Trump and congratulate the president-elect. Obama says he was doing what presidents do, just as George W. Bush graciously did during Obama's historic 2008 victory.
Trump's refusal to concede and call up president-elect Biden is clearly not sitting well with Obama.
As you know … Obama previously chided Trump and the GOP for continuing to make baseless claims of election fraud in an interview with "60 Minutes," telling Scott Pelley it undermines the country.
Obama points out Biden and 2016 Trump will end up with the same number of Electoral College votes, 306, but says half the country likely won't take that into account if they keep consuming conservative media … which Obama says presents voter fraud allegations as fact.
Bottom line. Obama explains why Republicans can't stop Biden and Vice-President Elect Kamala Harris from being sworn in.