Cam Newton Walks Out of Press Conference
Following the Panthers' loss to the Denver Broncos in Super Bowl 50, Cam Newton made what was then considered his most prominent gaffe with the press. In a terse session with reporters, Newton kept the hood of his sweatshirt pulled over his head and remained slouched in a chair while answering questions with as few words as possible.
Off to the side, you could see offensive coordinator Mike Shula and quarterbacks coach Ken Dorsey both trying to get his attention from a vacant podium in what seem to be Shula trying to tell Newton to remove his hood and sit up. Perhaps they knew what was coming based on Newton's mood after the 24–10 defeat.
Let's fast forward to his sexist remarks toward Charlotte Observer reporter Jourdan Rodrigue at the beginning of this month obviously made that back and forth in the belly of Levi Stadium seem like a tame, distant memory. Saying it was "funny" to hear a female "talk about routes" escalated from a perceived, general dislike of reporters into a profound lack of respect for a female beat reporter asking a fair football question and women working in sports altogether. No matter who wants him to change or who instructs him to change, he seems to have drawn a line in the sand when it comes to the press.
Let's look as well to this past week where, upon Rodrigue's return to the facility (after Newton's comments, it was discovered that Rodrigue made racist jokes on her Twitter feed four and five years prior to the incident, for which Rodrigue issued an apology), Newton did not attend his required weekly briefing with reporters. During the open locker room session where journalists had access to the entire team, Newton played music at an obstructively loud volume, theoretically hampering reporters from doing their job.
On Wednesday, Newton left the podium after Rodrigue's beat partner, longtime Observer writer Joe Person, asked Newton the following question: "Cam, big plays—chunk plays—can get you that energy you're talking about. Does this offense, and I know you had several in Detroit and New England, do you think you guys have the wherewithal to do that consistently week in and week out?"
Newton then said "Next question," waited three seconds and left the area. Newton did answer previous questions from Person, and Observer columnist Scott Fowler before the clipped incident:
In a statement provided to The MMQB, the Panthers said: "Cam didn't intend to be discourteous toward any specific media member. In his mind after answering questions for nine minutes he had fulfilled his obligations."
Because of Newton's prior actions, his walk-off on Wednesday will appear to have malicious intent no matter what his true motive was. If Newton's goal is to suggest that reporters don't ask questions worth his time, or that he has better things to do than stand and discuss Carolina's recent loss to the Chicago Bears, there's probably an interesting and legitimate debate to be had. After that Super Bowl, I do remember thinking that because of Newton, post-game questions probably do need to improve to some degree and be sharper.
However, the way Newton has chosen to go fight this battle left him all alone. Like that Super Bowl night, it seems there are people in the periphery waving, trying to get his attention and help him. Like that night, Newton opted to ignore them.
My suggestion to the Panthers is, STOP MAKING EXCUSES FOR CAM NEWTONS TANTRUMS!
NFL Legend Lawrence Taylor Arrested In Florida
Retired NFL legend Lawrence Taylor was arrested in Florida on Thursday. The Hall of Fame pass-rusher and longtime Giants star is facing two felony charges for failing to alert authorities to a change in address. This comes 10 years after Taylor, 62, pleaded guilty to charges of sexual misconduct and patronizing a prostitute, resulting in him becoming a registered sex offender — which requires informing authorities of new residences.
Taylor was booked around 8:45 p.m. ET, and released later Thursday night from the Broward County Sheriff's Office. His attorney, Arthur Aidala, told TMZ that the former linebacker "has been compliant with all of the rules and regulations regarding his legal status for the past decade." Taylor is "in the middle of a divorce," however, "and his local police department suggested it would be best if he slept at a nearby hotel."
"Mr. Taylor was constantly a resident of the marital home where he was registered," Taylor's attorney continued, "but on advice of local law enforcement, he was sleeping outside the home. We are confident that this will be dismissed at the first court hearing."
This isn't the first time Taylor has been in legal trouble since his 2011 charges. The two-time Super Bowl champion pleaded guilty to DUI charges in 2017 after crashing into a parked police car in Florida. During Taylor's prestigious playing career, in which he won NFL MVP, went to 10 Pro Bowls and redefined modern-day pass-rushing, the longtime Giant also battled off-field issues, serving a suspension for repeated drug use.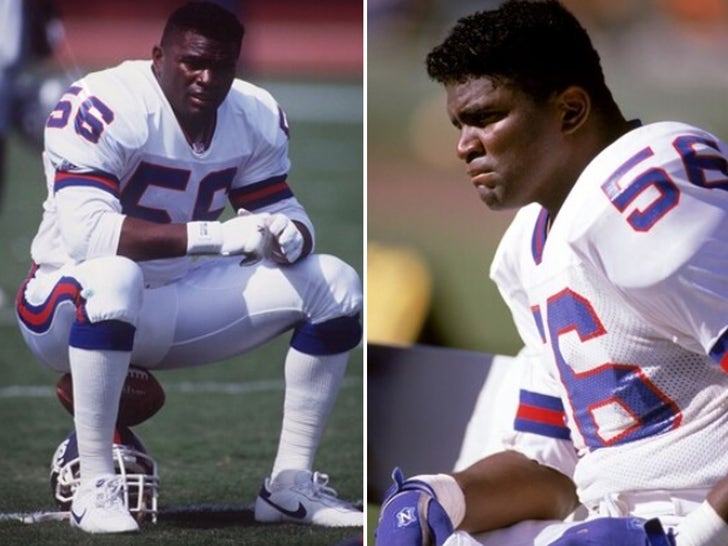 Boxer Gervonta Davis Involved in Minor Plane Crash, Documents Aftermath
Gervonta Davis just, miraculously, walked away from a plane crash relatively unscathed — and it sounds like what's hurting him the most in the aftermath are his feet … and his caboose.
The professional boxer went live Saturday to document a terrifying encounter he says he and his crew had just gone through after boarding a private jet … which apparently failed to properly take off and crash landed back down to the airport grounds it was trying to leave.
Thankfully, it doesn't appear the aircraft got very far up before coming back down to Earth — because Gervonta and other passengers seemed more or less okay … with their health and bodies intact.
That's not to say Gervonta wasn't feeling some hurt afterwards — on his live feed, he noted that his booty was aching like no other … this while he wrapped his feet in gauze. He's pretty jovial about the whole thing, which is great to see, but this could've easily been way worse.
Gervonta also was able to get some shots of the downed plane, and it sure looks like something went wrong internally. There were also fire engines that showed up on the scene to evaluate the damage and tend to anyone's injuries. Again, though, most everyone seems to be fine … which is absolutely incredible, because it appears there were even children aboard, based on a photo Gervonta posted shortly before getting on his flight. His video doesn't capture any kids, though.
It's unclear what exactly caused the malfunction — but you can hear Gervonta and his friends speculate on what happened … seems like there might've been some overheating of some sort. They also appear to be discussing some of the flight maneuvers the pilot(s) were using in the air … and the group seems to think that may have attributed to it going down.
Stay tuned while we here at Prestige try to get a hold of Gervonta's team for more answers.
Tennis Player Coco Gauff Tests Positive For COVID-19, Will Not Attend Olympics
17-year-old tennis player Cori "Coco" Gauff was slated to be on the U.S. tennis team at the upcoming Olympic Games, but has withdrawn after testing positive for COVID-19.
She broke the news via social media.
"I am so disappointed to share the news that I have tested positive for COVID and won't be able to play in the Olympic Games in Tokyo," she wrote in a note. "It has always been a dream of mine to represent the USA at the Olympics, and I hope there will be many more chances for me to make this come true in the future." At #25, Gauff is the youngest player with a Women's Tennis Association ranking in the top 100 .
00:00 of 00:49Volume 0% More VideosCoco Gauff Beats Defending Champ Naomi Osaka at Australian OpenPart 1: COVID-19 The Black SouthCOVID-19: Black Folks Say Data Is PoliticalDr. Robinson discusses Community Impact of COVID-19Dr. Patrice Harris Answers COVID-19 QuestionsDr. Powell Shares Reliable Sources For COVID-19 InformationThe OverExplainer: Body PositivityOctavia Spencer On Staying Mentally Well During COVID-19
At 15, Gauff shocked the sports world when she beat tennis icon Venus Williams in the opening round of Wimbledon in 2019. She then bested Williams again during her Australian Open debut in January 2020 and defeated Naomi Osaka at the same event.
Gauff finished her statement by wishing all of her fellow athletes well. "I want to wish TEAM USA best of luck and a safe game for every Olympian and the entire Olympic family."