Author Deborah Smith Simpkins talks to Prestige
Sylvia: Hello, Minister Deborah Smith Simpkins. It's a pleasure to have you as our guest for Prestige Magazine and to have you tell us of your somewhat controversial story. So, first, before we get into this tell-all eye-opening and magnificent story that you have, can you give us a little background on yourself growing up as…
Sylvia: Hello, Minister Deborah Smith Simpkins. It's a pleasure to have you as our guest for Prestige Magazine and to have you tell us of your somewhat controversial story. So, first, before we get into this tell-all eye-opening and magnificent story that you have, can you give us a little background on yourself growing up as a child, your family life, and what a typical day, week, or month was like for you?
Deborah: Thank you, Sylvia. I'm so happy to be here and honored that you would even have me as a guest or interview me, so I'm so grateful for that. Growing up as a child, for me, I am a preacher's kid. My father was a pastor and then a bishop, so everyday life for me was just church, church, church, church. I went to church probably six to seven days a week every week. We were very fortunate, we had housekeepers, and nannies. So, my father had a very poverty stricken start in ministry, but God did increase and bless him until his ministry grew to over 14 churches and 19 bible colleges. So, I am the youngest of eight, so I kind of had a bird's eye view of the struggle my family was going through when they were not so well off, but by the time I was like seven or eight my family's financial dynamics had completely turned around. So, I grew up very fortunate and I thank God for that.
Sylvia: Now, I know that during the time of the book and when all of this was found out as a tell all that you probably had to deal with feelings of being ostracized, you were probably talked about judiciously, not only from your church family but some of your friends and family members as well. So, how were you able to deal with those types of feelings?
Deborah: I don't even know how you were able to perceive that because that's exactly what happened. I didn't have to deal with the feelings of it, I had to deal with the reality of it. I felt like I wanted to go hide underneath a rock. I was not a promiscuous girl growing up. My father was very strict and I can count on my hand how many men that I have been with, but this relationship, once it got out into the Christian world I was labelled as like a church-hopping-hoe, and I had never been that type of person, and I caused a lot of shame to come upon my father which really hurt me, and my children which also broke my heart. And I got into this relationship not even knowing that this man was married. Now, I have to be honest, once I found out that he was married I did not end the relationship right away because I had been caught up, my feelings were caught up. And if you would've asked me before entering this relationship I was the person that said, "I have such resentment for women who mess around with married men. I would never mess around with a married man, which is just horrible."
But when I found myself in that situation my heart was locked into a married man and I just could not disconnect that easily. So, it made me more sensitive to some women that are going through that type of situation. I will not condone it, but at least now I can understand, so I'm not the type of person that would say, "Oh, I'm not dealing with her." Or, "She could never be—." I have broken up friendships with women that I found out were dating married men prior to me getting into that situation. So, yes, I sat down in my church, I couldn't do anything. I couldn't do announcements, I couldn't usher. My father sat me down and I was sat down for three years, and I started going to another church, a friend of mine's church, and his wife happened to be friends with this pastor's wife, and while I was sitting there worshipping one of the ushers came to me and told me that I was not allowed to worship here that day. And I could tell you many stories, but let me tell you one thing, when I went through all of that I got into a place where I was tired of being tired. I was emotionally spent. I had to question where I was with God and he brought me out, and I don't have to care about what people say or how they feel. I just have to be concerned about where my relationship is with God and I can't let anybody hold me back on what I used to do because I'm not there anymore.
Sylvia: You're right. Now Deborah we know that this book, you said, it was an embellishment upon the truth, but then you also did The Truth Exposed which went much deeper than you did with the first novel, so this one I'm quite sure really, really blew the lid off of everything that was going on to give people an even deeper insight into what was happening in your life during this time and the people who were effected as well. So, we also know that you've constructed many platforms to present this story to women and men, like you said, not only in the pulpit but wherever you go because there are so many women and men that are experiencing these types of issues or issues that are similar to those. So, my question for you is what kind of things do you tell these people when you're going out to do your motivational speaking? How do you tell them to deal with the healing process of these issues and how to kind of make it through based on your experiences, or on some of the other experiences that you've seen or witnessed in your life?
Deborah: We did continue the story because people fell in love with Leon, the main character, and Kiyah the main character. So, we continued the story and we went to Robbed without a Gun, we went to Broken Pieces, and then came The Truth Exposed. And what we wanted people to see that the journey didn't end with Kiyah crying and being distraught. We wanted them to see when she met the man of her dreams, when she met Sean and how God brought her full circle, and that we may endure for a night, but joy will come in the morning. So, she's just not going to always be the damsel in distress and sometimes what people may think is a setback can really be a set up for something greater.
So, we kept on going with the story and The Truth Exposed was basically like people saying, "This book seems so real, the characters jump out of the pages. We can tell that Kiyah is you, Deborah. We know she's you." So, I went on with the story and truth be told I didn't hide people behind the names. And people are just begging for this book. I actually had to pull the book back because of so much response that we had and we had to get the lawyers involved and everything, but we've gotten all that ironed out. So, The Truth Exposed will be released in the spring.
READ THE ENTIRE INTERVIEW IN PRESTIGE APRIL 2015 ISSUE
Stay updated with Deborah: Website– http://www.deborahsimpkins.com   Facebook: https://www.facebook.com/simpkinsdeborah  Twitter: https://twitter.com/SimpkinsDeborah
UNITED AIRLINES PASSENGER DIES AFTER LYING ABOUT COVID SYMPTOMS
A passenger on a United jet with nearly 200 others onboard was pronounced dead shortly after the pilot made an emergency landing, and it's almost certain the man had COVID.
Furious United Airlines passengers have criticized the company after a man who they claimed was showing clear coronavirus-like symptoms was allowed to board the plane and died before he reached his destination.
The flight took off from Orlando bound for Los Angeles on Monday, and the victim was pronounced dead after an emergency landing in New Orleans.
Medics on board attempted to save him, including by reportedly performing CPR. His wife, one passenger said, told all within earshot that he had been showing symptoms for the past week and so she suspected COVID-19.
United said on Friday they were trying to trace those on board United Flight 591.
The flight was a Boeing 737-900 with capacity for 179 people, according to Flight Aware.
The victim was taken off and the plane and all other passengers then carried on to LA – with some later saying they were not offered the chance to rebook onto a different flight.
The plane, pictured at the gate in LA, made an emergency stop in New Orleans and the man was pronounced dead. The plane, and all its passengers, then continued to LA
A United flight from Orlando to Los Angeles Monday was diverted due to a medical emergency
'Can I ask how you guys let a covid positive man on my flight last night?' said one woman.
'He was shaking and sweating boarding the plane. He was clearly sick and then died mid flight. We had an emergency landing in New Orleans and we didn't even switch planes afterwards.
'We all sat there for hours waiting while you guys cleaned up his blood and germs with wet wipes. Is this how you guys handle other people's safety and health?'
She said that the airline's claim that they believed he had a heart attack was 'laughable', adding: 'There was never any mention of we are diverting this flight because of cardiac arrest reasons.
'Everyone was aware this was COVID related because the wife was relaying his medical information, and shared he was in fact COVID positive and symptomatic for over a week. That is them covering up the fact that they handled this situation poorly.'
Another woman, named Shay, also tweeted angrily at United, accusing them of failing to check on the passengers before boarding, and criticizing the man and his wife for flying.
'United, why did you never check our temperatures before boarding?' she tweeted.
'The family of the man, why didn't you go to the hospital or not let your husband get on the flight feeling like that?
'An entire plane had to watch him seize or have a heart attack none of us know which, and die.'
Shay said she noticed the man having breathing difficulties.
'I made eye contact with his wife and looked at him and she just looked down,' Shay said.
She said the medical team on board tried to revive him for an hour.
'The family was crying, people were freaking out,' she said.
'He was shocked twice, given an epi-pen, 2 shots of adrenaline and mouth to mouth after chest compressions…'
The Centers for Disease Control and Prevention (CDC) asked United for the passenger manifest so other passengers can be told that they might have been exposed to a disease, spokesman Charles Hobart said.
The passenger had filled out a form before the flight saying he had not tested positive for COVID-19 and had no symptoms of the disease caused by the novel coronavirus, according to the airline.
'It is apparent the passenger wrongly acknowledged this requirement,' United said.
United said the CDC did not specify the man's cause of death, and United does not know whether it was COVID-19.
But, the airline said, the man's wife was overheard telling an emergency medical technician that he had shown symptoms of the disease, including loss of taste and smell.
The CDC is collecting information to decide whether further public health action is appropriate, an agency spokesman said in a text message.
'To protect the privacy of the individual, we aren't providing this information to the public,' the CDC spokesman told AP.
All four flight attendants were quarantined for two weeks once they arrived at Los Angeles, 'per written guidelines,' said Taylor Garland, spokeswoman for Association of Flight Attendants.
'Our union continues to provide support to the crew,' Garland said.
'We urge passengers to comply with airline COVID policies and stay home if you´re sick.'
The man was taken to a hospital in New Orleans where he was pronounced dead, according to the airline.
Hobart said United originally was told that he died from heart trouble, so passengers were allowed to stay on the plane and complete the flight to Los Angeles or take a later flight.
The airline said all passengers stayed on the plane.
The incident occurred last Monday, and the CDC is now scrambling to contact the 179 passengers who were onboard.
Covid-19 cases rise aboard first cruise to resume sailing in the Caribbean
So far a total of seven passengers have tested positive for Covid-19 aboard the SeaDream 1 cruise ship docked in Barbados, according to two passengers on the ship.
Passengers who have tested negative for the virus will be able to leave the ship and travel home, Gene Sloan and Ben Hewitt told CNN on Friday. They are both among a handful of cruise journalists and bloggers on board.

The SeaDream Yacht Club cruise was the first to return to the Caribbean since the coronavirus pandemic shut operations down in March and was meant to demonstrate that increased safety protocols, including regular testing aboard the ship, could allow cruise voyages to take place during the pandemic.
Instead one passenger fell ill on Wednesday, forcing the SeaDream 1 to return to Barbados, where all 53 passengers and 66 crew were tested.
Hewitt said the crew had informed passengers that everyone who had tested negative twice would be allowed to disembark the ship and fly home on Saturday.
SeaDream Yacht Club said in a news release Thursday afternoon that "guests" had received "assumptive positive" results to preliminary rapid Covid tests, but did not specify the number who had done so.
SeaDream was asked to confirm the exact number of positive results.
SeaDream responded "We are working closely with local health and government authorities to resolve this situation in the best possible way," said SeaDream's Andreas Brynestad, in the SeaDream release.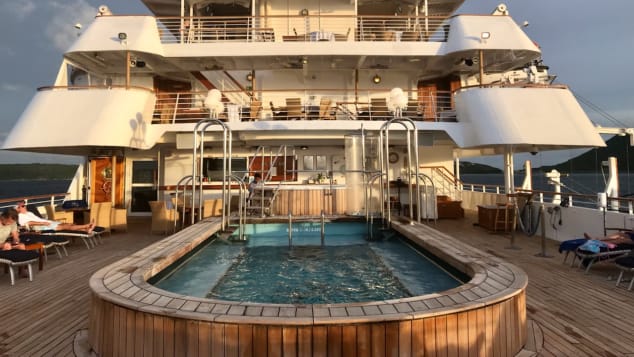 Intercom announcement of positive test result
Sloan, who is a senior reporter for cruise and travel at The Points Guy, reported that the Covid scare started when the captain informed passengers of the preliminary positive test over the ship's intercom system shortly before lunchtime on Wednesday.
Passengers were instructed to return to their cabins and remain isolated there, he said.
The ship, which was in the Grenadines at the time of the first preliminary positive test, docked in Barbados Wednesday evening.
"It's not a great development for the cruise industry," Sloan told CNN via email on Wednesday from his cabin on board. "I think the hope had been that the rigorous testing that SeaDream was doing would keep Covid off its ship."
Multilayer testing for Covid-19 has been an integral part of SeaDream's efforts to create a Covid-19 negative bubble aboard its ships.
Passengers were tested in advance of traveling to the ship and also before boarding the ship, Sloan said.
"And SeaDream also was testing passengers four days into the trip," he said. "We were scheduled to be tested again today. That's a more rigorous testing plan than most lines had been discussing for the restarts."
The protocol is due in part to the strict testing required by Barbados, where the ship will be based for the season, Sloan noted.
"I think what this shows is it's going to happen. And until there's a vaccine or herd immunity, when cruising starts up you're going to see things like this happen. The question is how often and how big?"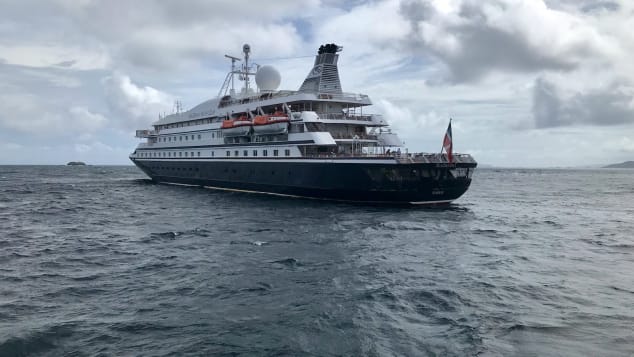 Voyages from Barbados
SeaDream's winter voyages from Barbados started on November 7 with the sailing that has now been cut short.
These new Caribbean sailings follow a successful summer season for SeaDream in Norway, which the company said "resulted in zero positive cases during the entire Norwegian summer season."
"After completing a successful summer season in Norway, we implemented even stricter health and safety protocols for our Barbados winter season. All guests were tested twice prior to embarkation and we are in the process of retesting guests," said SeaDream's Andreas Brynestad in the statement released on Thursday.
Ben Hewitt, host of Cruise with Ben & David on YouTube, expressed his disappointment and frustration with the virus in an interview Thursday from his stateroom.
"It's just so disappointing that this has happened because everybody has their hopes up high, and we can't see anything more that they could've done," said Hewitt.
"It's just such a horrible virus, it just gets everywhere even with the constant testing."
The use of masks on the voyage has been far less stringent.
Sloan told CNN that initially no one was wearing face masks, not even the crew. Crew members told him they weren't necessary since the ship was a Covid-free "bubble."
Then a few days into sailing, SeaDream instituted a mask policy but didn't offer an explanation, he said.
Fewer than 250 guests
SeaDream's ships, which the company refers to as "superyachts," have 56 staterooms, with a capacity for 112 guests and 95 crew.
Carrying fewer than 250 guests outside of US waters allows SeaDream to operate outside of the US Centers for Disease Control and Prevention's orders around cruising.
The CDC recently issued a "Framework for Conditional Sailing Order for Cruise Ships."
The order, which applies to cruise ships in US territorial waters that have capacity to carry at least 250 passengers, is considered a tentative step toward the resumption of cruising.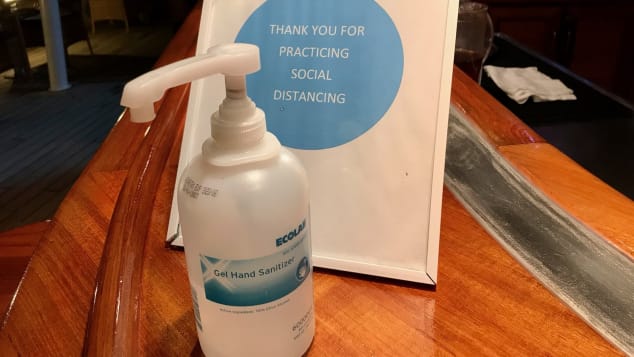 Trade group Cruise Lines International Association said it will work with the CDC to resume US sailings as soon as possible, but that its members would continue a voluntary suspension of operations through the end of 2020.
On Friday, a letter signed by Sen. Richard Blumenthal (D-CT) and Rep. Doris Matsui (D-CA) called on the CDC to reinstate its no-sail order for cruise ships and reverse efforts to restart the industry's US operations.
The letter cites the outbreak aboard SeaDream 1.
Despite precautions, "the virus was still able to infect multiple people on the ship, with the possibility of more confirmed cases emerging as passengers and crew are retested," the letter reads.
"Unfortunately, this troubling development is not surprising and reaffirms the need to exercise extreme caution before sending passengers and crew back out to sea on cruises."
Obama Rips Trump For Refusing To Congratulate President-Elect Biden
Former President Barack Obama is reminding the nation he congratulated President Donald Trump as soon as he won the election … a courtesy the President's refusing to extend to President-Elect Joe Biden.
The former president ripped Trump for failing to acknowledge Biden as president-elect with so much as a congratulatory phone call in an interview with "CBS This Morning," telling Gayle King Trump is damaging our democracy with the way he's eschewing what's traditionally been a peaceful — and cordial — transfer of power.
Obama recalled election night 2016, saying he stayed up until the wee hours of the morning to phone Trump and congratulate the president-elect. Obama says he was doing what presidents do, just as George W. Bush graciously did during Obama's historic 2008 victory.
Trump's refusal to concede and call up president-elect Biden is clearly not sitting well with Obama.
As you know … Obama previously chided Trump and the GOP for continuing to make baseless claims of election fraud in an interview with "60 Minutes," telling Scott Pelley it undermines the country.
Obama points out Biden and 2016 Trump will end up with the same number of Electoral College votes, 306, but says half the country likely won't take that into account if they keep consuming conservative media … which Obama says presents voter fraud allegations as fact.
Bottom line. Obama explains why Republicans can't stop Biden and Vice-President Elect Kamala Harris from being sworn in.