Arrest warrant issued for Odell Beckham over alleged battery on police officer
Browns wide receiver Odell Beckham Jr. is potentially in legal trouble over an incident that took place in LSU's locker room after Monday night's national championship game.
Video appears to show Beckham slap the butt of a police officer who was in LSU's locker room. NOLA.com reports that New Orleans police obtained an arrest warrant accusing Beckham of simple battery in connection with the incident.
The report said authorities originally wanted Beckham charged with misdemeanor sexual battery, but a judge denied that request.
Beckham, who played at LSU, was celebrating with the team on the field and in the locker room after they won the national championship. Beckham has already been under scrutiny over potentially breaking NCAA rules by handing cash to players, but this legal scrutiny is potentially much more problematic for him.
After Beckham appeared to slap the officer, the officer turned around and exchanged words with Beckham, but he was not arrested at the time.
Victims In Kobe Bryant Crash Have Now All Been Identified
Here's what is known so far about the tragic helicopter crash that claimed the lives of Kobe Bryant and eight other people.
Nine people were on board the Sikorsky S76 when something went wrong just before 10 a.m. Sunday.
The passengers were on their way to a basketball game when the chopper went down.
The helicopter's flight path shows it going from Orange County to the San Fernando Valley and then hovering over the Glendale area as it waited for clearance to travel through the Valley to Calabasas. The tracking ends at the crash site in Calabasas.
Kobe Bryant's 13-year old daughter Gianna was among those killed. Gianna — often called "Gigi" — was the second oldest of Bryant's four daughters.
Bryant had coached Gianna's AAU basketball team out of his Mamba Sports Academy training facility in Thousand Oaks for the past two years.
They were all reportedly headed to an AAU game when the crash happened.
In addition to Bryant and his daughter, three members of one family died in the crash.
John Altobelli was the head baseball coach at Orange Coast College in Costa Mesa. His wife Keri and their daughter Alyssa were also on board.
The husband of Christina Mauser posted on Facebook that she died in the helicopter crash. Mauser was a basketball coach at Harbor Day School in Newport Beach, where Kobe's daughter attended school. Mauser's husband says he and his kids are devastated.
Sarah Chester and her middle school aged daughter Payton were on also on board the helicopter piloted by Ara Zobayan.
Antonio Brown arrives for deposition in beach condo lawsuit
This is some wild and I mean wild … footage of Antonio Brown furniture-throwing tirade at The Mansions condo complex from April 2018 has surfaced — and it's even crazier than we imagined.
You can see at least 4 large items come flying off the balcony into the condo's pool area … smashing stuff on the way down, in surveillance footage obtained by WSVN.
You can see people running for safety as furniture comes raining down.

Unemployed NFL wide receiver Antonio Brown isn't spending his Tuesday getting ready for a game — he just walked into a Miami office to sit for a deposition in a lawsuit where he's accused of trashing a luxury apartment.
As we previously reported, AB is being sued by the owners of The Mansions at Acqualina in the Miami area, where he was accused of wrecking his $35k-per-month unit and not paying for the damages.
Brown allegedly leased the place from Feb. 2018 to July 2018.
In the lawsuit, the condo owners claim they found broken or defaced furnishings — including a leather couch, silk-covered sofas and appliances. They also claim AB damaged the walls and flooring so badly, they needed to repaint the place.
Brown has previously denied the allegations and vowed to fight the case. In fact, Brown filed a counterclaim against the condo claiming his unit was burglarized in April 2018 due to lack of security at the complex. Brown filed multiple police reports claiming the burglars entered his place without permission and stole $80k in cash and a 9mm firearm while he was out of town.
AB arrived for his deposition on Tuesday morning with his agent, Drew Rosenhaus, by his side — along with his attorney, Darren Heitner.
The former New England Patriots star was dressed in a black tracksuit and was smiling and using his phone to record the media throng waiting for him as he arrived.
In other words, he didn't seem worried at all.
Leave it to Antonio Brown to record himself while walking into court pic.twitter.com/umtl7qdLEJ

— Dakota Randall (@DakRandall) September 24, 2019
If The Mansions sounds familiar, it's the same place where Brown was accused of going on a furniture-throwing tirade back in 2018 … and almost smashing a 22-month-old child.
Brown was sued by the family of the kid who says Brown was launching furniture off his balcony and only missed hitting the child and his grandfather by "a mere foot or two."
Brown struck a settlement with the family — agreeing to put money in the kid's college fund and also donate to a charity.
David Ortiz's First Interview Since Shooting, Says He Almost Died
David Ortiz broke his silence with the media since being shot in the Dominican Republic, and he gave an emotional interview … acknowledging he almost died there.
The former Boston Red Sox slugger spoke with Univision in a sit-down that aired in Spanish on Saturday, answering a number of questions related to the scary incident in his home country this past June — when he was ambushed and shot in the back at a club.
Big Papi described the initial feeling of the bullet going in, saying he felt a stinging sensation … adding that in the first five seconds, he felt like he was in a living nightmare. He said the shooting made him disheartened, as he has no problems with anybody.
Ortiz went on to explain that he never lost consciousness en route to the hospital, but said he experienced something he'd never quite felt before … trying to survive for his life.
He says he's never had his life threatened before, and that him sitting with his back to the street and no security around should be an implication … he's not someone who'd ever think he was in danger. Then came the question about who did it … and why.
Ortiz says he has no idea why anyone might've wanted to kill him, again reiterating that he has no enemies … and no issues with anybody (especially criminals) that would make him worry.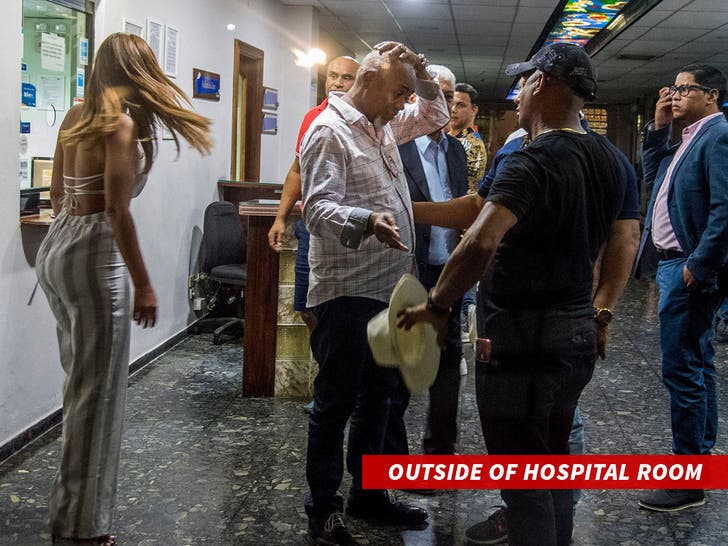 Big Papi also touches on a rumor that Dominican drug lord Cesar Emilio Peralta might've been the one who ordered the hit, but he again came back with uncertainty … saying he couldn't think of any reason why that would be the case — if, in fact, it is.
As we reported … authorities in the Dominican Republic have made several arrests in connection to the shooting, including the alleged shooter himself. Cops say that Ortiz was not the actual target, and that the hit was a case of mistaken identity.
Ortiz is unclear on that himself, but one thing that clearly hurt him as he was in the hospital … people apparently suggesting that he deserved what he'd gotten. He tears up as he recounts the recovery process, saying that at one point he was in a coma … and almost died.
Luckily, Big Papi is getting better each day. He threw out the first pitch at a recent Sox game — and seems to be doing well following multiple life-saving surgeries.
Still, it's pretty gut-wrenching to hear it all again from the man himself.