15 year old Cori "CoCo Gauff" ousts Venus Williams in 1st round of Wimbledon
The 39-year-old Williams is considered Wimbledon royalty as she has been part of the All England Club family for over two decades — having won the singles title five times — including twice before Gauff was even born.But her opponent, the youngest player to qualify for the main draw in the professional era, was in no mood to play lady-in-waiting as she made a mockery of the 24-year age difference and 269 ranking places that separate her from Williams. Playing a fearless brand of tennis that belied her age, she bullied Williams into submission with a showstopping 6-4 6-4 display that will long live in the memory."I don't even know how to explain how I feel," Gauff, who
wiped away a tear as she walked off Court One, said moments after her remarkable win had condemned Williams to only her third opening round defeat at Wimbledon in 22 appearances.
"I definitely had to tell myself to stay calm, I have never played on a court so big, but I had to remind myself that the lines on the court are the same size.
"Everything around it might be bigger, but the lines are the same and after every point I was just telling myself to stay calm.
"I never thought this would happen, I am literally living my dream right now, and not many get to say that.
"So I am just happy that Wimbledon gave me the opportunity to play and I obviously never thought it would be this far," added Gauff, who got a wildcard into the qualifying tournament.
Before the match, the teenager, known as Coco, had told her Instagram followers: "Two of my teachers found out I played tennis after I made the main draw here."
If her Florida-based teachers needed any proof of exactly what she was up to, they only needed to tune into their TVs to see just why Wimbledon was going Coco-crazy on Monday.
The high school student completed a science test during the qualifying tournament and on Monday she aced the ultimate Wimbledon test by beating a player she described as "one of the greatest of all time" in front of a captivated Court One audience.
Williams could have been forgiven for thinking she had come unstuck against her younger self as Gauff turned up for her Wimbledon debut with a build and playing style that looked strikingly familiar.
A break in the fifth game of the opening set, which included a delectable
lob over the statuesque Williams that left the crowd roaring their approval, was enough to win Gauff the first set and her nerveless display continued in the second set.
Two successive double faults from Williams handed Gauff a 3-2 advantage, and even when the teen fluffed her lines by handing back that advantage in the eighth game, she did not lose her composure.
Some thunderbolt shots saw her regain the break for a 5-4 lead. Williams hung on by saving three match points in the next game but she finally fell through the trap door as a forehand error handed Gauff the biggest victory of her young life.
While a magnanimous Williams declared that "the sky's the limit" for Gauff, the teenager also paid tribute to her hero.
"After the match I told her just thank you for everything she did. I wouldn't be here if it wasn't for her," she said.
"I was just telling her that she is so inspiring and that I always wanted to tell her that. I met her before, but I didn't really have the guts to say anything."
Antonio Brown arrives for deposition in beach condo lawsuit
This is some wild and I mean wild … footage of Antonio Brown furniture-throwing tirade at The Mansions condo complex from April 2018 has surfaced — and it's even crazier than we imagined.
You can see at least 4 large items come flying off the balcony into the condo's pool area … smashing stuff on the way down, in surveillance footage obtained by WSVN.
You can see people running for safety as furniture comes raining down.

Unemployed NFL wide receiver Antonio Brown isn't spending his Tuesday getting ready for a game — he just walked into a Miami office to sit for a deposition in a lawsuit where he's accused of trashing a luxury apartment.
As we previously reported, AB is being sued by the owners of The Mansions at Acqualina in the Miami area, where he was accused of wrecking his $35k-per-month unit and not paying for the damages.
Brown allegedly leased the place from Feb. 2018 to July 2018.
In the lawsuit, the condo owners claim they found broken or defaced furnishings — including a leather couch, silk-covered sofas and appliances. They also claim AB damaged the walls and flooring so badly, they needed to repaint the place.
Brown has previously denied the allegations and vowed to fight the case. In fact, Brown filed a counterclaim against the condo claiming his unit was burglarized in April 2018 due to lack of security at the complex. Brown filed multiple police reports claiming the burglars entered his place without permission and stole $80k in cash and a 9mm firearm while he was out of town.
AB arrived for his deposition on Tuesday morning with his agent, Drew Rosenhaus, by his side — along with his attorney, Darren Heitner.
The former New England Patriots star was dressed in a black tracksuit and was smiling and using his phone to record the media throng waiting for him as he arrived.
In other words, he didn't seem worried at all.
Leave it to Antonio Brown to record himself while walking into court pic.twitter.com/umtl7qdLEJ

— Dakota Randall (@DakRandall) September 24, 2019
If The Mansions sounds familiar, it's the same place where Brown was accused of going on a furniture-throwing tirade back in 2018 … and almost smashing a 22-month-old child.
Brown was sued by the family of the kid who says Brown was launching furniture off his balcony and only missed hitting the child and his grandfather by "a mere foot or two."
Brown struck a settlement with the family — agreeing to put money in the kid's college fund and also donate to a charity.
David Ortiz's First Interview Since Shooting, Says He Almost Died
David Ortiz broke his silence with the media since being shot in the Dominican Republic, and he gave an emotional interview … acknowledging he almost died there.
The former Boston Red Sox slugger spoke with Univision in a sit-down that aired in Spanish on Saturday, answering a number of questions related to the scary incident in his home country this past June — when he was ambushed and shot in the back at a club.
Big Papi described the initial feeling of the bullet going in, saying he felt a stinging sensation … adding that in the first five seconds, he felt like he was in a living nightmare. He said the shooting made him disheartened, as he has no problems with anybody.
Ortiz went on to explain that he never lost consciousness en route to the hospital, but said he experienced something he'd never quite felt before … trying to survive for his life.
He says he's never had his life threatened before, and that him sitting with his back to the street and no security around should be an implication … he's not someone who'd ever think he was in danger. Then came the question about who did it … and why.
Ortiz says he has no idea why anyone might've wanted to kill him, again reiterating that he has no enemies … and no issues with anybody (especially criminals) that would make him worry.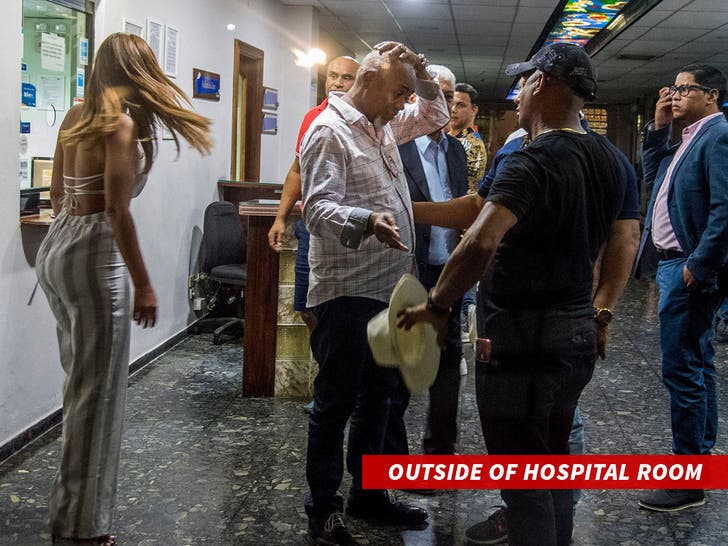 Big Papi also touches on a rumor that Dominican drug lord Cesar Emilio Peralta might've been the one who ordered the hit, but he again came back with uncertainty … saying he couldn't think of any reason why that would be the case — if, in fact, it is.
As we reported … authorities in the Dominican Republic have made several arrests in connection to the shooting, including the alleged shooter himself. Cops say that Ortiz was not the actual target, and that the hit was a case of mistaken identity.
Ortiz is unclear on that himself, but one thing that clearly hurt him as he was in the hospital … people apparently suggesting that he deserved what he'd gotten. He tears up as he recounts the recovery process, saying that at one point he was in a coma … and almost died.
Luckily, Big Papi is getting better each day. He threw out the first pitch at a recent Sox game — and seems to be doing well following multiple life-saving surgeries.
Still, it's pretty gut-wrenching to hear it all again from the man himself.
Best Of Super Bowl Week: Top Reads From Patriots-Rams Coverage
With the Pro Bowl and the festivities surrounding it in the rear-view mirror, it's finally Super Bowl week. The Los Angeles Rams will face the New England Patriots from Mercedes-Benz Stadium in Atlanta, Ga. on Sunday, but before that, there are a slew of events for those who will be hanging around the city as the championship game descends upon it.
Before the big game kicks off on Feb. 3, we here at Prestige run through the biggest events the NFL, Super Bowl Host Committee and Atlanta are putting on.
Jan. 26 – Feb. 2nd
Super Bowl Experience: The yearly "interactive theme park" will return, featuring tons of events and festivities for fans attending the game or simply in Atlanta for everything surrounding the game. There will be youth football clinics, player autograph sessions and much more throughout the week.
Super Bowl LIVE: Similar to the above, Super Bowl LIVE is the free-to-the-public "fan village," which is usually decorated and themes around the host city, celebrating its culture, music and more.
Jan. 28 – Feb. 1
Fan Gallery: Ever wonder what us media folks are up to leading up to the game? The Fan Gallery is more or less a way to soak up all the frenzy and hype leading up to the big game, and not much else.
Jan. 28
Super Bowl Opening Night: This is the national "kickoff" for Super Bowl festivities. This event includes much of the media day schedule, with players and coached speaking in press conferences prior to the big game.
Jan. 31
Walter Payton Man of the Year Legacy Reception: It's the second annual iteration of this event, which features past Man of the Year winners and 2018 nominees from each tea. It includes a cocktail reception, dinner and a silent auction.
20th Annual Super Bowl Gospel Celebration: If gospel is your thing, well look no further than this.
Super Bowl Music Fest EA Sports Bowl feat. Ludacris, Migos and more: Well duh, it's a concert!
Feb. 1
24th Annual Kickoff to Rebuild:
Super Bowl Music Fest – Aerosmith & Post Malone: More music! This time without EA Sports. 
Feb. 2
Super Bowl Breakfast: This event has been going on since the late 80s, as fans mingle with some of the sport's biggest names over a breakfast. The Bart Starr Award is also given out at this event.
Taste of the NFL | Party with a Purpose: Another food-driven event — which I'm totally fine with — this one featuring some of the top chefs in America, meet-and-greets, more NFL players and all that good stuff.
Super Bowl Music Fest — Super Bowl Eve feat. Bruno Mars and Cardi B: The finale of the three music concerts will take place on Super Bowl eve.
NFL Honors: This event is closed to the public, but the two-hour prime time awards special will air beginning at 9 p.m. ET on CBS, and will feature all of the biggest yearly awards being handed out by the NFL.
Feb. 3
Game Day Fan Plaza: Pep squads, drumlines, photo opps, NFL shops and all those goodies await after clearing security on game day.
Super Bowl LIII: The Rams are playing the Patriots, if you didn't know.
For any further explanation or a calendar of events for Super Bowl week, check here.